My Monticello: Fiction (Hardcover)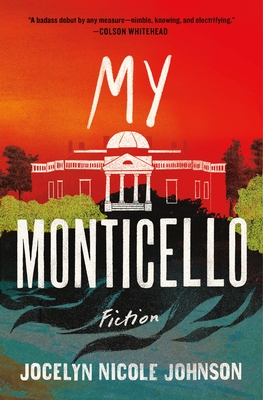 $26.99

Ships from Warehouse, Usually in 1-8 Days
October 2021 Indie Next List
---
"What Johnson does here is pure genius, allowing the reader to view the story through a lens of past, present, and uncertain future, giving the reader pause for reflection and a sliver of hope."
— Javier Ramirez, Exile in Bookville, Chicago, IL
Description
---
"A badass debut by any measure—nimble, knowing, and electrifying." —Colson Whitehead, Pulitzer Prize-winning author of The Nickel Boys and Harlem Shuffle

"...'My Monticello' is, quite simply, an extraordinary debut from a gifted writer with an unflinching view of history and what may come of it." — The Washington Post

Winner of the Weatherford Award in Fiction
A winner of 2022 Lillian Smith Book Awards

A young woman descended from Thomas Jefferson and Sally Hemings driven from her neighborhood by a white militia. A university professor studying racism by conducting a secret social experiment on his own son. A single mother desperate to buy her first home even as the world hurtles toward catastrophe. Each fighting to survive in America.

Tough-minded, vulnerable, and brave, Jocelyn Nicole Johnson's precisely imagined debut explores burdened inheritances and extraordinary pursuits of belonging. Set in the near future, the eponymous novella, "My Monticello," tells of a diverse group of Charlottesville neighbors fleeing violent white supremacists. Led by Da'Naisha, a young Black descendant of Thomas Jefferson and Sally Hemings, they seek refuge in Jefferson's historic plantation home in a desperate attempt to outlive the long-foretold racial and environmental unravelling within the nation.

In "Control Negro," hailed by Roxane Gay as "one hell of story," a university professor devotes himself to the study of racism and the development of ACMs (average American Caucasian males) by clinically observing his own son from birth in order to "painstakingly mark the route of this Black child too, one whom I could prove was so strikingly decent and true that America could not find fault in him unless we as a nation had projected it there." Johnson's characters all seek out home as a place and an internal state, whether in the form of a Nigerian widower who immigrates to a meager existence in the city of Alexandria, finding himself adrift; a young mixed-race woman who adopts a new tongue and name to escape the landscapes of rural Virginia and her family; or a single mother who seeks salvation through "Buying a House Ahead of the Apocalypse."

United by these characters' relentless struggles against reality and fate, My Monticello is a formidable book that bears witness to this country's legacies and announces the arrival of a wildly original new voice in American fiction.
About the Author
---
Jocelyn Nicole Johnson's writing has appeared in Guernica, the Guardian, Kweli, Joyland, phoebe, Prime Number Magazine, and elsewhere. Her short story "Control Negro" was anthologized in Best American Short Stories 2018, guest edited by Roxane Gay, and read live by LeVar Burton as part of PRI's Selected Shorts series. Johnson has been a fellow at Hedgebrook, Tin House Summer Workshops, and VCCA. A veteran public-school art teacher, Johnson lives and writes in Charlottesville, Virginia.
Praise For…
---
Finalist for the L.A. Times Art Seidenbaum Award for First Fiction
Longlisted for the 2022 PEN/Faulkner Award for Fiction
Finalist for the National Book Critic's Circle John Leonard Prize
Finalist for the Kirkus Prize
#3 on TIME Magazine's 10 Best Fiction Books of 2021
A New York Times Notable Book of the Year
One of The Washington Post's 50 notable works of fiction
A NPR's Books We Love 2021
Christian Science Monitor: Best Reads of 2021
Atlanta Journal-Constitution: top 10 Southern books of 2021
Kirkus Best Books of 2021: Best Debut and Best Short Fiction
Kirkus Reviews's "11 Great Fiction Writers Who Made Debuts in 2021"
A Bookforum Best Book of the Year
Washington Independent Review of Books: Our 51 Favorite Books of 2021
One of New York Public Library's Best Books for Adults
Milwaukee Journal Sentinel: 45 new books for holiday gifts in 2021
LitHub: The Best Reviewed Short Story Collections of 2021
One of Virginia Living's Favorite Books of 2021
Garden & Gun's Favorite Books of 2021
NPR Maureen Corrigan's 2021 Best Books list
A Booklist Editor's Choice
Third Place Books: Top 10 Books of the Year
A 2021 favorite book of Roxane Gay on Goodreads

"Simply put, a masterly feat. . . . The novella reminds us of what fiction does best: reflect our reality back at us just when we need it most. "My Monticello" aches with both resonance and timeliness, engaging in rich conversation with recent, real-life events never far from our minds."
—Bridgette M. Davis, New York Times

"Jocelyn Nicole Johnson uses history to spectacular effect. . . . The storytelling is propulsive, as we follow these refugees along a harrowing journey, with danger ever at their heels. My Monticello is, quite simply, an extraordinary debut from a gifted writer with an unflinching view of history and what may come of it."
—Washington Post

"I want to sell this one more than I want to sell my own book . . . this is a master storyteller arrival."
—Isaac Fitzgerald, The TODAY Show

"Jocelyn Nicole Johnson's short-story collection aims its powerful beam on history's proximity, racial trauma, and community survival..."
— The Christian Science Monitor

"An impressive debut."
—People Magazine

"Johnson's writing is exciting and nervy."
—Glamour

"Johnson's historically tethered story collection is startlingly timely… A compilation of vivid, complex stories, at times reminiscent of works by Octavia Butler, Ralph Ellison, Toni Morrison and Colson Whitehead, "My Monticello" is a startling, beautiful debut collection."
—Atlanta Journal-Constitution

"Jocelyn Nicole Johnson provides a mesmerizing antidote in her new story collection, "My Monticello," the titular novella in which provides the centerpiece for an examination of history's impact on our present-day landscape and future possibilities. There is no direct comparison to Johnson's debut work."
—The Washington Independent Review of Books

"Like a museum, a book can hold treasures, but these insights and artifacts are not behind glass; they are before you, living and occurring in the present day. Johnson furthers the Southern tradition, widening its scope and giving us something new to examine and learn from."
—Virginia Living

"It's a remarkable collection of stories, all set in Virginia. Each story is singular, though almost all of them focus on Black characters longing for home, or running from it, or trying to build it in an often violent and ruthless world."
—AudioFile Magazine

"A badass debut by any measure—nimble, knowing, and electrifying."
—Colson Whitehead, Pulitzer Prize-winning author of The Nickel Boys and Harlem Shuffle

"It is a rare breed of writer who can tell any kind of story and do so with exquisite deftness. Jocelyn Nicole Johnson is one such writer. Her debut collection, My Monticello, is comprised of six stories of astonishing range and each one explores what it means to live in a world that is at once home and not. She dissects the unbearable burdens of such displacement. The crowning glory of this collection is the title story, a novella about a world that has fallen apart and a small band of people who take refuge in Monticello, among the old ghosts of the former plantation, how they become family, and how they try to make a stand for their lives, for the world the way it once was. This collection is absolutely unforgettable and Johnson's prose soars to remarkable heights."
—Roxane Gay, New York Times bestselling author of Hunger and Ayiti

"The narrative is bold, harrowing and unfolds with urgency. Johnson's collection is . . . concerned with issues surrounding racial identity and the legacies of slavery and racism. Together they create an unnerving portrait of a country wrestling with its ugly past and present."
—Time

"My Monticello announces the arrival of an electric new literary voice in Johnson, an emerging master of the short story form."
—Esquire

"This collection of stories harmoniously weds the ugly with the beautiful, the terrifying and the brave, the disappointing and the hopeful, and makes for a brilliant debut."
—Ms.

"It should come as no surprise then that the book has received advance praise from literary superstars like Colson Whitehead, Roxane Gay, and Charles Yu. Johnson's fairly slim volume never feels slight in the least, as the stories contained within overflow with poise, maturity, and originality. The title story, "My Monticello," may be the star of the show, but every single one of the six stories in Johnson's collection brings something brand-new to the table, showcasing the writer's indelible talent and reminding us that we're going to be reading her work for a long time to come."
—Shondaland

"History is the new dystopia. It's where our best writers are finding the language to talk about the legacy of colonization and immigration. My Monticello (Holt, $26.99, Oct. 5), Jocelyn Nicole Johnson's enthralling debut, only sounds thuddingly obvious: Its title novella tells the story of a group of Charlottesville residents (including ancestors of slaves) who hole up in Thomas Jefferson's home during a white-supremacist siege."
—Chicago Tribune

"My Monticello is a mesmerizing collection and the title story just knocked me out. . . . It's beautifully done, I think everyone who's listening should read it."
—Brad Listi, Otherppl podcast

"I was enthralled from the opening lines of this book. These chilling, thought-provoking and expertly crafted stories showcase Johnson's range and ability—they broke my heart as well as my brain. A stunning collection."
—Charles Yu, National Book Award-winning author of Interior Chinatown

"My Monticello is a magnificent debut that holds so much in its gaze—great love and great oppression, tremendous individual courage and systemic racism, futures of joyful justice and futures of extremism. This breathtaking, artful book is a gift."
—Megha Majumdar, New York Times bestselling author of A Burning

"With Virginia as the heart, Jocelyn Nicole Johnson brings to life a body of stories sustained by a cast of characters so unique, sincere, and determined that you will not only root for them, but see your own humanity reflected back. A collection where hope serves as the connective tissue, My Monticello reaffirms our deepest desires for life, liberty, and the pursuit of happiness while examining the soil of our nation and the fruit it bears."
—Mateo Askaripour, New York Times bestselling author of Black Buck

"My Monticello is a gorgeous, devastating collection of stories spotlighting the ways a life, a country, and a planet can tend toward disaster but still be worth fighting for. Johnson's stories exquisitely balance the interior and the exterior: the world of inequalities and disappointments stacked against her characters is illuminated by their full and compelling desires, and by her honest exploration of the major and minor cruelties survival requires. This is a stunning debut by a brilliant and original new voice."
—Danielle Evans, award-winning author of The Office of Historical Corrections

"There is a special pleasure in discovering a voice that is vital and unlike anything else you've known before. Jocelyn Nicole Johnson is such a voice. One that is necessary and brimming with both heart and imagination, Johnson's My Monticello is a beautiful debut work of art."
—Nana Kwame Adjei-Brenyah, New York Times bestselling author of Friday Black

"The title novella that closes Johnson's debut book is stellar and could easily stand on its own. . . . Johnson has a knack for irony and inventive conceits."
—Kirkus starred review

"This incandescent work speaks not just to the moment, but to history."
—Publishers Weekly starred review

"This fiction collection is an astonishing display of craftsmanship and heart-tugging narratives. Johnson is a brilliant storyteller who gracefully reflects a clear mirror on a troubled America."
—Booklist starred review

"[A] gorgeous nightmare of a story collection. . . . Johnson's book is not an escape from our moment, but rather will make you feel more prepared for 'the unraveling' or whatever may come."
—Asali Solomon, Bookforum

"Johnson's book is fantastically written and honest with every word. Each of the stories are stunning in their emotional range, detail and scope, with compelling plots and characters that feel all too real. It grapples with issues of race and belonging in new and insightful ways and is highly recommended."
—Book Reporter

"The title novella in Jocelyn Nicole Johnson's debut collection of short stories, "My Monticello," is a harrowing story of racism in a not-too-distant and not-too-different dystopian world."
— KMUW
UPB open Tuesday through Friday 1PM - 6PM, Saturday Noon - 5pm
2430 Bancroft Way
The store known for serving pure brain food has returned to our old digs for a few months to sell down inventory and bid fare thee well to our decades of in-store customers.
Days and hours subject to change.
Note: This site lists what's available for special order from Ingram Content Group.
Visit our pages at Alibris or Biblio to survey in-store stock priced above $19.95.
Discount applies only to in-store purchases.
Cafe Ohlone
Once hosted by UPB, Cafe Ohlone now serves guests outside the Hearst Museum of Anthropology on the Cal campus.
Savor the foods which characterized east bay cuisine for thousands of years, before European contact. Brought to you by Mak'amham.