All the Living and the Dead: From Embalmers to Executioners, an Exploration of the People Who Have Made Death Their Life's Work (Hardcover)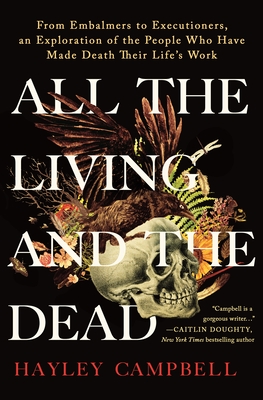 Description
---
A deeply compelling exploration of the death industry and the people—morticians, detectives, crime scene cleaners, embalmers, executioners—who work in it and what led them there.

We are surrounded by death. It is in our news, our nursery rhymes, our true-crime podcasts. Yet from a young age, we are told that death is something to be feared. How are we supposed to know what we're so afraid of, when we are never given the chance to look?

Fueled by a childhood fascination with death, journalist Hayley Campbell searches for answers in the people who make a living by working with the dead. Along the way, she encounters mass fatality investigators, embalmers, and a former executioner who is responsible for ending sixty-two lives. She meets gravediggers who have already dug their own graves, visits a cryonics facility in Michigan, goes for late-night Chinese with a homicide detective, and questions a man whose job it is to make crime scenes disappear.

Through Campbell's incisive and candid interviews with these people who see death every day, she asks: Why would someone choose this kind of life? Does it change you as a person? And are we missing something vital by letting death remain hidden? A dazzling work of cultural criticism, All the Living and the Dead weaves together reportage with memoir, history, and philosophy, to offer readers a fascinating look into the psychology of Western death.
About the Author
---
Hayley Campbell is an author, broadcaster, and journalist. Her work has appeared in WIRED, The Guardian, New Statesman, Empire, GQ, and more. Her books include All the Living and the Dead and The Art of Neil Gaiman. She lives in London with her cat, Ned.
Praise For…
---
"Campbell is a gorgeous writer, capturing the exquisite pathos and gallows humor found in folks who spend their lives working with the dead. Anyone who has ever considered death work will devour this book." —Caitlin Doughty, New York Times bestselling author of Smoke Gets in Your Eyes

"How should we live, when death is always with us? All the Living and the Dead is a book about death, and how to stop pretending about it. Hayley Campbell is working out a philosophy of death by getting close to it; holding it; asking interesting questions of people who spend their lives dealing with it. This is an essential, compassionate, honest examination of how we deal with death, and how it changes the living." —Audrey Niffenegger, New York Times bestselling author of The Time Traveler's Wife

"This book is moving, funny, and liable to unexpectedly cause me to tear up. It's about the head and the heart of death, about who we are, and is filled with images and moments that will remain in my head until the end. A gentle book and, like death itself, an unexpectedly kind one." —Neil Gaiman, New York Times bestselling author of Good Omens and Coraline

"Ms. Campbell's book is more than a written narrative, it is a map across uneven and untraveled land. It's [Campbell's] raw, unguarded honesty that takes her book beyond many others of similar subject. At times humorous and always informative, humanity sets All the Living and the Dead apart." —Wall Street Journal

"Campbell describes the mechanics of these jobs in comprehensive detail and with a measured levity that keeps the dour stench of death from overwhelming the pages . . . Her thesis holds true as rising death tolls fade into normalcy and the living forge on with a new numbness: 'Death is everywhere, but it's veiled, or it's fiction.'" —The New York Times

"Going beyond the gravedigger and the embalmer, [Campbell] approaches her subjects with kindness and humor, highlighting an industry that will always be in demand. Reading this book because the hidden world of death workers is fascinating is reason enough, but one may find in reading it . . . that attending to death deepens one's understanding of its mystery and, by extension, the mystery of life." —Los Angeles Review of Books

"Hayley Campbell is one of Death World's most important voices. Her compassion for the living and the dead stands out . . . All the Living and the Dead is an extremely important book for anyone interested in what happens to a person after they die. Everyone should read it in order to appreciate the respect all the invisible workers tasked with handling the dead demonstrate everyday and which the text captures so well." —Dr. John Troyer, Director of the Centre for Death and Society at the University of Bath

"An intriguing, candid, and frequently poignant book that asks what the business of death can teach all of us in the midst of life. Readers will form a connection with Campbell's voice as intimate as her own relationship with mortality." —Lindsey Fitzharris, bestselling author of The Butchering Art

"A compassionate and compelling book. Fascinating and devastating in equal measure." —Charlie Gilmour, author of Featherhood

"Provocative, loving, and profound." —Helen Rumbelow, The Times

"Gripping . . . Campbell is a sharp and witty observer who successfully conveys her own fascination with the subject. A vivid and open-minded look at a taboo topic." —Publishers Weekly

"A careful, moving investigation of existential matters told with a keen literary sense and memorable personal insights . . . a remarkable book." —Kirkus Reviews (starred)

"Campbell's genuine curiosity, careful reporting, and insightful commentary make for an engrossing read. Readers will appreciate both her meticulous reporting and her marked compassion." —Booklist (starred)

"All the Living and the Dead shines a light on those with a tenderness for death, and Campbell is an equally entertaining and sensitive guide to these interesting people and their grisly but indispensable jobs." —Bookpage (starred)

"Campbell's immersion in death is free of trauma . . . startling and affecting, candid, compassionate." —London Review of Books

"Campbell weaves judicious reflections on the philosophy and history of the death industry into the reportage . . . Never macabre . . . poignant, transformative." —Financial Times

"Eye-opening . . . A book about corpses might seem like a downer. But All the Living and the Dead is surprisingly cheerful, even life-affirming. This is partly thanks to Campbell's open-hearted, observant style of writing, which manages to be vivid without sensationalizing the horrors she records." —Times Literary Supplement
UPB open Tuesday through Friday 1PM - 6PM, Saturday Noon - 5pm
2430 Bancroft Way
The store known for serving pure brain food has returned to our old digs for a few months to sell down inventory and bid fare thee well to our decades of in-store customers.
Days and hours subject to change.
Note: This site lists what's available for special order from Ingram Content Group.
Visit our pages at Alibris or Biblio to survey in-store stock priced above $19.95.
Discount applies only to in-store purchases.
Cafe Ohlone
Once hosted by UPB, Cafe Ohlone now serves guests outside the Hearst Museum of Anthropology on the Cal campus.
Savor the foods which characterized east bay cuisine for thousands of years, before European contact. Brought to you by Mak'amham.