The Last Days of the Dinosaurs: An Asteroid, Extinction, and the Beginning of Our World (Hardcover)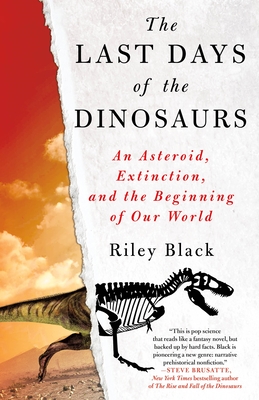 $28.99

Ships from Warehouse, Usually in 1-8 Days
Description
---
Winner of the AAAS/Subaru Prize for Excellence in Science Books!

"This is top-drawer science writing." —Publishers Weekly, starred review

In The Last Days of the Dinosaurs, Riley Black walks readers through what happened in the days, the years, the centuries, and the million years after the impact, tracking the sweeping disruptions that overtook this one spot, and imagining what might have been happening elsewhere on the globe. Life's losses were sharp and deeply-felt, but the hope carried by the beings that survived sets the stage for the world as we know it now.

Picture yourself in the Cretaceous period. It's a sunny afternoon in the Hell Creek of ancient Montana 66 million years ago. A Triceratops horridus ambles along the edge of the forest. In a matter of hours, everything here will be wiped away. Lush verdure will be replaced with fire. Tyrannosaurus rex will be toppled from their throne, along with every other species of non-avian dinosaur no matter their size, diet, or disposition. They just don't know it yet.

The cause of this disaster was identified decades ago. An asteroid some seven miles across slammed into the Earth, leaving a geologic wound over 50 miles in diameter. In the terrible mass extinction that followed, more than half of known species vanished seemingly overnight. But this worst single day in the history of life on Earth was as critical for us as it was for the dinosaurs, as it allowed for evolutionary opportunities that were closed for the previous 100 million years.

"This is pop science that reads like a fantasy novel, but backed up by hard facts and the latest fossil discoveries. Black is pioneering a new genre: narrative prehistorical nonfiction." —Steve Brusatte, New York Times bestselling author of The Rise and Fall of the Dinosaurs
About the Author
---
RILEY BLACK has been heralded as "one of our premier gifted young science writers" and is the critically-acclaimed author of Skeleton Keys, My Beloved Brontosaurus, Written in Stone, and When Dinosaurs Ruled. An online columnist for Scientific American, Riley has become a widely-recognized expert on paleontology and has appeared on programs such as Science Friday, HuffingtonPost Live, and All Things Considered. Riley has also written on nerdy pop culture.
Praise For…
---
Winner of the AAAS/Subaru Prize for Excellence in Science Books!

*Newsweek 22 Books for 2022 * Philadelphia Inquirer's Best Books of April * Publishers Weekly 2022 Holiday Gift Guide * Science News' Top Books of the Year * New Scientist best nonfiction books of 2022 * Smithsonian Magazine Best Science Books of 2022 *

"A marvelous look at what happened after the asteroid hit Earth will make readers feel like a kid discovering dinosaurs for the first time. Black blends the intricacies of science with masterful storytelling for a cracking, enchanting read." —Newsweek

"This is top-drawer science writing." —Publishers Weekly, starred review

"Exquisitely written...as she expands her coverage through millions of years, Black's skill as a writer and scientist and vivid imagination enable her to capture the dramatic transition from the Cretaceous period to the Cenozoic era which brought the flourishing of mammals and, eventually, humanity." —Booklist

"A real-life, natural history page-turning drama that is necessary reading for almost anyone interested in the history of life." —Library Journal, starred review

" Where science usually yadda-yaddas the gory details, Black's The Last Days of the Dinosaurs reconstructs that bad day and its fallout in vivid, sometimes granular detail." —Philadelphia Inquirer

"A must-read." —NewScientist

"A deeply compelling narrative...The Last Days of the Dinosaurs would fit equally comfortably on the bookshelf of a die-hard dinosaur enthusiast, someone revisiting their childhood love of dinosaurs or paleontology, and anyone interested in the science of extinction or the transition from the age of dinosaurs to the age of mammals." —Science Magazine

"While engaging and approachable, The Last Days of the Dinosaurs is scrupulously rooted in information gathered by paleontologists, geologists, astronomers, physicists and ecologists."
—Science News

"One of the keys to the book's success is Black's willingness to narrate events from the animals' perspectives, which allows readers to conceptualize both the scale of the disaster and the luck and ingenuity that allowed species to survive. The book also succeeds by lending immediacy and an admirable narrative sweep to scientific information." —Shelf Awareness

"One of the best books of the year." —Coot's Reviews

"Gorgeously composed." —The Wall Street Journal

"Captivating, conveying piles of scientific information with a poets grace. Even if dinosaurs aren't your thing, I recommend checking this book out from the library for the last chapter on it's own; it's one of the most beautiful meditations on life, identity, death, and the earth I've ever read." —Scarleteen

"Immerse yourself in the last moments of the dinosaur empire, as Riley Black weaves a tale of destruction, survival, and rebirth in the wake of a killer asteroid. You feel what T. rex and Triceratops felt as their world ended in an apocalypse of fire and famine on the single worst day in Earth history, and what our mammal ancestors felt as they emerged on the other side, in a ghostly void ripe for renewal. This is pop science that reads like a fantasy novel, but backed up by hard facts and the latest fossil discoveries. Black is pioneering a new genre: narrative prehistorical nonfiction." —Steve Brusatte, professor and paleontologist at the University of Edinburgh and New York Times/Sunday Times bestselling author of The Rise and Fall of the Dinosaurs

"This book is as vivid as a fairy-tale, brought to life by Black's scientifically informed imagination. The Last Days of the Dinosaurs reveals the links between the deep past, and present-day ecosystems. Black guides you through Earth's darkest hours - when an asteroid decimated the thriving dinosaurian world - and out the other side into a bright new evolutionary landscape. Facts are woven deftly into the narrative, parachuting you back in time to watch events unfold firsthand. This tale could be bleak, but Black turns our planet's interstellar wound and subsequent transition into a story of hope and resilience. Mostly told from the animals' perspectives, you share the experiences of a host of organisms including mammals, insects and plants. It's Call of the Wild meets Armageddon." —Dr. Elsa Panciroli, paleontologist, Oxford University Museum of Natural History research fellow, and author of Beasts Before Us.

"While the human endeavor of paleontology is infused into every page of this book, Black skillfully shifts it to the background and instead carries us straight into the forests, rivers, and plains of the Cretaceous and Paleogene world. Black's writing brings the last days of the dinosaurs and the critical first days, years, and millenniums afterwards to vivid life, portraying a dynamic world full of living, breathing, creatures. I'd never before thought about what it must have felt like for a dinosaur to have lice, or for an early primate to be woken by birdsong, but now these images are seared into my memory, thanks to Black's skillful imagining of this lost world." —Phoebe A Cohen, paleontologist and Chair of Geosciences at Williams College

"During the most famous mass extinction, the dinosaurs died and the mammals survived. Riley Black brings every step of the crisis and the recovery to life in this novelization of the crisis. See it unfolding through the eyes of the victim dinosaurs and the survivor mammals. The lightness and pace of the writing is founded on thorough and careful analysis of the rich scientific evidence that lies behind the story." —Michael J. Benton, paleontologist, professor of vertebrate paleontology at the University of Bristol, and author of Dinosaurs Rediscovered


UPB open Tuesday through Friday 1PM - 6PM, Saturday Noon - 5pm
2430 Bancroft Way
The store known for serving pure brain food has returned to our old digs for a few months to sell down inventory and bid fare thee well to our decades of in-store customers.
Days and hours subject to change.
Note: This site lists what's available for special order from Ingram Content Group.
Visit our pages at Alibris or Biblio to survey in-store stock priced above $19.95.
Discount applies only to in-store purchases.
Cafe Ohlone
Once hosted by UPB, Cafe Ohlone now serves guests outside the Hearst Museum of Anthropology on the Cal campus.
Savor the foods which characterized east bay cuisine for thousands of years, before European contact. Brought to you by Mak'amham.