SEAL Team Six: Memoirs of an Elite Navy SEAL Sniper (Mass Market)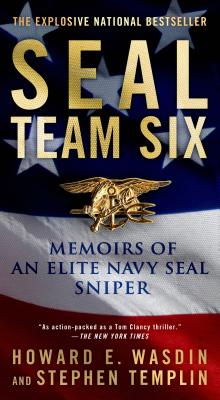 Sorry, Not Available through UPB
Description
---
The New York Times bestselling book that takes you inside SEAL Team Six – the covert squad that killed Osama Bin Laden

SEAL Team Six is a secret unit tasked with counterterrorism, hostage rescue, and counterinsurgency. In this dramatic, behind-the-scenes chronicle, Howard Wasdin takes readers deep inside the world of Navy SEALS and Special Forces snipers, beginning with the grueling selection process of Basic Underwater Demolition/SEAL (BUD/S)—the toughest and longest military training in the world.

After graduating, Wasdin faced new challenges. First there was combat in Operation Desert Storm as a member of SEAL Team Two. Then the Green Course: the selection process to join the legendary SEAL Team Six, with a curriculum that included practiced land warfare to unarmed combat. More than learning how to pick a lock, they learned how to blow the door off its hinges. Finally as a member of SEAL Team Six he graduated from the most storied and challenging sniper program in the country: The Marine's Scout Sniper School. Eventually, of the 18 snipers in SEAL Team Six, Wasdin became the best—which meant one of the best snipers on the planet.


Less than half a year after sniper school, he was fighting for his life. The mission: capture or kill Somalian warlord Mohamed Farrah Aidid. From rooftops, helicopters and alleys, Wasdin hunted Aidid and killed his men whenever possible. But everything went quickly to hell when his small band of soldiers found themselves fighting for their lives, cut off from help, and desperately trying to rescue downed comrades during a routine mission. The Battle of Mogadishu, as it become known, left 18 American soldiers dead and 73 wounded. Howard Wasdin had both of his legs nearly blown off while engaging the enemy. His dramatic combat tales combined with inside details of becoming one of the world's deadliest snipers make this one of the most explosive military memoirs in years.

This edition of the book is the deluxe, tall rack mass market paperback.
About the Author
---
DR. HOWARD E. WASDIN graduated with BUD/S Class 143. After the Battle of Mogadishu, where he was awarded the Silver Star, Wasdin medically retired from the Navy in November, 1995, after 12 years of service. He lives in Georgia. He is the co-author of Seal Team Six, with Stephen Templin.

STEPHEN TEMPLIN completed Hell Week, qualified as a pistol and rifle expert, and blew up things during Basic Underwater Demolition/SEAL (BUD/S) training. He is now an associate professor at Meio University in Japan. He is the co-author of Seal Team Six, with Dr. Howard E. Wasdin.
Praise For…
---
"Mr. Wasdin's narrative is visceral and as active as a Tom Clancy novel…[it] will also leave readers with a new appreciation of the training that enabled Seal Team Six to pull off the bin Laden raid with such precision…adrenaline-laced." —The New York Times

"SEAL Team Six pulses with the grit of a Jerry Bruckheimer production...On his journey to becoming a member of the Navy's best of the best, Wasdin proved his mettle in Operation Desert Storm and endured training that would break the back of most mortal men." —The Washington Post

"[SEAL Team Six] describes the harrowing ops he undertook as part of the elite Seal Team Six squadron, including the 1993 Battle of Mogadishu that almost killed him....reveals an intimate look at the rigorous training and perilous missions of the best of the Navy's best." —Time

"SEAL Team Six is a masterful blend of one man's--Waz-Man's--journey from hard knocks to hard corps. Even better, Waz-Man and Templin can actually write as good as they can shoot. They capture your attention at every turn--not knowing if you're about to take a bullet to the head from a SEAL sniper or get hit in the gut with a punch line." —Dalton Fury, former Delta Force Commander and New York Times bestselling author of Kill Bin Laden

"Great insights into the training and operations of one of America's premier counterterrorism units. Grabs you on page one and is hard to put down." —General Henry H. Shelton, USA(R), former Commander-In-Chief, U.S. Special Operations Command and 14th Chairman, Joint Chiefs of Staff

"Wasdin is a true warrior and real hero. SEAL Team Six is a must read." —Gunnery Sgt. Jack Coughlin, USMC, and bestselling author of Shooter
UPB open Tuesday through Friday 1PM - 6PM, Saturday Noon - 5pm
2430 Bancroft Way
The store known for serving pure brain food has returned to our old digs for a few months to sell down inventory and bid fare thee well to our decades of in-store customers.
Days and hours subject to change.
Note: This site lists what's available for special order from Ingram Content Group.
Visit our pages at Alibris or Biblio to survey in-store stock priced above $19.95.
Discount applies only to in-store purchases.
Cafe Ohlone
Once hosted by UPB, Cafe Ohlone now serves guests outside the Hearst Museum of Anthropology on the Cal campus.
Savor the foods which characterized east bay cuisine for thousands of years, before European contact. Brought to you by Mak'amham.