The Power of One: Leading with Civility, Candor, and Courage (Paperback)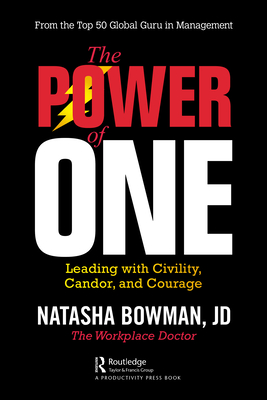 $45.44

Ships from Warehouse, Usually in 1-8 Days
Description
---
Praise for the Power of One. Every leader is focused on how to embrace the significant shifts happening in the workplace and in society at large, which are impacting the future of work and the way we connect. The challenge is to find the best path forward. The key to understanding how to tap into your own individual power and influence is through Natasha's framework: civility, candor, courage, and consciousness. One person CAN make a difference in all aspects of their life, and Natasha provides a helpful guide, through powerful examples, to show you the path to embracing your incredible Power of One.
Marla Kaplowitz, 4A's, President & CEO
The Power of One: Leading with Civility, Candor, and Courage is a journey of personal power and intentional influence. A better world, workplace, and community begins with you. You are the it factor. You have the power to use your everyday words and actions to influence extraordinary change in the workplace and beyond. It only takes ONE to make a difference.
COVID-19, #MeToo, George Floyd--the events and movements of recent years have left us all with a hunger for positive change in every aspect of our lives. Yet most of us think we're powerless to affect change. This book was written to combat that lie. Within these pages, you'll find out the truth about who you are, what you have to offer, and how you can cultivate the power within you to create a new, positive dynamic in your home, office, neighborhood, and the world. Through powerful storytelling, Natasha Bowman provides meaningful and practical examples of how to build a life marked by civility, candor, and courage, as well as how to lead and develop cultures in which those virtues are on full display. You'll learn how to shape power dynamics that are inclusive and diverse as you become an advocate for true equity. Most importantly, you'll discover how to change lives for the better--starting with your own.
Natasha Bowman is an expert in workplace equity and is recognized as a 2020 Top 30 Global Guru for Management. With her consulting firm, Performance ReNEW, she works with high-profile companies and organizations to gear them up for inclusive success in today's diverse and demanding world.
About the Author
---
Natasha Bowman, the Founder and President of Performance ReNEW, is recognized as a Top 30 Global Guru for Management. She has labored to transform the American workplace for nearly 20 years as a C-Suite leader. Natasha is a sought-after TedX and international keynote speaker. She has shared her passion for creating positive and engaging workplaces by speaking at the H.R. Congress in Nice, France, the New York Police Department, The City of Detroit, Ford Motor Company, SHRM, Harvard University, Toledo Public Schools, and Google. Her expertise is frequently quoted in national publications such as Forbes, Business Insider, U.S. News, and World Reports, Bloomberg BNA, and H.R. Magazine.