HACCP & Sanitation in Restaurants and Food Service Operations: A Practical Guide Based on the FDA Food Code [With CDROM] (Hardcover)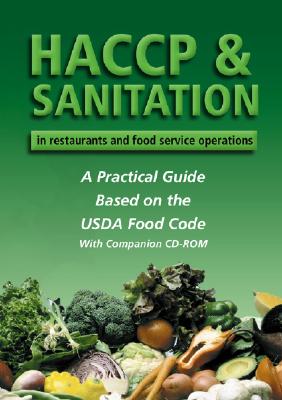 Sorry, Not Available through UPB
Description
---
This book is based on the FDA Food Code and will teach the food service manager and employees every aspect of food safety, HACCP & Sanitation from purchasing and receiving food to properly washing the dishes. They will learn time and temperature abuses, cross-contamination, personal hygiene practices, biological, chemical and physical hazards; proper cleaning and sanitizing; waste and pest management; and the basic principles of HACCP (Hazard Analysis Critical Control Points).
Explain what safe food is and how to provide it. Bacteria, viruses, fungi, and parasites, various food-borne illnesses, safe food handling techniques, Purchasing and receiving food, storage, preparation and serving, sanitary equipment and facilities, cleaning and sanitizing of equipment and facilities, pest management program, accident prevention program, crisis management, food safety and sanitation laws. The companion CD ROM contains all the forms and posters needed to establish your HACCP and food safety program. The companion CD-ROM is included with the print version of this book; however is not available for download with the electronic version. It may be obtained separately by contacting Atlantic Publishing Group at sales@atlantic-pub.com Atlantic Publishing is a small, independent publishing company based in Ocala, Florida. Founded over twenty years ago in the company president's garage, Atlantic Publishing has grown to become a renowned resource for non-fiction books. Today, over 450 titles are in print covering subjects such as small business, healthy living, management, finance, careers, and real estate. Atlantic Publishing prides itself on producing award winning, high-quality manuals that give readers up-to-date, pertinent information, real-world examples, and case studies with expert advice. Every book has resources, contact information, and web sites of the products or companies discussed.
About the Author
---
Douglas R. Brown is a best selling author and publisher of computer software and books specific to the food service industry. His extensive background and years of service in the food service industry provides the practical insight into the business so desperately needed in the highly volatile food service industry.