Mark Twain on Potholes and Politics: Letters to the Editor (Mark Twain and His Circle #1) (Hardcover)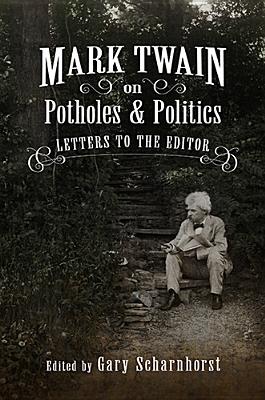 Other Books in Series
This is book number 1 in the Mark Twain and His Circle series.
Description
---
Whether he was taking us along for a journey down the Mississippi with a couple of runaways or delivering speeches on the importance of careful lying, Mark Twain had an innate ability to captivate readers and listeners alike with his trademark humor and sarcasm. Twain never lacked for material, either, as his strong opinions regarding most issues gave him countless opportunities to articulate his thoughts in the voice that only he could provide.
A frequent outlet for Twain's wit was in letters to the editors of various newspapers and periodicals. Sharing his thoughts and opinions on topical issues ranging from national affairs to local social events, with swipes along the way at woman suffrage, potholes, literary piracy and other scams, slow mail delivery, police corruption, capital punishment, and the removal of Huck Finn from libraries, Twain never hesitated to speak his mind. And now thanks to Gary Scharnhorst, more than a hundred of these letters are available in one place for us to enjoy.
From his opinions on the execution of an intellectually brilliant murderer, to his scathing review of a bureau he perceived as "a pack of idiots" running on a currency of doughnuts, Twain's pure, unbridled voice is evident throughout his letters. Mark Twain on Potholes and Politicsgives readers a chance to delve further than ever before into the musings of the most recognizable voice in American literature.
About the Author
---
Gary Scharnhorst, Distinguished Professor Emeritus of English at the University of New Mexico, is the author or editor of more than forty books, including Mark Twain: The Complete Interviews and Mark Twain in His Own Time, a collection of reminiscences by his friends and acquaintances; and biographies of Horatio Alger Jr., Charlotte Perkins Gilman, Bret Harte, Kate Field, and Julian Hawthorne. He is also the editor of the journal American Literary Realism and the editor in alternating years of the research annual American Literary Scholarship. He is currently at work on a multivolume biography of Twain.
Praise For…
---
"The editorial page remains one of the most popular pages in newspapers today. On this page readers often encounter the spontaneity and catharsis of average people expressing a range of charged emotions—delight, frustration, indignation. Politics and Potholes offers this same experience, except the author of this spontaneity, catharsis, delight, frustration, and indignation is one person who was in a unique position as an editorialist, for Twain had an ever-growing sense of justice, the public position to be heard, the willingness to speak out, and the talent to say what was needed with the necessary force and humor."—Arkansas Review