Mammals of Ohio (Paperback)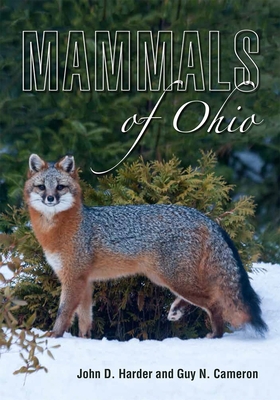 Description
---
An updated, informative review of the status and biology of the fifty-five species of mammals living wild in Ohio, richly illustrated with photographs, maps, drawings, and original artwork.
This comprehensive reference illustrates how species within each of the seven orders of mammals in Ohio share modes of reproduction, locomotion, and nutrition, providing a framework for understanding the fascinating world of mammalian biology. Presentations of natural history in each account of the various species are enhanced with descriptions of intriguing adaptations for avoiding demise from predators, food shortages, and the frigid conditions of Ohio winters. The book is richly illustrated with range maps, exquisite skull drawings, beautiful photography, and engaging artwork.
Challenges to wildlife conservation are considerable in Ohio, with its vast industrialized urban centers distributed across a largely agricultural landscape. With frequent citations of scientific reports and conservation efforts of the Ohio Division of Wildlife and of other public and private entities, this book instills an appreciation for the rich mammalian fauna of Ohio, as well as knowledge on how to join efforts to protect it.
Covering all of the state's mammals, from tiny, obscure shrews to the magnificent white-tailed deer, Mammals of Ohio is a definitive resource for professional biologists and students. The narrative style throughout the book is accessible, providing the general reader with an appreciation for the full scope of the rich mammalian diversity in the state.
About the Author
---
John D. Harder is associate professor emeritus in evolution, ecology, and organismal biology at The Ohio State University, where he taught upper-division courses in mammalogy and conservation biology. His research on the reproductive biology and ecology of mammals has focused on marsupials and involved field studies in Ohio, Venezuela, and Amazonian Peru.
Guy N. Cameron is professor emeritus and former head of biological sciences at the University of Cincinnati, where he taught courses in ecology, population biology, and ecological techniques. He is the former president of the American Society of Mammalogists and the Texas Mammal Society. His research focuses on rodents in the US and Mexico, but he also studies invasive plants, the impact of tornados on forests, and nutritional ecology.
Praise For…
---
"I highly recommend Mammals of Ohio. Anyone with an interest in mammals beyond Homo sapiens should enjoy this book. It's a great way to learn the rest of the story about mammals such as chipmunks, opossums and squirrels that share your yard. It will also open eyes to species that most people probably don't know about, such as least weasel, star-nosed mole and 13-lined ground squirrel."—Jim McCormac, Columbus Dispatch, April 17, 2022

"Clear, well written, and comprehensive … this book is a major contribution to the education of students and the public and an outstanding resource for educators and researchers. The strong conservation focus and extensive literature review … are critically important contributions to the environmental issues affecting the state's mammals."—Robert M. Timm, Natural History Museum, University of Kansas, and past president, American Society of Mammalogists

"Mammals of Ohio provides an updated and very readable overview of this fauna. Harder and Cameron provide keys to identify otherwise difficult species and summarize the distribution and natural history of all species, with information on distribution, habitat preferences, diet, reproduction, behavior, causes of mortality, and conservation status, with ample citation to relevant literature. This impressive effort will be obligatory reading for mammalogists and wildlife biologists, but is accessible to laypersons and natural historians as well."—Douglas A. Kelt, coauthor of A Manual of the Mammalia: An Homage to Lawlor's "Handbook to the Orders and Families of Living Mammals"

"Drs. Harder and Cameron are well suited to provide concise, informative accounts of the morphology and dental characteristics, current distribution, aspects of ecology, physiology and life history, and conservation issues of the fifty-five extant mammalian species currently known to occur in Ohio. Like other superb Mammals of books for various states, this indispensable, authoritative volume belongs on the bookshelves or in the backpacks of wildlife professionals, mammalogists, students, academics, and amateur naturalists alike."—George A. Feldhamer, coauthor of Mammalogy: Adaptation, Diversity, Ecology

"Enhanced with the pen-and-ink artwork of Suellen Jacob and maps by Anthony Mosinski, Mammals of Ohio is the impressive work of Professors and Ohio wildlife experts John D. Harder and Guy N. Cameron. Exceptionally well written, illustrated, organized and presented, Mammals of Ohio was created with the cooperation of the Ohio Division of Wildlife and the Ohio Department of Natural Resources. A sterling study of meticulous scholarship, Mammals of Ohio could well serve as a template for similar studies in other states and is unreservedly recommended for Ohio's community, college, and university library Wildlife Studies collections and supplemental studies curriculums."—Midwest Book Review
UPB open Tuesday through Friday 1PM - 6PM, Saturday Noon - 5pm
2430 Bancroft Way
The store known for serving pure brain food has returned to our old digs for a few months to sell down inventory and bid fare thee well to our decades of in-store customers.
Days and hours subject to change.
Note: This site lists what's available for special order from Ingram Content Group.
Visit our pages at Alibris or Biblio to survey in-store stock priced above $19.95.
Discount applies only to in-store purchases.
Cafe Ohlone
Once hosted by UPB, Cafe Ohlone now serves guests outside the Hearst Museum of Anthropology on the Cal campus.
Savor the foods which characterized east bay cuisine for thousands of years, before European contact. Brought to you by Mak'amham.