Culinary Shakespeare: Staging Food and Drink in Early Modern England (Medieval & Renaissance Literary Studies) (Hardcover)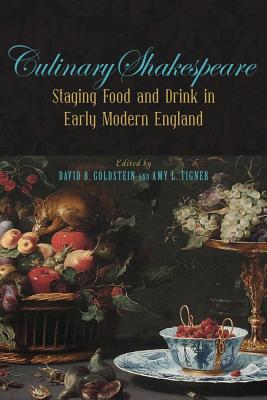 Description
---
Eating and drinking--vital to all human beings--were of central importance to Shakespeare and his contemporaries. Culinary Shakespeare, the first collection devoted solely to the study of food and drink in Shakespeare's plays, reframes questions about cuisine, eating, and meals in early modern drama. As a result, Shakespearean scenes that have long been identified as important and influential by scholars can now be considered in terms of another revealing cultural marker--that of culinary dynamics.
Renaissance scholars, as David Goldstein and Amy Tigner point out, have only begun to grapple with the importance of cuisine in literature. An earlier generation of criticism concerned itself principally with cataloguing the foodstuffs in the plays. Recent analyses have operated largely within debates about humoralism and dietary literature, consumption, and interiority, working to historicize food in relation to the early modern body. The essays in Culinary Shakespeare build upon that prior focus on individual bodily experience but also transcend it, emphasizing the aesthetic, communal, and philosophical aspects of food, while also presenting valuable theoretical background. As various essays demonstrate, many of the central issues in Shakespeare studies can be elucidated by turning our attention to the study of food and drink. The societal and religious associations of drink, for example, or the economic implications of ingredients gathered from other lands, have meaningful implications for our understanding of both early modern and contemporary periods--including aspects of community, politics, local and global food production, biopower and the state, addiction, performativity, posthumanism, and the relationship between art and food. Culinary Shakespeare seeks to open new interpretive possibilities and will be of interest to scholars and students of Shakespeare and the early modern period as well as to those in food studies, food history, ecology, gender and domesticity, and critical theory.
About the Author
---
David B. Goldstein is Associate Professor of English at York University. His first book, Eating and Ethics in Shakespeare's England, shared the 2014 biennial Shakespeare's Globe Book Award. His essays on Shakespeare, Levinas, food studies, and contemporary poetry have appeared in SEL Studies in English Literature 1500-1900, Shakespeare Studies, Gastronomica, and other journals and collections. Amy L. Tigner is Associate Professor of English at the University of Texas, Arlington. She is the author of Literature and the Renaissance Garden from Elizabeth I to Charles II: England's Paradise and has published work in Modern Drama, English Literary Renaissance, Drama Criticism, Milton Quarterly, Early Theatre Journal, and several book collections.