Salleyland: Wildlife Adventures in Swamps, Sandhills, and Forests (Paperback)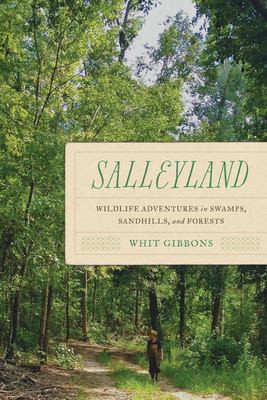 Description
---
Adventures and misadventures exploring nature on a patch of "worthless" abandoned farmland
 
Following his retirement from academic life, renowned naturalist and writer Whit Gibbons and his family purchased a tract of abandoned farmland where the South Carolina piedmont meets the coastal plain. Described as backcountry scrubland, it was originally envisioned as a family retreat, but soon the property became Gibbons's outdoor learning laboratory where he was often aided by his four grandchildren, along with a host of enthusiastic visitors.

Inspired by nature's power to excite, educate, and provide a sense of place in the world, Gibbons invites readers to learn about their surrounding environments by describing his latest adventures and sharing expert advice for exploring the world in which we live. Peppered throughout with colorful personal anecdotes and told with Gibbons's affable style and wit, Salleyland: Wildlife Adventures in Swamps, Sandhills, and Forests is more than a personal memoir or a record of place. Rather, it is an exercise in learning about a patch of nature, thereby reminding us to open our eyes to the complexity and wonder of the natural world.

Starting with the simple advice of following your own curiosity, Gibbons discusses different opportunities and methods for exploring one's surroundings, introduces key ecological concepts, offers advice for cultivating habitat, explains the value of and different approaches to keeping lists and field journals, and celebrates the advances that cell phone photography and wildlife cameras offer naturalists of all levels. With Gibbons's guidance and encouragement, readers will learn to embrace their inner scientists, equipped with the knowledge and encouragement to venture beyond their own front doors, ready to discover the secrets of their habitat, regardless of where they live.
 
About the Author
---
Whit Gibbons is professor emeritus of ecology at the University of Georgia and former head of the Environmental Outreach and Education program at the Savannah River Ecology Laboratory. He has published numerous books on herpetology and ecology including Snakes of the Eastern United States and Their Blood Runs Cold. His narrative works include two books coauthored with his sister Anne R. Gibbons based on his long-running newspaper column, Ecoviews.
 
Praise For…
---
"Several recent studies have shown that spending time in nature is good for one's overall health, and I always found that I felt better after reading a few pages of Salleyland, because the author made me feel like I was walking in the woods alongside him."
—Eli Greenbaum, author of Emerald Labyrinth: A Scientist's Adventures in the Jungles of the Congo
 
"I felt like I was there with the author as he explored Salleyland. As I read it, it took me back to my childhood and youth spent exploring and hunting in Pennsylvania, wishing I had taken notes and recorded my experiences. Salleyland opens the reader's eyes to the natural world and is great for young people as well as adults."
—Ronnie Brenneman, coauthor of Guide to the American Wild Turkey, Part 1: Status—Numbers, Distribution, Seasons, Harvests and Regulations
 
"Whit Gibbons is a renowned ecologist and talented storyteller, and his fascinating tales entertain and educate. In Salleyland, he weaves together personal wildlife adventures, sound natural history information, and accounts from other biologists. The reader is regaled with anecdotes and, more importantly, inspired to be an enthusiastic student of the natural world!"
—Tony Mills, writer and host of the Coastal Kingdom TV series
 
"Salleyland is a delightful, informative, and downright inspirational book about enjoying retirement the natural way. What better way to pass your golden years than poking around for frogs and fireflies, and introducing them to the next generation? If everybody followed Gibbons's lead, it would do more for conservation than a thousand Sierra Clubs."
—Sean P. Graham, author of Kennesaw: Natural History of a Southern Mountain
 

"The author is not only a world-class ecologist but also a world-class storyteller as he proves yet again in this, his latest of many books. As I read Salleyland I kept drawing comparisons to Aldo Leopold's A Sand County Almanac, and his musings on ecology recall the writing style of that volume's famed author. If you do not know what to do when you retire, this book is for you. You too might just buy 35 acres of worthless swampland and find purpose in discovering all of the natural treasures it holds."
—Quarterly Review of Biology