Summa Technologiae (Electronic Mediations #40) (Paperback)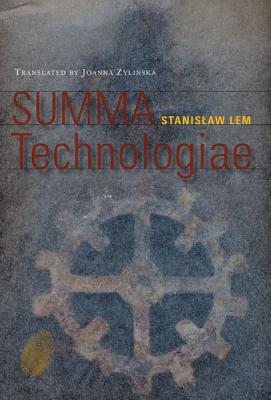 Description
---

The Polish writer Stanislaw Lem is best known to English-speaking readers as the author of the 1961 science fiction novel Solaris, adapted into a meditative film by Andrei Tarkovsky in 1972 and remade in 2002 by Steven Soderbergh. Throughout his writings, comprising dozens of science fiction novels and short stories, Lem offered deeply philosophical and bitingly satirical reflections on the limitations of both science and humanity.
In Summa Technologiae—his major work of nonfiction, first published in 1964 and now available in English for the first time—Lem produced an engaging and caustically logical philosophical treatise about human and nonhuman life in its past, present, and future forms. After five decades Summa Technologiae has lost none of its intellectual or critical significance. Indeed, many of Lem's conjectures about future technologies have now come true: from artificial intelligence, bionics, and nanotechnology to the dangers of information overload, the concept underlying Internet search engines, and the idea of virtual reality. More important for its continued relevance, however, is Lem's rigorous investigation into the parallel development of biological and technical evolution and his conclusion that technology will outlive humanity.
Preceding Richard Dawkins's understanding of evolution as a blind watchmaker by more than two decades, Lem posits evolution as opportunistic, shortsighted, extravagant, and illogical. Strikingly original and still timely, Summa Technologiae resonates with a wide range of contemporary debates about information and new media, the life sciences, and the emerging relationship between technology and humanity.

About the Author
---

Stanislaw Lem (1921–2006) was the best-known science fiction author writing outside the English language. His books have been translated into more than forty languages and have sold more than 27 million copies worldwide.
Joanna Zylinska is professor of new media and communications at Goldsmiths, University of London. She is the author of Bioethics in the Age of New Media and The Ethics of Cultural Studies.
Praise For…
---
"At the end of the thirteenth century, Thomas Aquinas wrote the Summa Theologiae, an ambitious compendium of all orthodox philosophical and theological knowledge about the world. Seven hundred years later, science fiction author Stanislaw Lem writes his Summa Technologiae, an equally ambitious but unorthodox investigation into the perplexities and enigmas of humanity and its relationship to an equally enigmatic world in which it finds itself embedded. In this work Lem shows us science fiction as a method of inquiry, one that renders the future as tenuous as the past, with a wavering, 'phantomatic' present always at hand." —Eugene Thacker, author of After Life
"Summa is a fantasia that follows certain lines of speculative thought as far as Lem can take them. Lem's sober materialism may seem dehumanizing, but he brings back to the frontier a question that has plagued civilization since the beginning, and whose shifting, always insufficient answers have always signaled revolutions in culture: what is it to be human?" —Los Angeles Review of Books

"With Summa Technologiae, his masterwork of non-fiction which has been translated into English for the first time, Lem has taken Western civilisation for a spin—with spectacular consequences. " —New Scientist