The Greater San Rafael Swell: Honoring Tradition and Preserving Storied Lands (Paperback)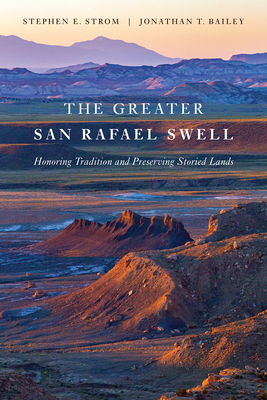 $24.95

Ships from Warehouse, Usually in 1-8 Days
Description
---
A landscape of great natural beauty, Utah's red rock country is a place where the passage from deep time to the present is revealed in stunningly sculpted and colorful geological strata that span 350 million years of Earth's history. At the heart of this dramatic landscape is the Greater San Rafael Swell—a land of both geologic and human tumult.
 
Natural and human history come together in The Greater San Rafael Swell, which spans much of Emery County in Utah. Authors Stephen Strom and Jonathan Bailey paint a multi-faceted picture of a singular place through photographs, along with descriptions of geology, paleontology, archaeology, history, and dozens of interviews with individuals who devoted more than two decades to developing a shared vision of the future of both the Swell and the County.  At its core, the book relates the important story of how a coalition of ranchers, miners, off-road enthusiasts, conservationists, recreationists, and Native American tribal nations worked together for nearly 25 years to forge and pass the Emery County Public Lands Management Act in 2019.
 
This book chronicles hopeful stories for our times: how citizens of Emery and three other counties in the rural West worked to resolve perhaps the most volatile issue in the region – the future of public lands. Both their successes and the processes by which they found common ground serve as beacons in today's uncertain landscape – beacons that can illuminate paths toward rebuilding our shared democracy from the ground up.
About the Author
---
Stephen Strom has published eleven books in which his landscape photography complements poems and essays that speak to current cultural or environmental issues. His photography has been exhibited widely throughout the United States.
Jonathan Bailey is a photographer and conservationist specializing in rock art. He is the author, most recently, of When I Was Red Clay. He lives in Tucson with his partner Aaron.
Praise For…
---
"The Emery County Public Lands Management Act of 2019 must seem like a miracle to anyone familiar with the bitter and contentious history of public land management in Utah and the West. Traditional adversaries, rural residents, environmentalists, miners, Democrats, and Republicans somehow came together and began talking—and listening—to their traditional adversaries. The result is a new map of Emery County, bringing together a mosaic of wilderness designations, state parks, and lands opened for development to assure a future for rural communities. Steve Strom and Jonathan Bailey's careful telling of this story will surely become the essential guide for spreading this example throughout the West."—Bruce Babbitt, former Secretary of the Interior and Arizona Governor

"This book presents a pictorial and narrative history of the San Rafael Swell that dazzles and makes you believe that great advances in protecting sensitive landscapes are possible if people are willing to work together!"—Henri R. Bisson, former Bureau of Land Management's Deputy Director for Operations and Secretary of the Interior's Senior Advisor for Alaska Affairs

"In addition to its stunning illustrations, the book makes an extraordinarily valuable contribution to the literature on the collaborative conservation movement in the West by focusing on successful examples that originated at—and remained focused on—the county level. At a time when our national discourse is tearing us apart, these efforts demonstrate that ranchers and environmentalists, Republicans and Democrats, recreationists and conservationists can find common ground—and save that common ground—if they walk that common ground together and are willing to compromise. And spend years doing so. Compromise is often considered a dirty word. At a time when we're so busy demonizing one another that we can't get much done, however, these examples prove the old adage that perfection truly is the enemy of the good. As long as environmental politics is viewed as a zero-sum game, nothing tangible will be achieved on the ground."—Thomas E. Sheridan, co-editor of Moquis and Kastiilam: Hopis, Spaniards, and the Trauma of History
UPB open Tuesday through Friday 1PM - 6PM, Saturday Noon - 5pm
2430 Bancroft Way
The store known for serving pure brain food has returned to our old digs for a few months to sell down inventory and bid fare thee well to our decades of in-store customers.
Days and hours subject to change.
Note: This site lists what's available for special order from Ingram Content Group.
Visit our pages at Alibris or Biblio to survey in-store stock priced above $19.95.
Discount applies only to in-store purchases.
Cafe Ohlone
Once hosted by UPB, Cafe Ohlone now serves guests outside the Hearst Museum of Anthropology on the Cal campus.
Savor the foods which characterized east bay cuisine for thousands of years, before European contact. Brought to you by Mak'amham.