Christmas delivery ends December 13th
We much appreciate how you've made UPB your holiday shopping destination.
Keep in mind, though, that it can take time for books to arrive at your desired shipping address. Sometimes titles have to cross the country from their warehouse location.
Therefore we recommend that you place your gift orders by December 13th to maximize delivery chances before December 25th.
Some Other Blues: New Perspectives on Amiri Baraka (Paperback)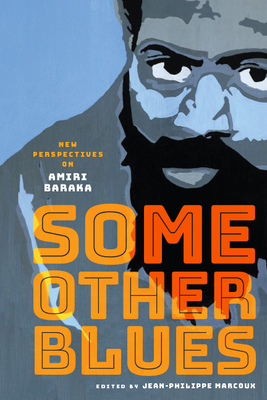 $43.69

Ships from Warehouse, Usually in 1-8 Days
Description
---
This collection of original essays brings together some of the most important critics and scholars of Amiri Baraka's oeuvre. Some Other Blues consists of career-spanning conversations on the many trajectories, bifurcations, and intersections in and of Baraka's black art. Every chapter is grounded in the desire to illuminate Baraka's multilayered creative output—whether through critical analyses, literary historiographies, or musicological and biographical reassessments of his work. Every contributor attempts, in their own unique ways, to delineate how the contours of poems, short stories, essays, and editorials reveal the poetics and politics of Amiri Baraka. At the same time, every chapter looks outward at what Baraka saw as the fractures and fissures of our society—moments in the history of African America that have needed repair and relief. For the first time in one book, two generations of scholars and friends of the Baraka family converge to assess the legacy and the imprint of the writer, activist, and cultural worker who has reshaped and redefined what is means to be a black public intellectual and poet.
 
(Include contributors if space allows) Contributors: Tony Bolden, Jeremy Glick, William J. Harris, Benjamin Lee, Aidan Levy, John Lowney, Jean-Philippe Marcoux, Kim McMillon, Fred Moten, Michael New, Aldon Lynn Nielsen, Amy Abugo Ongiri, Gregory Pierrot, Howard Rambsy II, Emily Ruth Rutter, Anthony Reed, Lauri Scheyer, Kathy Lou Schultz, Michael Simanga, James Smethurst, Laura Vrana, Tyrone Williams, Kalamu ya Salaam.
 
About the Author
---
Jean-Philippe Marcoux is Professor of American Literature at Laval University. He is also Vice President of the Amiri Baraka Society.
Praise For…
---
"This is a most timely and long-overdue collection that not only enriches our understanding of Baraka's work but also points to new avenues of scholarly inquiry." —Jürgen E. Grandt, author of Gettin' Around: Jazz, Script, Transnationalism

"Some Other Blues will situate Baraka rightly as a model of intellectual and artistic innovation, adventure, and integrity, and it will locate him at the intersection of the some of the most important ideas of black cultural radicalism, the avant-garde, and artistic activism. It is a collection worthy of the man himself." —Keith D. Leonard, author of Fettered Genius: The African American Bardic Poet from Slavery to Civil Rights