Practicing Democracy: Popular Politics in the United States from the Constitution to the Civil War (Hardcover)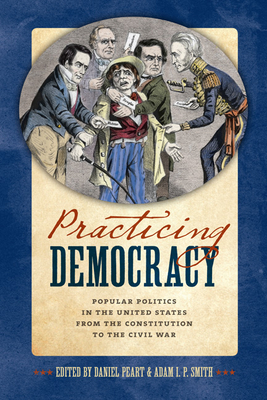 $64.35

Ships from Warehouse, Usually in 1-8 Days
Description
---
In Practicing Democracy, eleven historians challenge conventional narratives of democratization in the early United States, offering new perspectives on the period between the ratification of the Constitution and the outbreak of the Civil War. The essays in this collection address critical themes such as the origins, evolution, and disintegration of party competition, the relationship between political parties and popular participation, and the place that parties occupied within the wider world of United States politics.
In recent years, historians of the early republic have demolished old assumptions about low rates of political participation and shallow popular partisanship in the age of Jefferson--raising the question of how, if at all, Jacksonian politics departed from earlier norms. This book reaffirms the significance of a transition in political practices during the 1820s and 1830s but casts the transformation in a new light. Whereas the traditional narrative is one of a party-driven democratic awakening, the contributors to this volume challenge the correlation of party with democracy. They both critique constricting definitions of legitimate democratic practices in the decades following the ratification of the Constitution and emphasize the proliferation of competing public voices in the buildup to the Civil War. Taken together, these essays offer a new way of thinking about American politics across the traditional dividing line of 1828 and suggest a novel approach to the long-standing question of what it meant to be part of "We the People."
Contributors: Tyler Anbinder, George Washington University - Douglas Bradburn, Fred W. Smith National Library for the Study of George Washington at Mount Vernon - John L. Brooke, The Ohio State University - Andrew Heath, University of Sheffield - Reeve Huston, Duke University - Johann N. Neem, Western Washington University - Kenneth Owen, University of Illinois, Springfield - Graham A. Peck, Saint Xavier University - Andrew W. Robertson, Graduate Center of the City University of New York and Lehman College, CUNY
About the Author
---
Daniel Peart, Lecturer in American History at Queen Mary University of London, is author of Era of Experimentation: American Political Practices in the Early Republic (Virginia). Adam I. P. Smith, Senior Lecturer at University College London, is author of The American Civil War.
UPB open Tuesday through Friday 1PM - 6PM, Saturday Noon - 5pm
2430 Bancroft Way
The store known for serving pure brain food has returned to our old digs for a few months to sell down inventory and bid fare thee well to our decades of in-store customers.
Days and hours subject to change.
Note: This site lists what's available for special order from Ingram Content Group.
Visit our pages at Alibris or Biblio to survey in-store stock priced above $19.95.
Discount applies only to in-store purchases.
Cafe Ohlone
Once hosted by UPB, Cafe Ohlone now serves guests outside the Hearst Museum of Anthropology on the Cal campus.
Savor the foods which characterized east bay cuisine for thousands of years, before European contact. Brought to you by Mak'amham.