Before you buy…
We're glad to again serve customers, even though our former store front has closed and we operate this web store under reduced services.
Just scroll to the bottom to review limits placed on orders. .
Equality: An American Dilemma, 1866-1896 (Hardcover)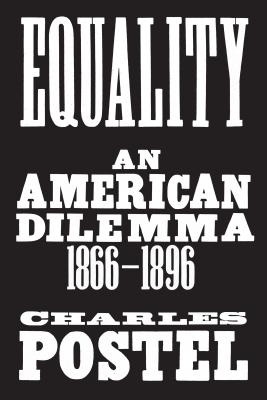 Description
---
An in-depth study of American social movements after the Civil War and their lessons for today by a prizewinning historian

The Civil War unleashed a torrent of claims for equality—in the chaotic years following the war, former slaves, women's rights activists, farmhands, and factory workers all engaged in the pursuit of the meaning of equality in America. This contest resulted in experiments in collective action, as millions joined leagues and unions. In Equality: An American Dilemma, 1866–1886, Charles Postel demonstrates how taking stock of these movements forces us to rethink some of the central myths of American history.

Despite a nationwide push for equality, egalitarian impulses oftentimes clashed with one another. These dynamics get to the heart of the great paradox of the fifty years following the Civil War and of American history at large: Waves of agricultural, labor, and women's rights movements were accompanied by the deepening of racial discrimination and oppression. Herculean efforts to overcome the economic inequality of the first Gilded Age and the sexual inequality of the late-Victorian social order emerged alongside Native American dispossession, Chinese exclusion, Jim Crow segregation, and lynch law.

Now, as Postel argues, the twenty-first century has ushered in a second Gilded Age of savage socioeconomic inequalities. Convincing and learned, Equality explores the roots of these social fissures and speaks urgently to the need for expansive strides toward equality to meet our contemporary crisis.
About the Author
---
Charles Postel is the author of The Populist Vision, which received the 2008 Bancroft Prize and the 2008 Frederick Jackson Turner Award from the Organization of American Historians. He is a professor of history at San Francisco State University and was elected to the Society of American Historians in 2018.
Praise For…
---
"A lucid, thoroughly researched account . . . [Postel] breaks new ground . . . Equality reminds us of a homegrown radical heritage that critics of today's deeply unequal America can be inspired by and must improve upon." --Eric Foner, The Nation

"Lucid, engrossing, and lively." --Fergus M. Bordewich, The Wall Street Journal

"An expansive portrait of the post-Civil War U.S. . . . Postel has written an intelligent plea for 'a just and equal society.'" --Kevin Canfield, San Francisco Chronicle

"A lucid and deeply researched investigation of three of the post-Civil War era's most powerful social reform movements and their charismatic leaders." --Library Journal

"Persuasively argue[d] . . . With deep research and clear prose, Postel ably demonstrates that African-Americans were consistently excluded from these reformers' visions of a more equal America. Postel's broad and valuable study ably illuminates the era." --Publishers Weekly

"A closely argued account of how various constituencies . . . vied for a place at the table in the reunited republic . . . Postel has a keen eye for unlikely juxtapositions . . . [Equality is] of much use in understanding the course of late-19th-Century American history, a time of turmoil that resembles our own." --Kirkus

"Americans today are torn by the fierce politics of inequality, but not for the first time in our history. Charles Postel's urgent yet subtle account of the first American Gilded Age ought to be required reading for understanding the nation's long egalitarian tradition, with lessons for confronting our second Gilded Age." —Sean Wilentz, author of The Rise of American Democracy and the Sidney and Ruth Lapidus Professor of the American Revolutionary Era at Princeton University

"We live in a new Gilded Age, Americans often hear, a time of soaring wealth for a few and growing inequality for many. Charles Postel helps us understand the first Gilded Age, when those problems were met with unprecedented organizing and mobilizing by Americans who felt themselves dispossessed and disfranchised. In his sweeping, engaged, and humane account, Postel shows the accomplishments and failures of the efforts by working people, farmers, and women to reorient the United States toward greater justice and equality." —Edward Ayers, author of America on the Eve of the Civil War and the Tucker-Boatwright Professor of the Humanities and President Emeritus at the University of Richmond

"With impeccable scholarship and brilliant narration, Charles Postel has rewritten the history of post-Civil War social movements. Racial exclusion, he shows, was the Achilles' heel of many them despite their commitment to economic democracy. This book is both timely and required reading for anyone interested in the problem of equality today." --Manisha Sinha, author of The Slaver's Cause and the James L. and Shirley A. Draper Chair in American History at the University of Connecticut

"Perfectly timed to help us understand the historical roots of inequalities that plague our society today, Charles Postel's Equality is also a compelling and elegant interpretation of how those inequalities emerged during the watershed of American history—when struggles for equality shaped modern America after the Civil War. An enduring achievement." —Kathryn Kish Sklar, author of Florence Kelley and the Nation's Work and Distinguished Professor of History at the State University of New York, Binghamton

"This brilliant and beautifully researched story about white supremacy in American politics reveals the depth of its entanglement with our egalitarian traditions. Postel's new book is innovative, persuasive, and crushingly timely." —Robin L. Einhorn, author of American Taxation, American Slavery and the Preston Hotchkis Professor in the History of the United States at UC Berkeley

"Charles Postel's Equality is a brilliant reinterpretation of the egalitarian social movements that swept the United States during the decades following the Civil War. No other historian has more skillfully explored the economic, racial, and sexual tensions that pervaded these struggles for equality and that persist to the present. After Postel's scrutiny, the first Gilded Age will never look the same. Neither will the second--the one we now inhabit." —Jackson Lears, author of Rebirth of a Nation, The Making of Modern America and the Board of Governors Distinguished Professor of History at Rutgers University

"Equality is a deeply researched, beautifully written, and brilliantly argued history of the epic struggle to define the meaning of equality in post-Civil War America. This magnificent portrait of the farmer's Grange, the Woman's Christian Temperance Union, and the Knights of Labor is filled with fresh insights into the social movements that took root during Reconstruction and blossomed in the Gilded Age. Confronting some of the most difficult questions in American history, Postel adds new dimensions to our understanding of the racial, gender, and class inequalities that continue to shape our social and political landscape." —Crystal N. Feimster, author of Southern Horrors: Women and the Politics of Rape and Lynching and Associate Professor of African American Studies at Yale University
STOREFRONT CLOSED FOR REGULAR BUSINESS
Nevertheless, UPB provides ship-to-home service.
Unless and until we move our on-line fulfillment team to different premises, everything you purchase from us ships from warehouses outside of Berkeley.
Much of what we used to carry on store shelves is available, except for very expensive books, used books, and titles fallen between printings.
Certain limitations apply:
Only orders that subtotal under $75.00 will ship.
Thus, we may remove items from a multi-book order and ask you to resubmit them on a separate order.
Sometimes we may have to split an order because books are stocked at different warehouses. Sorry, it's impossible to tell in advance when this may happen.
Credit card orders only
Many high demand titles ship fairly quickly. Most other titles travel from back east, adding 2 to 5 days to delivery
Although we love you in Canada, Latin America, and else where, U.S. orders only.
Certain publishers give us low merchant discounts on certain titles, sometimes no discount at all. To be honest, we've had to raise prices on these, ranging from 5% to 30% above list.
You can also purchase eBooks and audio books through us. Distributed by Hummingbird, they include publications from the major trade publishers. Just access the menu link or the sidebar image above.
We greatly appreciate your support of the store with your book orders. Need a book without our current shopping restrictions? We recommend Bookshop. View our recommendations on Bookshop, then search for whatever book you'd like.
---
Should you have questions, email us via our contact form. Since none of are keeping regular hours, it may take a day to get back with you.
The Cafe Ohlone has closed for the duration of the epidemic. They will probably reopen at a different location when they do.
From 1974, University Press Books has stoked the blaze of well over ten thousand minds on fire, carrying new scholarship published by the great university presses in the English-speaking world.
For more than 40 years, UPB operated out of our address at 2430 Bancroft Way in Berkeley (at present still our mailing address). We're now operating on line and when possible at various pop up locations. Sign up to our mailing list for word on dates and locations of these.,/p>
Order from us. Let well-wrought words churn and burn within.