The Absorbent Mind: A Classic in Education and Child Development for Educators and Parents (Paperback)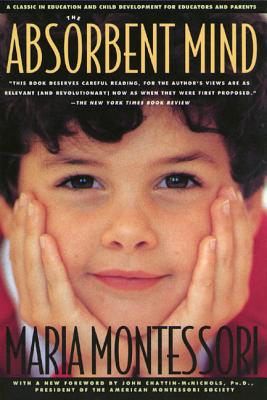 Description
---
In response to the crisis in American education, more than five thousand public and private schools across the nation have adopted the timeless Montessori Method of teaching, of which this book is the cornerstone. Written by the women whose name is synonymous worldwide with child development theory, The Absorbent Mind takes its title from the phrase that the inspired Italian doctor coined to characterize the child's most crucial developmental stage: the first six years.

A new foreword by John Chattin-McNichols, Ph.D., President of the American Montessori Society, places this classic book in a contemporary context, offering an intelligent discussion of current thinking in child education.
About the Author
---
Maria Montessori, born in Italy in 1870, dedicated her life to learning how best to educate children-particularly the poorest, most challenged children-during their vulnerable beginnings. Today her legacy is evident worldwide. She died in the Netherlands in 1952.

John Chattin-McNichols, Ph.D., is the President of the American Montessori Society and Professor of Education at Seattle University. He is the author and editor of several books on Montessori education.
Praise For…
---
"This book deserves careful reading, for the author's views are as relevant (and revolutionary) now as when they were first proposed." —New York Times Book Review

"Startling insights...she is an inspiring teacher . . . educators of all persuasions will find her book alive with ideas." —Library Journal