Soldiers of the Nation: Military Service and Modern Puerto Rico, 1868-1952 (Studies in War, Society, and the Military) (Hardcover)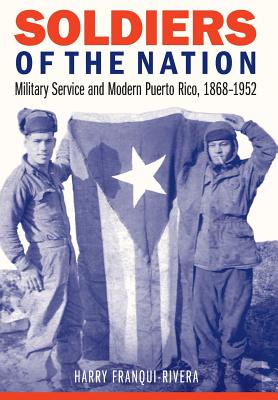 List Price: $60.00
Our Price: $50.00
(Save: $10.00 17%)
Description
---
As the island of Puerto Rico transitioned from Spanish to U.S. imperial rule, the military and political mobilization of popular sectors of its society played important roles in the evolution of its national identities and subsequent political choices. While scholars of American imperialism have examined the political, economic, and cultural aspects of U.S. colonialism in Puerto Rico, few have considered the integral role of Puerto Rican men in colonial military service and in helping to consolidate the empire.

In Soldiers of the Nation Harry Franqui-Rivera argues that the emergence of strong and complicated Puerto Rican national identities is deeply rooted in the long history of colonial military organizations on the island. Franqui-Rivera examines the patterns of inclusion-exclusion within the military and the various forms of citizenship that are subsequently transformed into socioeconomic and political enfranchisement. Analyzing the armed forces as an agent of cultural homogenization, Franqui-Rivera further explains the formation and evolution of Puerto Rican national identities that eventually led to the creation of the Estado Libre Asociado (the commonwealth) in 1952. Franqui-Rivera concludes that Puerto Rican soldiers were neither cannon fodder for the metropolis nor the pawns of the criollo political elites. Rather, they were men with complex identities who demonstrated a liberal, popular, and broad definition of Puertorriqueñidad.
 
About the Author
---
Harry Franqui-Rivera is an associate professor of history at Bloomfield College in New Jersey. 
 
Praise For…
---
"This study has much to recommend it. Franqui's archival research is exemplary, as evidenced by the wealth of materials gleaned from rarely cited collections on the island and mainland. Above all, he is successful in demonstrating the extent to which military service shaped modern Puerto Rico. Soldiers of the Nation should be of interest to scholars of the island, and colonial military service more broadly."—Micah W. Wright, H-War
— Micah W. Wright
"Franqui-Rivera . . . has written the most useful military history of Puerto Rico in English, while discussing the importance of military service to the evolution of a Puerto Rican national identity. . . . A good read for anyone interested in the history of modern Puerto Rico, American colonial policy, or national military policy."—A. A. Nofi, Strategy Page
— A. A. Nofi
"Soldiers of the Nation is the first book to make a coherent case for the significance of military bodies in the formation of Puerto Rico's colonial history. The book's real contribution is to show how, with every war and military mobilization, the United States and Puerto Rico wove a complex web of connections, agreements, and participatory hierarchies. Franqui-Rivera helps us understand how the class contradictions that Puerto Rican men in the military brought to anticolonial politics helped seal Puerto Rico's fate in the mid-twentieth century."—Aldo Lauria-Santiago, professor of history at Rutgers University and author of To Rise in Darkness: Revolution, Repression, and Memory in El Salvador
 
— Aldo Lauria-Santiago
"A game-changer. This book adds to our understanding of the relationship between colonial citizens and the empire that rules them, while bringing to the forefront the efforts of Puerto Ricans to define what the impact of colonialism would be in their daily lives."—Teresita Levy, associate professor of Latin American and Puerto Rican studies at Lehman College and author of Puerto Ricans in the Empire: Tobacco Growers and U.S. Colonialism
— Teresita Levy