Darrow's Nightmare: The Forgotten Story of America's Most Famous Trial Lawyer: (Los Angeles 1911-1913) (Paperback)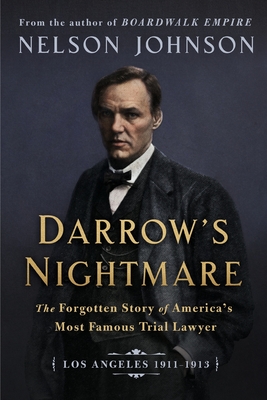 $19.95

Ships from Warehouse, Usually in 1-8 Days
Description
---
From the author of the New York Times bestselling book and hit HBO series BOARDWALK EMPIRE comes the forgotten story of the legendary Clarence Darrow, America's most famous criminal trial lawyer, and the charges that threatened to destroy his career.
"A fascinating portrait of Clarence Darrow as we've never seen him before-as a criminal defendant. In Darrow's Nightmare, Nelson Johnson tells the riveting tale of America's most famous lawyer as he fights for his life, marriage, career, and reputation. I couldn't put it down." -Terence Winter, Creator & Executive Producer, Boardwalk Empire
Considered by many to be one of the best-known criminal defense lawyers in the country, Clarence Darrow became nationally recognized for his eloquence, withering cross-examinations, and compassionate support for the underdog, both in and out of the courtroom.
Though his fifty-year-long career was replete with momentous cases, specifically his work in the Scopes Monkey Trial and the Leopold and Loeb Murder Trial, Darrow's Nightmare zeroes in on just two years of Darrow's career: 1911 to 1913. It was during this time period that Darrow was hired to represent the McNamara brothers, two union workers accused of bombing the Los Angeles Times building, an incident that resulted in twenty-one deaths and hundreds more injuries.
Along with investigative journalist Lincoln Steffens, Darrow negotiated an ambitious plea bargain on behalf of the McNamara brothers. But the plan soon unraveled; not long after the plea bargain was finalized, Darrow was accused of attempting to bribe a juror. As Darrow himself became the defendant, what was once his shining moment in the national spotlight became a threat to the future of his career and the safety of his family.
Forgotten by history books, New York Times best-selling author Nelson Johnson brings two of the most tumultuous years of Darrow's life back to the forefront of conversation. Drawing upon the 8,500-page transcript saved from the two trials, Johnson makes Darrow's story come to life like never before.
Darrow's Nightmare is a true story unlike any other-a historical courtroom thriller brought to life.