Economics in One Lesson Lib/E: The Shortest and Surest Way to Understand Basic Economics (Compact Disc)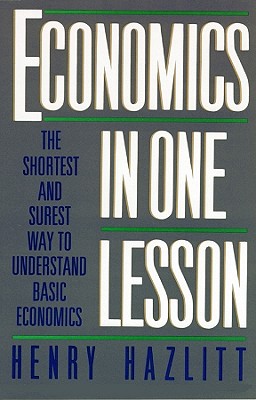 Description
---
A million-copy seller, Henry Hazlitt's Economics in One Lesson is a classic economic primer. But it is also much more, having become a fundamental influence on modern "libertarian" economics of the type espoused by Ron Paul and others. Called by H. L. Mencken "one of the few economists in history who could really write," Henry Hazlitt achieved lasting fame for this brilliant but concise work. In it, he explains basic truths about economics and the economic fallacies responsible for unemployment, inflation, high taxes, and recession, as well as illustrating the destructive effects of taxes, rent and price controls, inflation, trade restrictions, and minimum-wage laws. Economics in One Lesson is deceptively prescient and far-reaching in its efforts to dissemble economic fallacies that are so prevalent they have almost become a new orthodoxy. Many current economic commentators across the political spectrum have credited Hazlitt with foreseeing the collapse of the global economy, which occurred more than fifty years after the initial publication of this seminal work. Hazlitt's focus on non-governmental solutions, strong--and strongly reasoned--antideficit position, and general emphasis on free markets, economic liberty of individuals, and the dangers of government intervention make Economics in One Lesson every bit as relevant and valuable today as it has been since publication.
UPB open Tuesday through Friday 1PM - 6PM, Saturday Noon - 5pm
2430 Bancroft Way
The store known for serving pure brain food has returned to our old digs for a few months to sell down inventory and bid fare thee well to our decades of in-store customers.
Days and hours subject to change.
Note: This site lists what's available for special order from Ingram Content Group.
Visit our pages at Alibris or Biblio to survey in-store stock priced above $19.95.
Discount applies only to in-store purchases.
Cafe Ohlone
Once hosted by UPB, Cafe Ohlone now serves guests outside the Hearst Museum of Anthropology on the Cal campus.
Savor the foods which characterized east bay cuisine for thousands of years, before European contact. Brought to you by Mak'amham.