Christmas delivery ends December 13th
We much appreciate how you've made UPB your holiday shopping destination.
Keep in mind, though, that it can take time for books to arrive at your desired shipping address. Sometimes titles have to cross the country from their warehouse location.
Therefore we recommend that you place your gift orders by December 13th to maximize delivery chances before December 25th.
Critical Mass: Four Decades of Essays, Reviews, Hand Grenades, and Hurrahs (Paperback)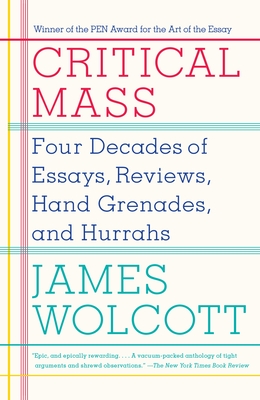 Description
---
James Wolcott's career as a critic has been unmatched, from his early Seventies dispatches for The Village Voice to the literary coverage made him equally feared and famous to his must-read reports on the cultural weather for Vanity Fair. Bringing together his best work from across the decades, this collection shows Wolcott as connoisseur, intrepid reporter, memoirist, and necessary naysayer.
        We begin with "O.K. Corral Revisited," Wolcott's career-launching account of the famed Norman Mailer–Gore Vidal dust-off on the original Dick Cavett Show. He goes on to consider (or reconsider) the towering figures of our culture, among them Lena Dunham Patti Smith, Johnny Carson, Woody Allen, and John Cheever. And we witness his legendary takedowns, which have entered into the literary lore of our time. In an age where a great deal of back scratching and softball pitching pass for criticism, Critical Mass offers a bracing taste of the real thing. 

About the Author
---
James Wolcott is the long-time culture critic and blogger for Vanity Fair. He is most recently the author of the critically acclaimed memoir Lucking Out, and his essays, features, and reviews have appeared in The New Republic, The New York Times Book Review, The Atlantic, The New Yorker, The New York Review of Books, and numerous other publications. He is also the author of a novel, The Catsitters, and a work of political commentary, Attack Poodles and Other Media Mutants. He lives in New York with his wife, the writer Laura Jacobs.
Praise For…
---
"Epic, and epically rewarding. . . . A vacuum-packed anthology of tight arguments and shrewd observations." —The New York Times Book Review

"[Wolcott] is the preeminent critic of contemporary spectacle, matching his own supercharged style to the highlights of forty years of TV, pop music, books, and movies." —The New York Review of Books

"If any book could stir up my moldering competitive instincts, Critical Mass is the one. . . . Back in those long-gone Voice days, not a few of us cockily fancied that we were—or were going to be—pretty good. Jim was better." —Tom Carson, Bookforum
 
"One of America's finest cultural critics." —Flavorwire

"In an age of inane Twitter commentary, 'likes,' and instant publication, one of the few critics standing athwart our culture and writing serious criticism is James Wolcott. . . . Critical Mass collects some of his most winning assassinations." —The Daily Beast

"Wolcott is a wickedly cunning, agile writer with a special talent for quick-sketch characterizations. . . . Critical Mass is the perfect bedside-table book because its short entries promise pleasure from even the briefest dips into its pages." —Richmond Times-Dispatch

"The thought hits every now and then when I read another critic: I wish I had written that sentence. Reading James Wolcott, though, 'every now and then' turns into every paragraph. . . . Sacred cows and conventional wisdom don't stand a chance against his pen." —Chris Vognar, The Dallas Morning News

"This book offers a sublime buzz." —Prospect Magazine

"Forthright and fair-minded, but ferocious in disdain, with the sly, smart voice of someone in the know but never caught up in the moment, this collection." —Publishers Weekly

"An eclectic collection that reasserts the author's reputation as one of America's most perceptive, candid and human critics." —Kirkus Reviews