Groundcover Revolution: How to use sustainable, low-maintenance, low-water groundcovers to replace your turf - 40 alternative choices for: - No Mowing. - No fertilizing. - No pesticides. - No problem! (Paperback)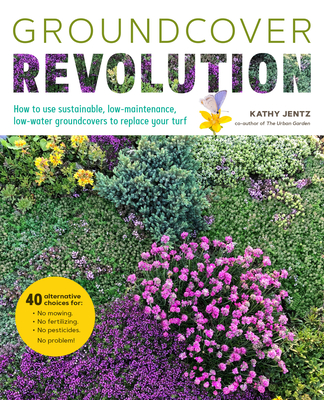 $26.99

Ships from Warehouse, Usually in 1-8 Days
Description
---
Tired of spending your weekends mowing, trimming, and edging? Then it's time to say goodbye to your standard grass lawn and join the Groundcover Revolution! 
Turns out you're not alone in your desire to ditch the lawn and replace it with something prettier, more diverse, lower maintenance, welcoming to pollinators, and good for Earth's climate health. Reducing the lawn is among the biggest trends in homeownership, with an endless stream of homeowners looking for an eco-friendly alternative to a traditional turfgrass lawn. In the last few years alone, over 23 million American adults converted part of their lawn to a natural landscape, and now they're looking to do even more.
The biggest challenge to adopting this new ideal of the perfect lawn? Knowing how and when to replace your turf, and which plants are the best ones for the job. Groundcover Revolution is here with all the answers you need (and some you didn't even know you needed!).
Those answers include:
How replacing a lawn with groundcovers reduces resource consumption on a significant level
Why groundcovers require far less long-term maintenance than turf after establishment
The many additional benefits of groundcovers, including erosion control, a reduction in chemical usage, a boost in biodiversity, and mitigation of climate change as a carbon sink
The ways groundcovers overcome challenges such as tree roots, compacted soils, poor drainage, and dense shade
The step-by-step mechanics of how to get rid of your lawn, how to place and plant groundcovers from seeds, plugs, or transplants, and how to care for your new "quilted lawn" once it's in place 
Also included are 40 in-depth profiles of plants that are perfect choices for replacing a grass lawn. There are options for sun, for shade, for dry and wet sites, and for various climates around the globe. There are choices that bloom, options that are evergreen, and selections that are deer resistant. Author Kathy Jentz has also included an incredibly useful chart that gives youall the specifics on each of the 40 choices for quick reference and to make your groundcover selection process even easier.
Don't let a lack of information stop you from creating the no-mow groundcover lawn of your dreams. Join the revolution and say goodbye to the burden of lawn care and hello to summer weekends relaxing by the pool or camping with family and friends. Whether you want to replace the entire lawn or just reduce the amount of land dedicated to turf, it's time to usher in a new and improved idea of what a beautiful lawn should be.
About the Author
---
Kathy Jentz is editor and publisher of Washington Gardener magazine. She is currently the Green Media columnist for the Mid-Atlantic Grower newspaper. She also edits the quarterly Water Garden Journal, the official publication of the International Waterlily & Water Gardening Society. Kathy's work has been featured in numerous publications, including the Washington Examiner newspaper, Pathways magazine, and Washington Women magazine. In addition, she appears on regular gardening guest spots on Channel 9, Channel 4, as well as WTOP, WAMU, and WOWD-LP radio stations in Washington, DC.
Praise For…
---
"Groundcover Revolution is a helpful, practical guide for selecting appropriate ground covers for your garden. Good photographs along with handy charts and quick tips provide essential information on specific plant preferences."—Holly Shimizu, horticulturist, consultant, and former Executive Director of the United States Botani

"Kathy Jentz is on a mission to free homeowners from the tyranny of turf. In Groundcover Revolution, Kathy makes a compelling case for ditching turf in favor of an assortment of easy-care groundcovers that not only lower your environmental footprint but turn a monoculture into a vibrant and welcoming home for beneficial wildlife. Kathy clearly outlines the benefits of making the switch to groundcovers. She profiles more than 40 great groundcover options suited to a variety of sites, including grasses, herbaceous perennials, ferns, and low-growing shrubs. If you've been waiting for an excuse to rip up your lawn, this book is the perfect inspiration to get started."—David J. Ellis, Editor, The American Gardener

"I thought I knew a thing or two about groundcovers; it turns out that Kathy knows a thing or a hundred about them. She has simplified this large group of plants by helping us chose a groundcover based not only on its beauty, but more importantly, based on its garden attributes. Plants for shade and disease resistance are provided, as well as well as those that pollinators visit and deer avoid. My favorite however was finding groundcovers that were leaf swallowers, plants that not only hide fallen leaves but help in breaking them down for further enrichment. When has learning been so beautiful and enjoyable?"—Dr. Allan Armitage, Professor Emeritus of Horticulture, University of Georgia

"Groundcover Revolution is both a practical handbook and a source of inspiration for anyone looking to incorporate more groundcovers into their landscape. Sure, Jentz covers lawn replacement, but what about large, traditionally mulched beds? And that shady corner of the yard perfect for lazy summer afternoon lounging — if only something grew there? Pick up Kathy's book to get ideas for fixing problem spots. She, dare I say it, has you covered!"
 —Katie Elzer-Peters, author of No -Waste Kitchen Gardening

"Kathy's book comes at just the right time, as people are increasingly replacing swaths of their lawns. This book is a guide for those looking for top performing plants that can replace grass. Plus, it's a feast for the eyes."—Katie Dubow, President of the Garden Media Group

"Kathy Jentz makes it easy for gardeners, be they experienced or beginner, to understand what it takes to minimize turf grass and enhance their gardens with more interesting and eco-friendly plant choices. This book is comprehensive about these choices but organized so that it's easy to find the right groundcover for any horticultural profile."—Leslie Harris, podcast host of Into the Garden with Leslie

"Groundcover Revolution is a well-crafted, thoughtful book that offers readers valuable, concise information on a variety of herbaceous and woody groundcovers that are excellent alternatives to turf. This timely publication is packed full of practical information from selecting the right plant for the right place to presenting important design and maintenance practices to maximize the effectiveness of these exceptional plants in the garden. Now more than ever the garden community craves sustainable alternatives to high maintenance lawns and this book delivers the goods."—Vincent A. Simeone, horticulturist, lecturer, author of Sustainable Gardening

"Tired of mowing again and again? Groundcover Revolution suggests and pictures plenty of mostly low-growing, weed-suppressing alternatives to turf, plus explains in terms of climate change, why it is more responsible to install groundcovers instead. The plant chart includes growing details for attractive fuss-free, pollinator-attracting plants. This book is an easy read for beginning gardeners as well as those more experienced."—Ruth Rogers Clausen, author of 50 Beautiful Deer-Resistant Plants

"Groundcover Revolution is an excellent alternative to your turfgrass woes. Kathy Jentz's experience, knowledge, and visual inspiration will help beginning gardeners to professional landscape designers create a mow-less and nature-friendly yard. With proven methods, easy-to-read charts, and helpful plant descriptions, Kathy provides everything you need to kick your grass to the curb." —Teresa Watkins, author, horticulturist, landscape designer, host of Better Lawns and Gardens

"Groundcover Revolution is must-have book for anyone who is interested in having less lawn, fewer weeds and reduced mulching. The properties charts will save the reader time and money, the pictures provide inspiration, while the detailed plant portraits give the focused information needed for creating beautiful, functional landscapes." —C.L. Fornari, GardenLady.com
UPB open Tuesday through Friday 1PM - 6PM, Saturday Noon - 5pm
2430 Bancroft Way
The store known for serving pure brain food has returned to our old digs for a few months to sell down inventory and bid fare thee well to our decades of in-store customers.
Days and hours subject to change.
Note: This site lists what's available for special order from Ingram Content Group.
Visit our pages at Alibris or Biblio to survey in-store stock priced above $19.95.
Discount applies only to in-store purchases.
Cafe Ohlone
Once hosted by UPB, Cafe Ohlone now serves guests outside the Hearst Museum of Anthropology on the Cal campus.
Savor the foods which characterized east bay cuisine for thousands of years, before European contact. Brought to you by Mak'amham.