Shrubs and Hedges: Discover, Grow, and Care for the World's Most Popular Plants (Paperback)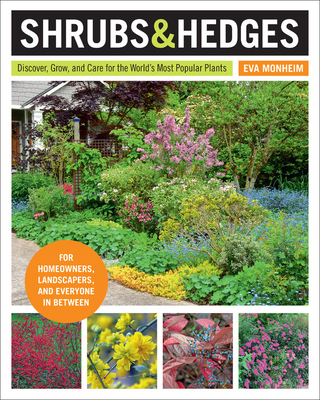 Sorry, Not Available through UPB
Description
---
A practical, ordinary person's guide to choosing, planting, and caring for the world's most popular plants, Shrubs & Hedges delivers all the know-how you'll need to grow beautiful, healthy shrubs.
Whether they're
flowering shrubs
or
evergreen hedges
, these long-lived plants fill a lot of space in our landscapes; yet they don't capture as much attention as perennials, annuals, and even trees. The front doors and picture windows of millions of houses world-wide are adorned by shrubs. Despite their ubiquity,
selecting and maintaining shrubs
remains a mystery to many. Shrubs are all-too-often inappropriately pruned into "meatball" shapes, or alternatively, left to become an overgrown tangle of branches. But as you'll discover in the pages of
Shrubs & Hedges,
when cared for properly, these workhorse plants have much to offer. They
mask foundations
,
delineate property lines
,
increase privacy
,
stabilize soils
,
provide food for wildlife,
and
add beauty and interest
to the landscape. It's time for shrubs to take center stage.
Shrubs & Hedges
eliminates the ambiguities of shrub selection and care by offering:
Advice on how to pick the best shrubs for your growing conditions
Plant profiles of both dependable classic shrubs and new rising stars
Step-by-step propagation instructions for making more shrubs—for free!
Shrub identification tips
A lesson on the value of hedges and hedgerows
The best shrubs for pollinators and other wildlife
Pruning illustrations and tips to maximize shrub performance and health
Tips for designing with shrubs
Drawing on her
decades of experience in the plant-care and landscape industries
, author and horticulture educator Eva Monheim proves you don't have to be a "gardener" to see the value in this extensive group of plants.
About the Author
---
Eva Monheim is co-founder of Verdant Earth Educators (VEE), a horticulture education and consulting firm. She's an instructor at the world-famous Longwood Gardens in their Professional Horticulture Program where she teaches woody plants and arboriculture. Eva is also a faculty member at The Barnes Arboretum of St. Joseph University where she teaches Landscape Management. Monheim was an assistant professor at Temple University in the Department of Landscape Architecture and Horticulture for over twelve years where she taught undergraduate and graduate-level courses. Professionally educated and trained, she is a horticulturist, certified arborist, master floral designer, artist, and writer. Eva's articles, designs, and photographs have appeared in national, regional, and local magazines and newspapers, including a column in the Philadelphia Inquirer. Thanks to her horticultural studies in England, Eva has a global appreciation of garden design and environmental sensitivity. 
Praise For…
---
"Shrubs and hedges are often taken for granted by professional horticulturists and garden owners alike. However, this invaluable book celebrates them, with readable and fascinating details about a range of species suitable for individual locations. The author's passion and experience shine through the text. Detailed information is included for each cultivar, hybrid, and/or selection, its suitability for specific sites, sound growing and pruning tips, and its place in ecological landscapes, along with tool care, reference material, and more. Undoubtedly Shrubs Hedges will become a significant reference book for years to come."
 —Ruth Rogers Clausen, Ruth Rogers Clausen

"...takes readers on an amazing journey that is sure to inspire them to choose well when adding them to their gardens."—Susan's In the Garden

"...clear enough for beginners, detailed enough for pros."—Washington Gardener

"...appealing to Monheim's intended audience of "homeowners, landscapers, and everyone in between.""—Triangle Gardner