Rumi (Paperback)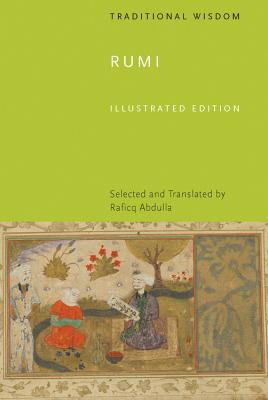 Description
---
`The grape on the vine
Is wine in the making,
Crush it and it comes alive.'
JalaluddinRumi, the great Sufi poet and mystic born in 1204, believed that if we surrender ourselves to the power of love, it is possible to live in a state of infinite bliss.
This collection features poems from a selection of Rumi's work, from odes to the inspirational and mysterious figure who changed his life to the Mathnavi-e Na'navi, the Poem of Inner Meanings, which offers moral and spiritual knowledge.
Raficq Abdulla's translation captures the energy and power of the original. Illustrated with carefully chosen decorations from Islamic manuscripts.
About the Author
---
Raficq Abdulla was awarded an MBE in 1999 for his ecumenical work among Muslims, Jews and Christians. He has written and presented numerous radio programmes about Islam for the BBC, including a series of talks on the Prophet Muhammad and the Four Caliphs, and programmes on Jalaluddin Rumi. He has written award-winning screenplays for Channel 4, poetry and articles for a range of journals, and he is a frequent book reviewer. He lives in London W12.