The Grace of the Italian Renaissance (Hardcover)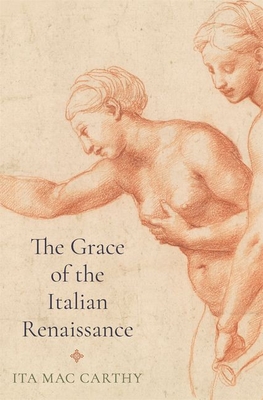 Description
---
How grace shaped the Renaissance in Italy
"Grace" emerges as a keyword in the culture and society of sixteenth-century Italy. The Grace of the Italian Renaissance explores how it conveys and connects the most pressing ethical, social and aesthetic concerns of an age concerned with the reactivation of ancient ideas in a changing world. The book reassesses artists such as Francesco del Cossa, Raphael and Michelangelo and explores anew writers like Castiglione, Ariosto, Tullia d'Aragona and Vittoria Colonna. It shows how these artists and writers put grace at the heart of their work.
Grace, Ita Mac Carthy argues, came to be as contested as it was prized across a range of Renaissance Italian contexts. It characterised emerging styles in literature and the visual arts, shaped ideas about how best to behave at court and sparked controversy about social harmony and human salvation. For all these reasons, grace abounded in the Italian Renaissance, yet it remained hard to define. Mac Carthy explores what grace meant to theologians, artists, writers and philosophers, showing how it influenced their thinking about themselves, each other and the world.
Ambitiously conceived and elegantly written, this book portrays grace not as a stable formula of expression but as a web of interventions in culture and society.
About the Author
---
Ita Mac Carthy is associate professor of Italian and translation studies in the School of Modern Languages and Cultures at Durham University. Her books include Cognitive Confusions: Dreams, Delusions and Illusions in Early Modern Culture, Renaissance Keywords, and Women and the Making of Poetry in Ariosto's "Orlando furioso".