***CREDIT/DEBIT CARD PROCESSING SUSPENDED
THROUGH THURSDAY, APRIL 8TH WEDNESDAY, APRIL 14TH***
To improve our service, we're changing transaction handling services.
It'll take us a few days to finish the switch.

In the meanwhile, we're accepting payments from PayPal.
Before you order…
We're glad to continue serving customers, even though our former store front has closed, and we operate this web store under reduced services.
Click here or scroll to the bottom to review limits placed on orders. .
How the Classics Made Shakespeare (Hardcover)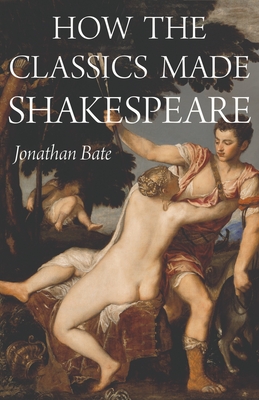 Description
---
From one of our most eminent and accessible literary critics, a groundbreaking account of how the Greek and Roman classics forged Shakespeare's imagination
Ben Jonson famously accused Shakespeare of having "small Latin and less Greek." But he was exaggerating. Shakespeare was steeped in the classics. Shaped by his grammar school education in Roman literature, history, and rhetoric, he moved to London, a city that modeled itself on ancient Rome. He worked in a theatrical profession that had inherited the conventions and forms of classical drama, and he read deeply in Ovid, Virgil, and Seneca. In a book of extraordinary range, acclaimed literary critic and biographer Jonathan Bate, one of the world's leading authorities on Shakespeare, offers groundbreaking insights into how, perhaps more than any other influence, the classics made Shakespeare the writer he became. Revealing in new depth the influence of Cicero and Horace on Shakespeare and finding new links between him and classical traditions, ranging from myths and magic to monuments and politics, Bate offers striking new readings of a wide array of the plays and poems. At the heart of the book is an argument that Shakespeare's supreme valuation of the force of imagination was honed by the classical tradition and designed as a defense of poetry and theater in a hostile world of emergent Puritanism. Rounded off with a fascinating account of how Shakespeare became our modern classic and has ended up playing much the same role for us as the Greek and Roman classics did for him,
How the Classics Made Shakespeare
combines stylistic brilliance, accessibility, and scholarship, demonstrating why Jonathan Bate is one of our most eminent and readable literary critics.
About the Author
---
Jonathan Bate is Foundation Professor of Environmental Humanities at Arizona State University and Senior Research Fellow at Oxford University. His many books include Soul of the Age: A Biography of the Mind of William Shakespeare. He broadcasts regularly for the BBC, is the coeditor of The RSC Shakespeare: Complete Works, and wrote an acclaimed one-man play for Simon Callow, Being Shakespeare. Twitter @profbate