The Rule of Five: Making Climate History at the Supreme Court (Paperback)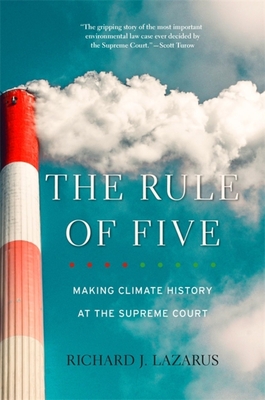 $21.95

Ships from Warehouse, Usually in 1-8 Days
Description
---
Winner of the Julia Ward Howe Prize
"The gripping story of the most important environmental law case ever decided by the Supreme Court."
--Scott Turow "In the tradition of
A Civil Action
, this book makes a compelling story of the court fight that paved the way for regulating the emissions now overheating the planet. It offers a poignant reminder of how far we've come--and how far we still must go."
--Bill McKibben, author of
The End of Nature
On an unseasonably warm October morning, an idealistic young lawyer working on a shoestring budget for an environmental organization no one had heard of hand-delivered a petition to the Environmental Protection Agency, asking it to restrict greenhouse gas emissions from new cars. The Clean Air Act authorized the EPA to regulate "any air pollutant" thought to endanger public health. But could carbon dioxide really be considered a harmful pollutant? And even if the EPA had the authority to regulate emissions, could it be
forced
to do so?
The Rule of Five
tells the dramatic story of how Joe Mendelson and the band of lawyers who joined him carried his case all the way to the Supreme Court. It reveals how accident, infighting, luck, superb lawyering, politics, and the arcane practices of the Supreme Court collided to produce a legal miracle. The final ruling in
Massachusetts v. EPA
, by a razor-thin 5-4 margin brilliantly crafted by Justice John Paul Stevens, paved the way to important environmental safeguards which the Trump administration fought hard to unravel and many now seek to expand. "There's no better book if you want to understand the past, present, and future of environmental litigation."
--Elizabeth Kolbert, author of
The Sixth Extinction
"A riveting story, beautifully told."
--
Foreign Affairs
"Wonderful...A master class in how the Supreme Court works and, more broadly, how major cases navigate through the legal system."
--
Science