Database Design (Sams White Book) (Paperback)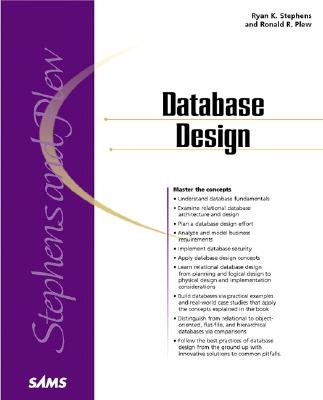 Sorry, Not Available through UPB
Description
---
Database Design is the book you need to master the fundamentals of relational database design in today's ever-evolving world of database technologies. This book takes an approach to database design to teach the reader how to reach into the inner depths of an organization to understand the business needs, data, and daily processes that will all blend together to formulate a successful database. Much emphasis is placed on logical design as it is imperative to understand the inner workings of an organization to produce the highest quality database, while proactively eliminating future problems that are not so easy for a beginner to foresee.
Additionally, topics such as change control, business rule integration, database security implementation, and legacy database redesign are covered in detail. Examples of SQL code are shown to portray implementation tasks of a relational database. Examples are compliant with ANSI standard.
About the Author
---
Frederic H. Jones, Ph.D., has been involved in database design and programming for fifteen years. He has designed and developed commercially available relational and object oriented database systems and applications, as well as database designs for clients such as GE, Westinghouse, Herman Miller Corporation, Lightolier, Moen, Carrier Corp and Electronic Arts. He is the founder of Eclat, Inc., a major database publisher in the construction industry and currently CEO of Learning Square, Inc. an Internet distance learning development and consulting firm.