The Other Dr. Gilmer: Two Men, a Murder, and an Unlikely Fight for Justice (Hardcover)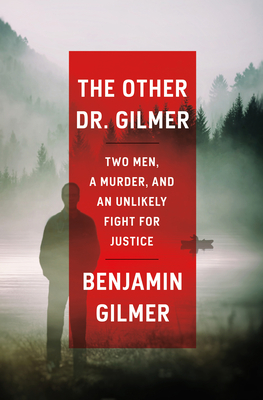 Description
---
NEW YORK TIMES EDITORS' CHOICE • A "mesmerizing" (The New York Times Book Review) true story about a shocking crime and a mysterious illness that will forever change your notions of how we punish and how we heal—an expansion on one of the most popular This American Life episodes of all time

"A remarkable medical detective story–cum–memoir, grippingly told . . . I was drawn in by every part of it."—Atul Gawande, #1 New York Times bestselling author of Being Mortal

ONE OF THE BEST BOOKS OF THE YEAR: The New York Public Library

Fresh out of medical residency, Dr. Benjamin Gilmer joined a rural North Carolina clinic only to find that its previous doctor shared his last name. Dr. Vince Gilmer was loved and respected by the community—right up until he strangled his ailing father and then returned to the clinic for a regular week of work. Vince's eventual arrest for murder shocked his patients. How could their beloved doctor be capable of such violence? The deeper Benjamin looked into Vince's case, the more he became obsessed with discovering what pushed a good man toward darkness.
  
When Benjamin visited Vince in prison, he met a man who appeared to be fighting his own mind, constantly twitching and veering into nonsensical tangents. Sentenced to life in prison, Vince had been branded a cold-blooded killer and a "malingerer"—a person who fakes an illness. But it was obvious to Benjamin that Vince needed help. Alongside This American Life journalist Sarah Koenig, Benjamin resolved to understand what had happened to his predecessor. Time and again, the pair came up against a prison system that cared little about the mental health of its inmates—despite more than a third of them suffering from mental illness.

The Other Dr. Gilmer takes readers on a riveting and heart-wrenching journey through our shared human fallibility, made worse by a prison system that is failing our most vulnerable citizens. With deep compassion and an even deeper sense of justice, Dr. Benjamin Gilmer delves into the mystery of what could make a caring doctor commit a brutal murder. And in the process, his powerful story asks us to answer a profound question: In a country with the highest incarceration rates in the world, what would it look like if we prioritized healing rather than punishment?
About the Author
---
Dr. Benjamin Gilmer is a family medicine physician in Fletcher, North Carolina. He is an Albert Schweitzer Fellow for Life and associate professor in the department of family medicine at the University of North Carolina School of Medicine at Chapel Hill and at the Mountain Area Health Education Center. A former neurobiologist turned rural family practitioner, Dr. Gilmer has lectured across the country about medical ethics, rural health, and the intersection of medicine and criminal justice reform. He lives with his wife, Deirdre; their two children, Kai and Luya; and their dog, Prince Peanut Butter, in Asheville, North Carolina.
Praise For…
---
"Mesmerizing . . . a wrenching, maddening, compelling book."—The New York Times Book Review

"A spellbinding story . . . [Gilmer's] writing is lucid and compassionate."—Minneapolis Star Tribune

"A remarkable true-crime account . . . but The Other Dr. Gilmer is more than that. Gilmer argues that, as asylums have closed and mental health centers have seen budgets slashed, the criminal justice system has become a holding pen for many of the nation's mentally ill. . . . [He] calls for humane reforms to ease the system and perhaps to prevent crimes in the first place."—Wilmington Star-News

"Fans of both true-crime podcasts and medical mysteries are in for a treat. . . . The search for answers sends [Benjamin Gilmer] on a years-long crusade through the legal and prison systems, where medical compassion can be hard to come by."—The Washington Post

"A knockout debut that gripped me from the very first line . . . Benjamin Gilmer masterfully peels away the layers of a long-closed murder and drops us into an unbelievable true story of medical mystery, mental illness, and the terrifying injustices of our justice system."—Maureen Callahan, New York Times bestselling author of American Predator

"The Other Dr. Gilmer does not merely point at a broken system: it humanizes the people trapped within it. They need a physician like Dr. Gilmer to lead the way to healing."—Anthony Ray Hinton, New York Times bestselling author of The Sun Does Shine

"Benjamin Gilmer has written nonfiction that flows like a novel and a piece of investigative journalism full of heart and grace."—Wiley Cash, New York Times bestselling author of When the Ghosts Come Home

"The Other Dr. Gilmer is an extraordinary story of how an inheritable brain disorder destroyed two lives: a father and a son. More important, it gives a view into a criminal justice system that has destroyed many more. . . . Powerful, profound, and compelling."—James R. Doty, MD, New York Times bestselling author of Into the Magic Shop

"A complex, unlikely medical mystery and true crime story along with one man's relentless quest for justice."—Charles Frazier, New York Times bestselling author of Cold Mountain, winner of the National Book Award for Fiction

"A gripping and deeply compelling story . . . Through it all runs the heart of Dr. Benjamin Gilmer, whose relentless pursuit of diagnosis, treatment, and care for an ostracized man demonstrates the kind of authentic compassion we would all want from our physicians."—Christine Montross, MD, author of Waiting for an Echo

"Gilmer's narrative is gripping, and he writes deftly and with compassion."—Library Journal (starred review)

"Antitheses abound . . . in this unsettling combination of murder mystery, medical detective tale, and plea for criminal-justice reform."—Booklist
UPB open Tuesday through Friday 1PM - 6PM, Saturday Noon - 5pm
2430 Bancroft Way
The store known for serving pure brain food has returned to our old digs for a few months to sell down inventory and bid fare thee well to our decades of in-store customers.
Days and hours subject to change.
Note: This site lists what's available for special order from Ingram Content Group.
Visit our pages at Alibris or Biblio to survey in-store stock priced above $19.95.
Discount applies only to in-store purchases.
Cafe Ohlone
Once hosted by UPB, Cafe Ohlone now serves guests outside the Hearst Museum of Anthropology on the Cal campus.
Savor the foods which characterized east bay cuisine for thousands of years, before European contact. Brought to you by Mak'amham.