The Persuaders: At the Front Lines of the Fight for Hearts, Minds, and Democracy (Hardcover)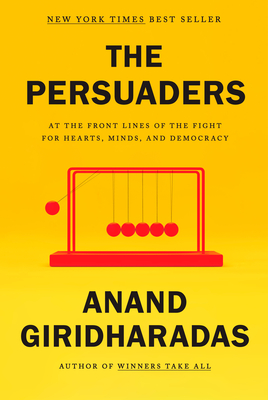 $30.00

Ships from Warehouse, Usually in 1-8 Days
Description
---
NEW YORK TIMES BESTSELLER • An insider account of activists, politicians, educators, and everyday citizens working to change minds, bridge divisions, and fight for democracy—from disinformation fighters to a leader of Black Lives Matter to Bernie Sanders and Alexandria Ocasio-Cortez and more—by the best-selling author of Winners Take All and award-winning former New York Times columnist

"Anand Giridharadas shows the way we get real progressive change in America—by refusing to write others off, building more welcoming movements, and rededicating ourselves to the work of changing minds." —Robert B. Reich, best-selling author of The System

The lifeblood of any free society is persuasion: changing other people's minds in order to change things. But America is suffering a crisis of faith in persuasion that is putting its democracy and the planet itself at risk. Americans increasingly write one another off instead of seeking to win one another over. Debates are framed in moralistic terms, with enemies battling the righteous. Movements for justice build barriers to entry, instead of on-ramps. Political parties focus on mobilizing the faithful rather than wooing the skeptical. And leaders who seek to forge coalitions are labeled sellouts.

In The Persuaders, Anand Giridharadas takes us inside these movements and battles, seeking out the dissenters who continue to champion persuasion in an age of polarization. We meet a leader of Black Lives Matter; a trailblazer in the feminist resistance to Trumpism; white parents at a seminar on raising adopted children of color; Bernie Sanders and Alexandria Ocasio-Cortez; a team of door knockers with an uncanny formula for changing minds on immigration; an ex-cult member turned QAnon deprogrammer; and, hovering menacingly offstage, Russian operatives clandestinely stoking Americans' fatalism about one another.

As the book's subjects grapple with how to call out threats and injustices while calling in those who don't agree with them but just might one day, they point a way to healing, and changing, a fracturing country.
About the Author
---
ANAND GIRIDHARADAS is the author of the international best-seller Winners Take All, The True American, and India Calling. A former foreign correspondent and columnist for The New York Times for more than a decade, he has also written for The New Yorker, The Atlantic, and Time, and is the publisher of the newsletter The.Ink. He is an on-air political analyst for MSNBC. He has received the Radcliffe Fellowship, the Porchlight Business Book of the Year Award, Harvard University's Outstanding Lifetime Achievement Award for Humanism in Culture, and the New York Public Library's Helen Bernstein Book Award for Excellence in Journalism. He lives in Brooklyn, New York.

Praise For…
---
Los Angeles Times Book Prize Finalist

"While the world seems to counsel despair, The Persuaders is animated by a sense of possibility."—Jennifer Szalai, The New York Times

"A handbook for defending democracy"—CNN

"Illuminating . . . Efforts to persuade opponents instead of writing them off are probed in this searching study. . . . This is an incisive guide to the art of persuasion."—Publishers Weekly

"Persuasion, Giridharadas effectively points out, is necessary for democracy to thrive. He offers strong stories and evidence that polarization and rigid ideology are not the brick walls they're made out to be. While Giridharadas wrestles with contemporary issues, his inquiry has timeless qualities that transcend the news of the day in the hope of helping strengthen democracy for all time."—James Pekoll, Booklist (starred review)

"A sharp examination of how activists are working to build resistance to the many antidemocratic forces now at work around the world . . . A welcome, revealing study of how political messages can be shaped positively to counter both enmity and disinformation."—Kirkus Reviews (starred review)

"This vivid, sweeping, provocative book is a group portrait of the activist Left, enhanced by the author's interviews with progressive superstar New York's Alexandria Ocasio-Cortez. Giridharadas's tone is soothing, his anecdotes colorful, his agenda is fiery."—Oprah Daily, "10 Must-Read Political Books to Get You Through the 2022 Mid-Term Elections"

"An engaging and provocative study . . . Enjoyable, helpful . . . I found [The Persuaders] a useful, thoughtful and interesting read."—Emma Brockes, The Guardian
 
"So unique, and so compelling . . . The book injects nuance and humanity into debates and dilemmas that are all too often fatalistic and cynical. The Persuaders brings its subjects to life, portraying their successes and struggles in a way that manages to leave the reader with a sense of solidarity and hopefulness, a conviction that the project of democracy is not lost, and an inspiration to get to work."—Adam M. Lowenstein, The American Prospect

"An incredibly hopeful book . . . Every now and then, I come across something that makes me think in a completely new way, and this was one of those times. . . . It's just so good."—Brené Brown, Unlocking Us

"I really encourage folks to go out and grab a copy of The Persuaders. . . . You're going to see a lot of yourself in the book. And you're going to see a lot of things that you thought you disagreed with and you're actually going to agree with . . . and that is the beginning of opening one's mind to what is not only true around you but what's true within you, but about yourself. And that's some of the hardest reading there is."—Michael Steele, The Michael Steele Podcast

"[Giridharadas] makes a really, really good point here that persuasion doesn't mean watered down, watered down, watered down into nothing. It means think about how to have your argument, meet people where they are, rather than necessarily where you want them to be."—David Sirota, Lever Time

"I highly recommend every single person interested in making change and changing hearts and minds read this fantastic book."—David Hogg, cofounder of March for Our Lives, via Twitter

"The Persuaders is the book we need right now. Giridharadas gets unmatched access to some of today's most important movement-builders, and then explains how they've gotten more people to buy in to their movements without selling out. Persuading in a time of extremes is not easy, but Giridharadas proves it's possible. Readers will walk away more optimistic and more capable of forging coalitions in their own lives and in the world."—Heather McGhee, author of The Sum of Us

"Anand Giridharadas shows the way we get real progressive change in America – by refusing to write others off, building more welcoming movements, and rededicating ourselves to the work of changing minds. If you sometimes despair at America's capacity to achieve the common good, this book is a welcome and inspiring tonic."—Robert B. Reich, author of The System

"The Persuaders is a must-read book on how we can beat back the authoritarian menace, deliver real progress, and win a just future for all. It is a bracing wake-up call for those of us in the pro-democracy cause to change our ways if we want to win. It will teach you how to win others over while standing firm and how to reach loved ones who have succumbed to cults, lies, and demagogues. Our best days can still lie ahead of us. This brilliant book is a map to get there."—Ro Khanna, Member of Congress

"Giridharadas has already established himself as a major chronicler of one of our great divides — the disparities of income and opportunity that undergird American plutocracy. Now he turns his attention to another kind of gulf, one that's just as endemic and dangerous: ideology. It's one thing to diagnose and quite another to offer real solutions, but in this wide-ranging and profound book, Giridharadas explores real strategies for bridging these divides by finding a language in which we can speak to one another, and persuade. Reading The Persuaders I felt something I hadn't in quite a while: a tremor of hope."—Patrick Radden Keefe, author of Empire of Pain

"For all organizers out there in the world, people who want to go talk to real people and try to convert them, this is a must-read and it's a playbook."—Faiz Shakir, former campaign manager for Bernie Sanders' 2020 presidential campaign

"At the heart of The Persuaders is an immense spirit of generosity. With clarity and nuance, Anand Giridharadas paints portraits of people who are pushing the boundaries of traditional political paradigms, and whose work serves as a clarion call for all of us to imagine a new set of political possibilities. It is both a challenge and an affirmation. This is a guidebook to a better world."—Clint Smith, author of How the Word Is Passed

"The Persuaders provides the urgent wisdom we need to fix our broken world. It is a call for an army of persuaders—the teachers, listeners, and peacemakers willing to take the necessary risks to have a working society again. In a culture where everyone we disagree with is written-off, Giridharadas asks us to write our neighbors, friends, and family members back into our lives. This is the book every reader needs now, because we need each other more than ever."—Min Jin Lee, author of Pachinko

"Anand Giridharadas's The Persuaders is an urgent call to think more clearly and more creatively about how we communicate the perils and possibilities of this time. Drawing on conversations with activists and politicians, Giridharadas is urging all of us to work harder to bridge the chasms that seem to yawn open between us; he offers constructive ideas about how to reach those who may seem unreachable, but without whom we cannot begin to reach a more just, stable and equitable future. This is a generous and hopeful document, a rare and welcome beacon pointing us forward."—Rebecca Traister, author of Good and Mad
UPB open Tuesday through Friday 1PM - 6PM, Saturday Noon - 5pm
2430 Bancroft Way
The store known for serving pure brain food has returned to our old digs for a few months to sell down inventory and bid fare thee well to our decades of in-store customers.
Days and hours subject to change.
Note: This site lists what's available for special order from Ingram Content Group.
Visit our pages at Alibris or Biblio to survey in-store stock priced above $19.95.
Discount applies only to in-store purchases.
Cafe Ohlone
Once hosted by UPB, Cafe Ohlone now serves guests outside the Hearst Museum of Anthropology on the Cal campus.
Savor the foods which characterized east bay cuisine for thousands of years, before European contact. Brought to you by Mak'amham.