Notes from the 3rd Rail: Stage IV (Paperback)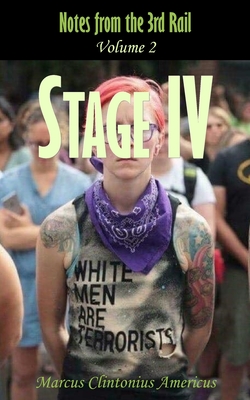 Description
---
Since Notes from the 3rd Rail: Civilization in the Crosshairs was compiled in 2016, the disease of political correctness/identity politics has metastasized. The politics of the fascist Left have now descended beyond the event horizon and into the black hole of complete nihilism.
Building on his self-othering thesis established in the first volume, Marcus Clintonius Americus now addresses the West's latest descent into moral chaos: transgenderism and the sexualization of children.
Eight additional essays on the Left's unrelenting war on normalcy, tackling hate crime hoaxes, the MeToo movement, intersectionalism, Antifa, Black Lives Matter and more, complete the first half of Stage IV.
A half-dozen "not-for-primetime" reviews of several popular movies and Douglas Murray's groundbreaking book on Europe's suicide round out this second volume from the world's longest living survivor of civilizational collapse.