Animals Make Us Human: Creating the Best Life for Animals (Paperback)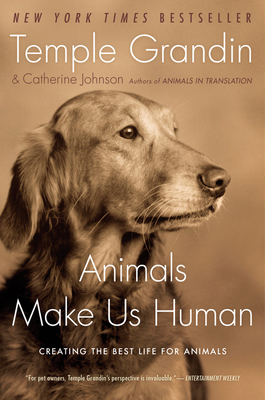 $20.99

Ships from Warehouse, Usually in 1-8 Days
Description
---
A NEW YORK TIMES BESTSELLER

From beloved animal expert Temple Grandin, a fascinating exploration on how animals feel—essential reading for anyone who's ever owned, cared for, or simply cared about an animal.

While it's usually easy to pinpoint the cause of physical pain in animals, to know what's causing them emotional distress is much harder. Drawing on the latest research and her own work, Grandin identifies the core emotional needs of animals. Then she explains how to fulfill them for dogs and cats, horses, farm animals, and zoo animals. Whether it's how to make the healthiest environment for the dog you must leave alone most of the day, how to keep pigs from being bored, or how to know if the lion pacing in the zoo is miserable or just exercising, Grandin teaches us to challenge our assumptions about animal contentment and honor our bond with our fellow creatures.
About the Author
---
TEMPLE GRANDIN is one of the world's most accomplished and well-known adults with autism. She is a professor at Colorado State University and the New York Times bestselling author of several books, including The Autistic Brain, which have sold more than a million copies. Named one of Time's most influential people in 2010, the HBO movie based on her life, starring Claire Danes, received seven Emmy Awards.
CATHERINE JOHNSON, Ph.D., is a writer specializing in neuropsychiatry and the brain. She cowrote Animals in Translation and served as a trustee of the National Alliance for Autism Research for seven years. She lives with her husband and three sons—two of whom have autism—in New York.
Praise For…
---
Praise for Animals Make Us Human

"Provocative...We're lucky to have Temple Grandin." --New York Times

"Part owner's manual and part business proposal, Animals Make Us Human argues that we can treat animals better if we consider the emotions that motivate them...For pet owners, her perspecitve is invaluable...Grade: A-" -- Entertainment Weekly

A well-written, down-to-earth look into the lives of lots of animals, including animals that make up part of our food chain. Grade: A" - Rocky Mountain News

"Packed with fascinating insights, unexpected observations and a wealth of how-to tips, Grandin's peppy work ably challenges assumptions about what makes animals happy." - STARRED Publishers Weekly

"The text provides thought-provoking scenarios and references several animal studies...readers will be able to glean new perspectives about animal welfare." -Library Journal

Praise for Animals in Translation

"Inspiring . . . Crammed with facts and anecdotes about Temple Grandin's favorite subject: the senses, brains, emotions, and amazing talents of animals."—New York Times Book Review

"A master intermediary between humans and our fellow beasts . . . At once hilarious, fascinating, and just plain weird, Animals is one of those rare books that elicits a 'wow' on almost every page. A."—Entertainment Weekly

"At times, it is difficult to work out whether this is a book about animal behavior with insight from autism, or a book about autism that uses animal behavior to explain what it is like to be autistic. A major achievement of the book is that it is both."—Nature


—
UPB open Tuesday through Friday 1PM - 6PM, Saturday Noon - 5pm
2430 Bancroft Way
The store known for serving pure brain food has returned to our old digs for a few months to sell down inventory and bid fare thee well to our decades of in-store customers.
Days and hours subject to change.
Note: This site lists what's available for special order from Ingram Content Group.
Visit our pages at Alibris or Biblio to survey in-store stock priced above $19.95.
Discount applies only to in-store purchases.
Cafe Ohlone
Once hosted by UPB, Cafe Ohlone now serves guests outside the Hearst Museum of Anthropology on the Cal campus.
Savor the foods which characterized east bay cuisine for thousands of years, before European contact. Brought to you by Mak'amham.