Before you buy…
We're glad to again service customers, even though our former store front has closed and we operate this web store under reduced services.
Just scroll to the bottom to review limits placed on orders. .
The Third Pillar: How Markets and the State Leave the Community Behind (Paperback)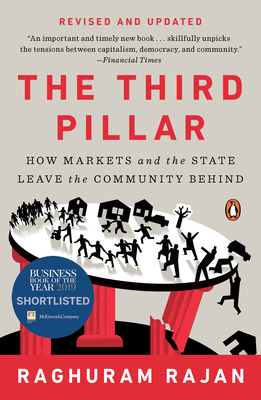 Description
---
Shortlisted for the Financial Times/McKinsey Business Book of the Year Award


From one of the most important economic thinkers of our time, a brilliant and far-seeing analysis of the current populist backlash against globalization.

Raghuram Rajan, distinguished University of Chicago professor, former IMF chief economist, head of India's central bank, and author of the 2010 FT-Goldman-Sachs Book of the Year Fault Lines, has an unparalleled vantage point onto the social and economic consequences of globalization and their ultimate effect on our politics. In The Third Pillar he offers up a magnificent big-picture framework for understanding how these three forces--the state, markets, and our communities--interact, why things begin to break down, and how we can find our way back to a more secure and stable plane.

The "third pillar" of the title is the community we live in. Economists all too often understand their field as the relationship between markets and the state, and they leave squishy social issues for other people. That's not just myopic, Rajan argues; it's dangerous. All economics is actually socioeconomics - all markets are embedded in a web of human relations, values and norms. As he shows, throughout history, technological phase shifts have ripped the market out of those old webs and led to violent backlashes, and to what we now call populism. Eventually, a new equilibrium is reached, but it can be ugly and messy, especially if done wrong.

Right now, we're doing it wrong. As markets scale up, the state scales up with it, concentrating economic and political power in flourishing central hubs and leaving the periphery to decompose, figuratively and even literally. Instead, Rajan offers a way to rethink the relationship between the market and civil society and argues for a return to strengthening and empowering local communities as an antidote to growing despair and unrest. Rajan is not a doctrinaire conservative, so his ultimate argument that decision-making has to be devolved to the grass roots or our democracy will continue to wither, is sure to be provocative. But even setting aside its solutions, The Third Pillar is a masterpiece of explication, a book that will be a classic of its kind for its offering of a wise, authoritative and humane explanation of the forces that have wrought such a sea change in our lives.
About the Author
---
Raghuram Rajan is the Katherine Dusak Miller Distinguished Service Professor of Finance at the University of Chicago Booth School of Business. He was the 23rd Governor of the Reserve Bank of India between September 2013 and September 2016. Euromoney magazine named him Central Banker of the Year in 2014. Between 2003 and 2006, Dr. Rajan was the Chief Economist at the International Monetary Fund. He co-authored Saving Capitalism from the Capitalists with Luigi Zingales in 2003. He then wrote Fault Lines: How Hidden Fractures Still Threaten the World Economy, for which he was awarded the Financial Times-Goldman Sachs prize for best business book in 2010. Learn more about Dr. Rajan and his books at faculty.chicagobooth.edu/raghuram.rajan.
Praise For…
---
A Fareed Zakaria GPS Book of the Week

"Compelling . . . urges economists to recognize a blind spot. The places where people grow up, live and work are not simply agglomerations of economic activity. They shape people's identities . . . Having been insufficiently mindful of this over the past few decades, business and government leaders may have little option but to brace themselves for frustrated communities demanding change." —The Economist 

"An important and timely new book . . . The Third Pillar represents a new departure into grand social history, which in its breadth often echoes big-picture theorists such as Barrington Moore and Francis Fukuyama and their attempts to tease apart the long-term tensions between capitalism and democracy." —Financial Times 
 
"The Third Pillar is an important contribution to understanding why, a decade after the crisis, the world's politics and economics remain so brittle." —Sunday Times 
 
"Insightful and impressive . . . Mr. Rajan, a former Governor of the Reserve Bank of India, is a high priest of financial economics and central banking. His decision to champion county craft fairs and garbage collection is all the more compelling because it is unexpected. . . . And as local governments get to work, they could certainly use the help of more thinkers of Mr. Rajan's caliber." —Edward Glaeser, The Wall Street Journal


"The Third Pillar is a must read for everyone seeking a way to preserve democracy as we've known it. In Rajan's brilliant new perspective, successful democracies require balance between competitive markets, honest governments, and healthy, local communities. But our communities have been ravaged by globalization and ICT. Restoration of that third pillar is therefore the most essential task facing policymakers today." —Janet Yellen, Distinguished Fellow in Residence, Brookings Institution, and Chair of the Board of Governors of the Federal Reserve 2014-2018
 
"Rather suddenly, capitalism is visibly sick . . . Fortunately, Raghuram G. Rajan, a former governor of the Reserve Bank of India who teaches at the University of Chicago Booth School of Business, brings his unparalleled knowledge and experience to bear on the problem." —Angus Deaton, 2015 Nobel Prize winner in Economic Sciences

"Raghuram Rajan has done it again. Fresh, insightful and engaging, The Third Pillar offers a brilliant reckoning with one of today's most important and potentially crippling challenges. He does more than analyze the unbalance that has developed among the three pillars that support society; he also tells us what's needed to  shift our prospects in favor of the exciting upside of technological progress that empowers, enables and enriches the many; and away from political anger, alienation and political radicalization. His clear and compelling case goes well beyond protecting the vulnerable. It's also, critically, about enhancing the whole." —Mohamed El-Erian, author of When Markets Collide and The Only Game in Town
 
"Insightful and thought-provoking." —Publishers Weekly
 
"A welcome survey of a big-picture problem: Rajan proposes a rebalancing to be brought about by decentralized politics, diverse immigration, and other measures that, though controversial, certainly merit discussion." —Kirkus Reviews

"My parents lived through the Great Depression, the rise of Fascism, and World War II. I thought I was brought up in a world organized in a fundamentally different way. I was wrong. We all need to start thinking about this issue right now and this book is a place to begin." —James A. Robinson, Professor, University of Chicago, co-author of Why Nations Fail
 
"Few economists span the worlds of policy and scholarship with such distinction as Raghu Rajan, and fewer still have been so consistently right about the wrong turns the world economy has taken. In his latest book, Rajan reminds us of the importance of local communities—the social ties that bind those who live in close geographical proximity. We need to strike a balance not just between state and market, he argues, but also between these two and community. Rajan presents a bold, original vision that significantly advances our contemporary debate on the ills of democracies and moves it onto new terrain." —Dani Rodrik, Professor, Harvard University, author of The Globalization Paradox
 
"A remarkably original and insightful take on the evolution, foundations and future of capitalism. Sweeping in historical perspective, Rajan argues convincingly that the conventional dichotomy between the state and markets misses the critical role of communities—the third pillar—in economic and social development. As a result, both progressives who favor a bigger and more centralized state, and conservatives, who prize market freedom, both miss a critical part of the recipe for a more prosperous and balanced society. A landmark treatise of profound depth." —Kenneth Rogoff, Professor, Harvard University, former IMF chief economist, author of The Curse of Cash and co-author of This Time It's Different
 
"A strikingly insightful analysis of the penalties of neglecting the critically important role of community, by concentrating too much on the perceived efficacy of the markets and the state. Rajan brings out loudly and clearly why this imbalance needs urgent correction."  —Amartya Sen, Professor, Harvard University, 1998 Nobel Prize winner in Economic Sciences
STOREFRONT CLOSED FOR REGULAR BUSINESS
Nevertheless, UPB provides ship-to-home service.
Unless and until we move our on-line fulfillment team to different premises, everything you purchase from us ships from warehouses outside of Berkeley.
Much of what we used to carry on store shelves is available, except for very expensive books, used books, and titles fallen between printings.
A number of limitations apply during this period of reduced operations:
Only orders that subtotal under $75.00 will ship.
Thus, we may remove items from a multi-book order and ask you to resubmit them on a separate order.
Sometimes we may have to split an order because books are stocked at different warehouses. Sorry, it's impossible to tell in advance when this may happen.
Credit card orders only
Many high demand titles ship fairly quickly. Most other titles travel from back east, adding 2 to 3 days to delivery
Althoug we love you in Canada, Latin America, and else where, U.S. orders only.
Certain publishers set low margins on certain titles. Sorry, we've had to raise prices on these, some we don't offer at all.
You can also purchase eBooks and audio books through us. Distributed by Hummingbird, they include publications from the major trade publishers. Just access the menu link or the sidebar image above.
We greatly appreciate your support of the store with your book orders. Need a book without our current shopping restrictions? We recommend Bookshop. View our affiliate page, then search for whatever book you'd like.
---
Should you have questions, email us via our contact form. Since none of will be keeping regular hours, it may take a day or two to get back with you.
The Cafe Ohlone has closed for the duration of the epidemic. They will probably reopen at a different location when they do.
From 1974, University Press Books has stoked the blaze of well over ten thousand minds on fire, carrying new scholarship published by the great university presses in the English-speaking world.
Since our founding, we've added quality fiction and creative non-fiction to our selection, without drfiting from our mission to showcase top new texts introduced by university presses.
Order from us. Visit us. Let well-wrought words churn and burn within.