Poetry Cocktail Hour!
A Benefit for UPB
June 12th, 5PM to 6:30PM on Zoom
Charlie Jane Anders will present an evening of poetry, composed and performed by luminaries Amber Tamblyn, Alejandro Murguia, Jack Foley, Stephanie Burt, Baruch Porras-Hernandez and Jessy Randall.
Victorious Century: The United Kingdom, 1800-1906 (Paperback)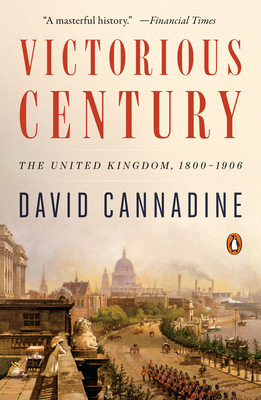 Description
---
A sweeping history of nineteenth-century Britain by one of the world's most respected historians.

"An evocative account . . .[Cannadine] tells his own story persuasively and exceedingly well." —The Wall Street Journal

To live in nineteenth-century Britain was to experience an astonishing and unprecedented series of changes. Cities grew vast; there were revolutions in transportation, communication, science, and work--all while a growing religious skepticism rendered the intellectual landscape increasingly unrecognizable. It was an exhilarating time, and as a result, most of the countries in the world that experienced these changes were racked by political and social unrest. Britain, however, maintained a stable polity at home, and as a result it quickly found itself in a position of global leadership.

In this major new work, leading historian David Cannadine has created a bold, fascinating new interpretation of nineteenth-century Britain. Britain was a country that saw itself at the summit of the world and, by some measures, this was indeed true. It had become the largest empire in history: its political stability positioned it as the leader of the new global economy and allowed it to construct the largest navy ever built. And yet it was also a society permeated with doubt, fear, and introspection. Repeatedly, politicians and writers felt themselves to be staring into the abyss and what is seen as an era of irritating self-belief was in fact obsessed with its own fragility, whether as a great power or as a moral force. Victorious Century is a comprehensive and extraordinarily stimulating history--its author catches the relish, humor and staginess of the age, but also the dilemmas faced by Britain's citizens, ones we remain familiar with today.
About the Author
---
David Cannadine was born in Birmingham, England, in 1950 and educated at Cambridge, Oxford, and Princeton. He is the editor and author of many acclaimed books, including The Decline and Fall of the British Aristocracy, which won the Lionel Trilling Prize and the Governors' Award; Aspects of Aristocracy; G. M. Trevelyan; The Pleasures of the Past; History in Our Time; and Class in Britain. His most recent book is Margaret Thatcher: A Life and Legacy. He has taught at Cambridge and Columbia Universities and has also served as director of the Institute of Historical Research, University of London. He is currently Dodge Professor of History at Princeton University.
Praise For…
---
"This is stupendous. The British nineteenth century, in all its complexity, all its horror, all its energy, all its hopes is laid bare. This is the definitive history, and will remain so for generations." —A. N. Wilson, author of
Victoria: A Life
"Cannadine's admirable history lucidly records Britain's many triumphs at home and abroad, and its many failures as well." —The
New York Times
, Editors' Choice
"An evocative account . . .[Cannadine] tells his own story persuasively and exceedingly well.
" —The Wall Street Journal


"David Cannadine's "Victorious Century" is a glorious tour of the Victorian Age crammed with the lively statesmen who haphazardly orchestrated Britain's global dominions, from Pitt the Younger to Joseph Chamberlain." —Edward Glaeser, professor of economics at Harvard and author of 
Triumph of the City
"David Cannadine's ambitious history of the UK in the 19th century, is about both the nation and its Empire, and how each built and gave character to the other. It is a remarkable story, remarkably well told, a story of remarkable stability but also of a remarkable native impulse for reform. . . . Cannadine's volume may be regarded in the years ahead as its most glorious chronicle." —
The Boston Globe
"Cannadine shows a polymathic command of the cultural life of the period...[he] has pulled off the hat-trick of commanding erudition, original interpretation and graceful writing." —Maya Jasanoff,
The Guardian

"Mr. Cannadine offers a comprehensive analysis . . . he knits together the often diverging grand imperial, national and social histories with skill." —
The Economist
"A masterful history." —
The Financial Times
"[
Victorious Century
] tells a fascinating tale with engaging prose and intriguing themes. In his even-handed analysis, Cannadine does not find the British Empire to be without fault, nor does he engage in the needless iconoclasm that is so much 
en vogue
 among modern historians. This book is British history at its height, as it was, and well worth reading." —
National Review
"This is a thumping great book, and it is probably destined to become a classic. . . . There is something hypnotic and compelling about his majestic delivery. . . . Cannadine succeeds triumphantly." —Jane Ridely,
The Spectator


"
Victorious Century
, the latest installment in the
Penguin History of Britain
, is a multilayered study, much more than a textbook, yet at the same time a work that can now be regarded as the standard single-volume treatment of its subject—an admirably readable guide to the British history of the long 19th century . . . This is, simply put, the most up-to-date study of a very special nation's unusual place in the history of the West, and of the world itself . . . In Victorious Century, Victorian Britain has found its historian in David Cannadine's capable hands, shrewd wit, and even judgments."
—
Paul Kennedy,
American Scholar


"Cannadine writes fluently about Britain's rise to industrial preeminence and subsequent world-leading status, providing a detailed examination of political machinations and imperial excursions. Cannadine's account is solid and informative." —
Publisher's Weekly

"Cannadine has written a quick-paced, comprehensive account of 19th-century Britain, with recommendations for further reading. For fans of the period and most history collections." —
Library Journal


"
Victorious Century
is an informative and enlightening analysis of prime ministers, businessmen and military leaders 'of exceptional experience and ability' who 'were riding tigers they could never fully control,' headed in directions they could not always discern." —Prof. Glenn C. Altschuler,
Tulsa World
"[Cannadine's] books always engage with big themes and reach well beyond a narrow specialist readership. . . .His writing is both informative and entertaining, with a sharp eye for vivid, arresting detail. . . .
Victorious Century 
will no doubt become a standard work." —
The Times Higher Educatoin Supplement

"The acclaimed British historian meticulously traces every aspect of Britain from the Act of Union (with Ireland) in 1800 until the 1906 landslide by the Liberal Party . . . Ever adept, Cannadine shows us why and how it happened." —Kirkus Reviews

"A book such as this is a work of heroic summary." —David Aaronovitch, The Times
"Eminent historian Cannadine is well positioned to tell the story of Britain's
Victorious Century
. . . .A big history on a big century but at under 600 pages it's focused." —Library Journal
"Cannadine is a brilliant historian — his book is a must-read for all who want to understand why we are where we are as a country" —
The Jewish Chronicle