Christmas delivery ends December 13th
We much appreciate how you've made UPB your holiday shopping destination.
Keep in mind, though, that it can take time for books to arrive at your desired shipping address. Sometimes titles have to cross the country from their warehouse location.
Therefore we recommend that you place your gift orders by December 13th to maximize delivery chances before December 25th.
Roberto Bolaño: Cuentos completos (Paperback)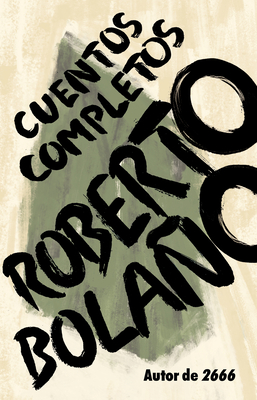 $17.95

Ships from Warehouse, Usually in 1-8 Days
Description
---
Los cuentos de Bolaño condensan en el breve espacio que caracteriza las obras del género todo su universo literario, uno de los más rupturistas y personales de la literatura contemporánea en español: la literatura que lo impregna todo; la sexualidad; las vidas de seres que pese a ser comunes, transcurren entre lo cotidiano y lo extraordinario; la rebeldía de aquellos que viven en la estrecha frontera que separa el sistema de la marginalidad; el viaje como huida pero también como forma de vida; la necesidad desevelar lo incierto; la juventud; la violencia y las tramas policiales; el arte como obsesión, y la búsqueda continuada de un espacio propio en un lugar ajeno.

Pertenencientes a los títulos Putas asesinas, El gaucho insufrible, Llamadas telefónicas y El secreto del mal, y escritas durante toda su vida, las piezas narrativas que componen este libro se enriquecen y adquieren un significado diferente en el diálogo que establecen entre ellas.

ENGLISH DESCRIPTION

In the brief space of his short stories, Bolaño manages to condense his entire literary universe, one of the most disruptive and personal of contemporary Spanish literature: the literature that permeates everything; sexuality; the lives of characters that despite being common, live amongst the everyday and the extraordinary; the rebellion of those who live on the narrow border that separates the system from marginality; travel as an escape but also as a way of life; the need to reveal the uncertain; youth; violence and police plots; art as an obsession, and the continued search for one's own space in a foreign place.

Belonging to the collections: Murdering Whores, The Insufferable Gaucho, Last Evenings on Earth, and The Secret of Evil, the pieces that make up this book become more enriched and acquire a different meaning as they establish a dialogue amongst them.
About the Author
---
Roberto Bolaño nació en Santiago de Chile en 1953, pero pasó la mayor parte de su vida en México y España, donde murió a los 50 años. Es el autor de numerosas obras de ficción, no ficción y poesía, entre ellas Los detectives salvajes (The Savage Detectives), Estrella distante (Estrella distante) y Nocturno de Chile (Por la noche en Chile). En 2008 recibió póstumamente el National Book Critics Circle Award por 2666.
Praise For…
---
Elogios para Roberto Bolaño:

"No hay morbosidad retórica en la desolación de estos cuentos, ni exquisitez literaria en sus referencias a la literatura, ni voluntad de sorprender en las sorprendentes situaciones que viven sus personajes, nihumor gratuito en las divertidas peripecias, ni lirismo en la intensidad poética de las emociones y de lageografía. Y esta realidad desconcertante y desoladora se apoya en una imaginación que le permite todotipo de sorpresas y desplazamientos para apuntar siempre a lo verdadero, al arte limpio de todo artificio". --Juan Antonio Masoliver Ródenas, Letras Libres (sobre Putas asesinas)

"Uno de los más grandes e influyentes escritores contemporáneos.»The New York Times«Fue un escritor experimental que inventó formas nuevas y fue una voz muy independiente y muycrítica". --Mario Vargas Llosa 

"Uno de los autores más respetados e influyentes de su generación [...]. Al mismo tiempo divertido y, encierto sentido, intensamente aterrador". --John Banville, The Nation

"Bolaño ha probado que la literatura lo puede todo". --Jonathan Lethem

"Se convirtió en un cuentista y novelista central, quizás el más destacado de su generación, sin duda elmás original y el más infrecuente". --Jorge Edwards 

"Una especie de fenómeno entre Woody Allen y Lautréamont, Tarantino y Borges, un autor queconseguía que su lector se convirtiera en un frenético proselitista. [...] El único homenaje será leerle deahora en adelante y reírnos todavía con él". --Fabrice Gabriel, Los Inrockuptibles

"Las historias de Bolaño son algo extraordinariamente bello y (al menos para mí) completamentenovedoso". --Francine Prose, The New York Times Book Review