Exceptional America: What Divides Americans from the World and from Each Other (Paperback)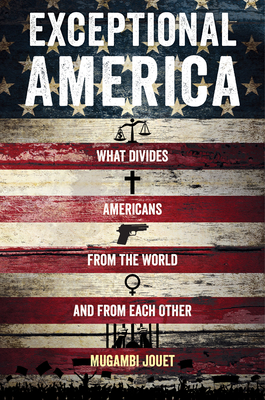 $24.95

Ships from Warehouse, Usually in 1-8 Days
Description
---
Why did Donald Trump follow Barack Obama into the White House? Why is America so polarized? And how does American exceptionalism explain these social changes?
 
In this provocative book, Mugambi Jouet describes why Americans are far more divided than other Westerners over basic issues, including wealth inequality, health care, climate change, evolution, gender roles, abortion, gay rights, sex, gun control, mass incarceration, the death penalty, torture, human rights, and war. Raised in Paris by a French mother and Kenyan father, Jouet then lived in the Bible Belt, Manhattan, and beyond. Drawing inspiration from Alexis de Tocqueville, he wields his multicultural sensibility to parse how the intense polarization of U.S. conservatives and liberals has become a key dimension of American exceptionalism—an idea widely misunderstood as American superiority. While exceptionalism once was a source of strength, it may now spell decline, as unique features of U.S. history, politics, law, culture, religion, and race relations foster grave conflicts. They also shed light on the intriguing ideological evolution of American conservatism, which long predated Trumpism. Anti-intellectualism, conspiracy-mongering, a visceral suspicion of government, and Christian fundamentalism are far more common in America than the rest of the Western world—Europe, Canada, Australia, and New Zealand. Exceptional America dissects the American soul, in all of its peculiar, clashing, and striking manifestations.

About the Author
---
Mugambi Jouet is Associate Professor at the USC Gould School of Law. His writing has been featured in The New Republic, Slate, Boston Review, Mother Jones, The San Francisco Chronicle, Huffington Post, Salon, The Hill, Truthout, Libération, Le Nouvel Observateur, Le Monde, and academic journals. He has traveled widely within America and internationally.

 
Praise For…
---
"A fresh contribution to the literature on US exceptionalism by exploring the divisions within US society over a range of key issues, including welfare, economic inequality, the justice system and foreign policy. Drawing on key facts and figures, Jouet presents an engaging analysis of the fundamental contradictions shaping the USA today. . . . Jouet's book covers a wide range of subjects, including legal studies, political sociology/science, criminology, comparative studies, history and economics. This book will spark a renewed discussion about what makes America exceptional."
— London School of Economics Review of Books

"[Jouet] takes a long look at the notion of American exceptionalism in this thought-provoking new book. . . . he tackles his subject with a multicultural point of view, considering anti-intellectualism, fundamentalism, sex and gender roles and the politics of mass incarceration. The book takes the reader right up to the present; Jouet finished writing it just after the 2016 presidential election."
— The Mercury News

"Exceptional America is the type of book with which you have to laugh in order not to cry."
— New York Journal of Books

"I found Jouet's book to be engaging, easy-to-read, and thought provoking, and I found myself sharing many of the author's intriguing statistics and findings out loud with my peers as I was reading. More importantly, though, Jouet unveils the forces driving political polarization and the kind of uniquely American beliefs that led to election of President Trump. He helps explain many far right stances that cosmopolitan liberals may otherwise dismiss as bigoted or uninformed."
— Ameri Quests

"Exceptional America, deftly analyzing a host of peculiar features characterizing American society, should be read both by Americans wishing to reflect on the causes of their country's profound polarization and by non-Americans seeking to better understand a nation that, despite its pervasive cultural influence, at times appears strange and unfathomable."
— Criminal Law and Criminal Justice Books
UPB open Tuesday through Friday 1PM - 6PM, Saturday Noon - 5pm
2430 Bancroft Way
The store known for serving pure brain food has returned to our old digs for a few months to sell down inventory and bid fare thee well to our decades of in-store customers.
Days and hours subject to change.
Note: This site lists what's available for special order from Ingram Content Group.
Visit our pages at Alibris or Biblio to survey in-store stock priced above $19.95.
Discount applies only to in-store purchases.
Cafe Ohlone
Once hosted by UPB, Cafe Ohlone now serves guests outside the Hearst Museum of Anthropology on the Cal campus.
Savor the foods which characterized east bay cuisine for thousands of years, before European contact. Brought to you by Mak'amham.