Revolutionary Love: A Political Manifesto to Heal and Transform the World (Hardcover)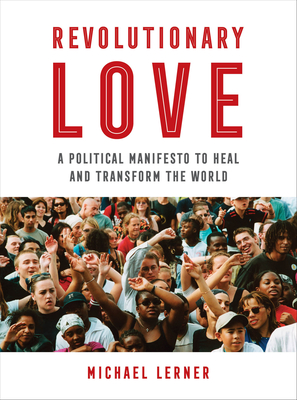 $24.95

Ships from Warehouse, Usually in 1-8 Days
Description
---
From social theorist and psychotherapist Rabbi Michael Lerner comes a strategy for a new socialism built on love, kindness, and compassion for one another. Revolutionary Love proposes a method to replace what Lerner terms the "capitalist globalization of selfishness" with a globalization of generosity, prophetic empathy, and environmental sanity.
Lerner challenges liberal and progressive forces to move beyond often weak-kneed and visionless politics to build instead a movement that can reverse the environmental destructiveness and social injustice caused by the relentless pursuit of economic growth and profits. Revisiting the hidden injuries of class, Lerner shows that much of the suffering in our society—including most of its addictions and the growing embrace of right-wing nationalism and reactionary versions of fundamentalism—is driven by frustrated needs for community, love, respect, and connection to a higher purpose in life. Yet these needs are too often missing from liberal discourse. No matter that progressive programs are smartly constructed—they cannot be achieved unless they speak to the heart and address the pain so many people experience.
Liberals and progressives need coherent alternatives to capitalism, but previous visions of socialism do not address the yearning for anything beyond material benefits. Inspired by Herbert Marcuse, Erich Fromm, and Carol Gilligan, Revolutionary Love offers a strategy to create the "Caring Society." Lerner details how a civilization infused with love could put an end to global poverty, homelessness, and hunger, while democratizing the economy, shifting to a twenty-eight-hour work week, and saving the life-support system of Earth. He asks that we develop the courage to stop listening to those who tell us that fundamental social transformation is "unrealistic."
About the Author
---
Rabbi Michael Lerner is the editor of Tikkun magazine and the author of eleven books, including two national bestsellers, Jewish Renewal and The Left Hand of God: Taking Back Our Country from the Religious Right. Lerner, who has PhDs in philosophy and social and clinical psychology, was chosen for the 2019 Humanitarian Award by the International Association of Sufism. He has also received Morehouse College's King-Gandhi Award for his work for peace and nonviolence.
 
Praise For…
---
"Peels apart the insidious myths of capitalism that keep people hopeless and apathetic, daring its audience to practice optimism as activism. . . . Filled with big-picture vision, Revolutionary Love is a manifesto for recovering cynics looking for a place to plug in, or for those wrested out of apathy but not sure where to start."
— Foreword

"A book for rethinking the left and wider politics filled with scholarship, rethinking spirituality and courage. One of my books of the year."
— Gerry Hassan blog

"Revolutionary Love gives us a blueprint for how [a new vision of the world] might look, and all of us should be grateful for the guidance."
— LA Progressive

"T​his brilliant​ ​and prophetic book is required reading​ ​for anyone actively participating in the​ ​co-creation of a sustainable humane​ ​future.​"​
— Scientific Medical Network/Paradigm Explorer

"The very reverend double-doctor rabbi's observations, analyses, and solutions for tikkun olam, or repair the world, are spot-on. They are rational, they are practical, they are achievable, and above all, they are needed. Lerner's perspective as a philosopher, psychotherapist, and rabbi allows him a melding of insight regarding human fears, needs, and desires, both spiritual and secular. . . . Rabbi Lerner offers sane, real world solutions."
— San Diego Jewish World

"By drawing connections between the political economy, our personal wounds and systemic issues such as poverty and homelessness, Lerner shows how deeply we need a socialist framework of connection, society and care."
— Dazed