Poetry Cocktail Hour!
A Benefit for UPB
June 12th, 5PM to 6:30PM on Zoom
Charlie Jane Anders will present an evening of poetry, composed and performed by luminaries Amber Tamblyn, Alejandro Murguia, Jack Foley, Stephanie Burt, Baruch Porras-Hernandez and Jessy Randall.
Caravan of Martyrs: Sacrifice and Suicide Bombing in Afghanistan (Paperback)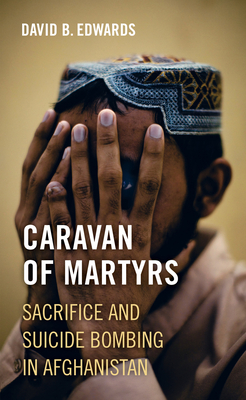 Description
---
What compels a person to strap a vest loaded with explosives onto his body and blow himself up in a crowded street? Scholars have answered this question by focusing on the pathology of the "terrorist mind" or the "brainwashing" practices of terrorist organizations. In Caravan of Martyrs, David Edwards argues that we need to understand the rise of suicide bombing in relation to the cultural beliefs and ritual practices associated with sacrifice.

Before the war in Afghanistan began, the sacrificial killing of a sheep demonstrated a tribe's desire for peace. After the Soviet invasion of 1979, as thousands of people were killed, sacrifice took on new meanings. The dead were venerated as martyrs, but this informal conferral of status on the casualties of war soon became the foundation for a cult of martyrs exploited by political leaders for their own advantage. This first repurposing of the machinery of sacrifice set in motion a process of mutation that would lead nineteen Arabs who had received their training in Afghanistan to hijack airplanes on September 11 and that would in time transform what began as a cult of martyrs created by a small group of Afghan jihadis into the transnational scattering of suicide bombers that haunts our world today.

Drawing on years of research in the region, Edwards traces the transformation of sacrifice using a wide range of sources, including the early poetry of jihad, illustrated martyr magazines, school primers and legal handbooks, martyr hagiographies, videos produced by suicide bombers, the manual of ritual instructions used by the 9/11 hijackers, and Facebook posts through which contemporary "Talifans" promote the virtues of self-destruction. 
About the Author
---
David B. Edwards is Professor of Anthropology at Williams College. He is the author of Heroes of the Age: Moral Fault Lines on the Afghan Frontier and Before Taliban: Genealogies of the Afghan Jihad.
Praise For…
---
"Caravan of Martyrs is an exceptional book and a must-read not only for those interested in the phenomenon of suicide operations and Afghanistan but for anybody trying to make sense of some of the most pressing security challenges of our age."
— Times Higher Education
"Edwards exposes masterfully what evolving conceptions and practices of sacrifice have done to Afghan culture and society. . . . It remains that Edwards' manuscript is a must-read not only for people interested in Afghanistan, sacrifice or suicide bombing, but for anyone sensible to what it means to conduct global ethnography while staying grounded into a local context, to propose an analysis where personal memories and reference to the academic literature are brilliantly feeding each other."
— Politics, Religion & Ideology