Before you buy…
We're glad to again service customers, even though our store front stays closed and we operate this web store under reduced services.
To review the limits placed on orders before you place one, just scroll to the bottom.
Controlling Contested Places: Late Antique Antioch and the Spatial Politics of Religious Controversy (Paperback)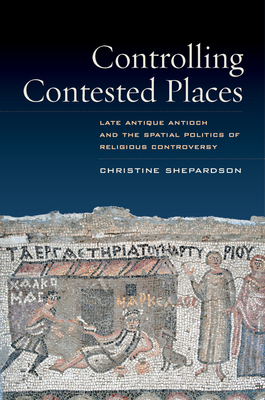 Description
---
From constructing new buildings to describing rival-controlled areas as morally and physically dangerous, leaders in late antiquity fundamentally shaped their physical environment and thus the events that unfolded within it. Controlling Contested Places maps the city of Antioch (Antakya, Turkey) through the topographically sensitive vocabulary of cultural geography, demonstrating the critical role played by physical and rhetorical spatial contests during the tumultuous fourth century. Paying close attention to the manipulation of physical places, Christine Shepardson exposes some of the powerful forces that structured the development of religious orthodoxy and orthopraxy in the late Roman Empire.



Theological claims and political support were not the only significant factors in determining which Christian communities gained authority around the Empire. Rather, Antioch's urban and rural places, far from being an inert backdrop against which events transpired, were ever-shifting sites of, and tools for, the negotiation of power, authority, and religious identity. This book traces the ways in which leaders like John Chrysostom, Theodoret, and Libanius encouraged their audiences to modify their daily behaviors and transform their interpretation of the world (and landscape) around them. Shepardson argues that examples from Antioch were echoed around the Mediterranean world, and similar types of physical and rhetorical manipulations continue to shape the politics of identity and perceptions of religious orthodoxy to this day.
About the Author
---
Christine Shepardson is Lindsay Young Professor of Religious Studies at the University of Tennessee, Knoxville.
Praise For…
---
"Shepardson offers a compelling and insightful take on the transformation of the empire's cultural terrain in the decades after Constantine's conversion and the Nicene Council."
— CHOICE
"The synthesis presented in Controlling Contested Places is exciting and very welcome ... [Shepardson's] work provides a clear template for further inquiry about geography and memory beyond Antioch in the world of Late Antiquity, and useful tools to address them."
— Edward Schoolman
"S. has the ability to take complex concepts in spatial theory and apply them creatively to ancient contexts without burdening the reader with dense theoretical jargon, adding thus both strength and clarity to her arguments, and also making the book accessible to not only specialists in the field—who will certainly find her applications intriguing—but also intermediate students of Late Antiquity."
— Vigiliae Christianae
STOREFRONT CLOSED TILL FURTHER NOTICE
Nevertheless, UPB provides ship-to-home service.
Until our on-line fulfillment team returns, everything you purchase from us comes from a warehouse.
Much of what we used to carry on store shelves is available, except for very expensive books, used books, and titles fallen between printings. ,/p>
A number of limitations apply during this period of reduced operations:
Only orders that subtotal under $75.00 will ship.
Thus, we may remove items from a multi-book order and ask you to resubmit them on a separate order.
Sometimes we may have to split an order because books are stocked at different warehouses. Sorry, it's impossible to tell in advance when this may happen.
Credit card orders only
Billing addresses must match shipping addresses.
Many high demand titles ship fairly quickly. Most other titles travel from back east, adding 2 to 3 days to delivery
Althoug we love you in Canada, Latin America, and else where, U.S. orders only.
Certain publishers set low margins on certain titles. Sorry, we've had to raise prices on these, some we don't offer at all.
Mid-summer, these policies may loosen up, if we resume shipping stock ourselves.
You can also purchase eBooks and audio books through us. Distributed by Hummingbird, they include publications from the major trade publishers. Just access the menu link or the sidebar image above.
We greatly appreciate your support of the store with your book orders. Need a book without our current shopping restrictions? We recommend Bookshop. View our affiliate page, then search for whatever book you'd like.
---
No reading groups nor author events will meet until it seems reasonably safe to do so, even after the store front opens.
---
We're riding eventualities as they unfold and cannot predict when the store front will open and gatherings resume. The Cafe Ohlone has also closed. Check their website for word of their plans as circumstances enable them to form them.
Should you have questions, email us via our contact form. Since none of will be keeping regular hours, it may take a day or two to get back with you.
From 1974, University Press Books has stoked the blaze of well over ten thousand minds on fire, carrying new scholarship published by the great university presses in the English-speaking world.
Since our founding, we've added quality fiction and creative non-fiction to our selection, without drfiting from our mission to showcase top new texts introduced by university presses.
Order from us. Visit us. Let well-wrought words churn and burn within.