Poetry Cocktail Hour!
A Benefit for UPB
June 12th, 5PM to 6:30PM on Zoom
Charlie Jane Anders will present an evening of poetry, composed and performed by luminaries Amber Tamblyn, Alejandro Murguia, Jack Foley, Stephanie Burt, Baruch Porras-Hernandez and Jessy Randall.
The Odyssey: A New Translation by Peter Green (Paperback)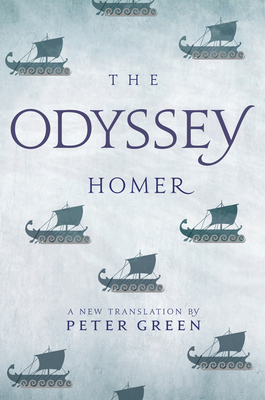 $16.95
Ships from Warehouse, Usually in 1-8 Days
Description
---
The Odyssey is vividly captured and beautifully paced in this swift and lucid new translation by acclaimed scholar and translator Peter Green. Accompanied by an illuminating introduction, maps, chapter summaries, a glossary, and explanatory notes, this is the ideal translation for both general readers and students to experience The Odyssey in all its glory. Green's version, with its lyrical mastery and superb command of Greek, offers readers the opportunity to enjoy Homer's epic tale of survival, temptation, betrayal, and vengeance with all of the verve and pathos of the original oral tradition.
About the Author
---
Peter Green is Dougherty Centennial Professor Emeritus of Classics at the University of Texas at Austin. One of the most prolific scholars of the ancient world, he is the author of both historical studies and translations of poetry, including The Poems of Catullus, Apollonios's The Argonautika, and Homer's The Iliad, all by UC Press.
 
Praise For…
---
"Comparisons to [Emily] Wilson's recent translation are inevitable. . . . Both Wilson and Green capture the spirit of the Odyssey, but word-for-word, Green also captures a feel for the Homeric language, an experience closer to the original."
— Library Journal
"Green's intelligent translation is . . . a superb choice."
— The Weekly Standard
"Green brings to the poem the rhetorical directness and historical expertise which worked so well in his translation of The Iliad. Speeches in his version are vigorous and direct. "
— London Review of Books
"The kind of absorption offered by Green's translation seems particularly relevant to the reading of a poem from an alien culture and period. It contributes to the opening of the imagination that is surely one of the main pleasures of reading such a work. . . . I recommend this translation not only for its weighty introduction and notes but above all for the sensitivity of its expression."
— Manchester Review