Remaking a Life: How Women Living with HIV/AIDS Confront Inequality (Paperback)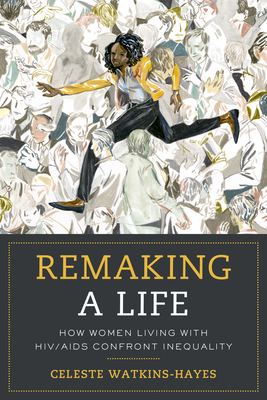 $31.45

Ships from Warehouse, Usually in 1-8 Days
Description
---
In the face of life-threatening news, how does our view of life change—and what do we do it transform it? Remaking a Life uses the HIV/AIDS epidemic as a lens to understand how women generate radical improvements in their social well being in the face of social stigma and economic disadvantage. Drawing on interviews with nationally recognized AIDS activists as well as over one hundred Chicago-based women living with HIV/AIDS, Celeste Watkins-Hayes takes readers on an uplifting journey through women's transformative projects, a multidimensional process in which women shift their approach to their physical, social, economic, and political survival, thereby changing their viewpoint of "dying from" AIDS to "living with" it. With an eye towards improving the lives of women, Remaking a Life provides techniques to encourage private, nonprofit, and government agencies to successfully collaborate, and shares policy ideas with the hope of alleviating the injuries of inequality faced by those living with HIV/AIDS everyday.  
About the Author
---
Celeste Watkins-Hayes is Professor of Sociology and African American Studies, and Faculty Fellow at the Institute for Policy Research at Northwestern University. She is also the author of The New Welfare Bureaucrats: Entanglements of Race, Class, and Policy Reform.
Praise For…
---
"This book about women living with HIV/AIDS is remarkably uplifting and encouraging. In her latest work, Professor Celeste Watkins-Hayes shares how these women are using their diagnoses to create radical, positive changes in their lives and communities. There are valuable lessons throughout that will help those living with HIV/AIDS, those loving them and those fighting for them."
— Ms. Magazine
"Watkins-Hayes provides a nuanced analysis of the opportunities that the safety net offers these women whilst simultaneously highlighting the impact of systemic, interpersonal, and intrapersonal racism on their ability to accept and thrive using these resources."
— U.S. Studies Online
"Watkins-Hayes' thoughtful book offers fresh insights into our current context. . . . reminds social workers that the most meaningful social science research is slow, intentional, and community-engaged."
— Affilia: Feminist Inquiry in Social Work
"It is an exemplar of qualitative research and multimethod design. No exaggeration: Remaking a Life represents the very best sociology has to offer."
— American Journal of Sociology