A Global History of Gold Rushes (California World History Library #25) (Paperback)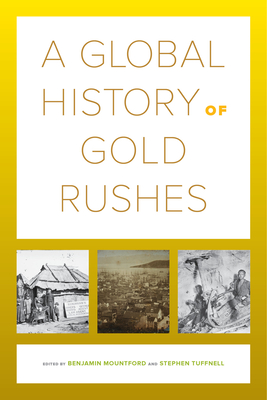 $34.44
Ships from Warehouse, Usually in 1-8 Days
Description
---
Nothing set the world in motion like gold. Between the discovery of California placer gold in 1848 and the rush to Alaska fifty years later, the search for the precious yellow metal accelerated worldwide circulations of people, goods, capital, and technologies. A Global History of Gold Rushes brings together historians of the United States, Africa, Australasia, and the Pacific World to tell the rich story of these nineteenth century gold rushes from a global perspective. Gold was central to the growth of capitalism: it whetted the appetites of empire builders, mobilized the integration of global markets and economies, profoundly affected the environment, and transformed large-scale migration patterns. Together these essays tell the story of fifty years that changed the world.
About the Author
---
Benjamin Mountford, Senior Lecturer in History at the Australian Catholic University in Melbourne, is the author of Britain, China, and Colonial Australia and coeditor of Fighting Words: Fifteen Books That Shaped the Postcolonial World. He was formerly a David Myers Research Fellow at La Trobe University (2017-18). 
 
Stephen Tuffnell, Associate Professor of Modern US History at the University of Oxford, is currently completing Emigrant Foreign Relations: Independence and Interdependence in the Atlantic, c. 1789–1902. He researches US history from a global perspective.
Praise For…
---
"This collection moves the study of migration, finance, and technology forward in consistently strong essays that are as readable as they are informative."
— H-Net
"This book is a welcome contribution, opening agendas for future research in many dimensions of mining history, and reminding exponents of any one national mining history against undue exceptionalism."
— Australian Historical Studies
"This excellent book provides a needed international perspective on gold rush histories. . . . The international perspective, and the explanation of the linkages among the gold rushes, make this book valuable for researchers of any of the individual gold rushes, of the political and financial histories of the countries involved, and of colonial history."
— Journal of American History