The Age of Irreverence: A New History of Laughter in China (Hardcover)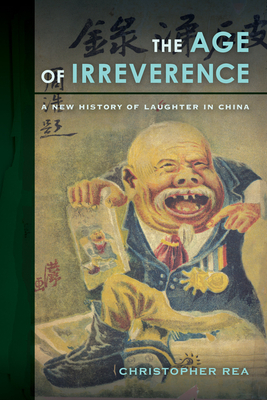 $91.00

Ships from Warehouse, Usually in 1-8 Days
Description
---
The Age of Irreverence tells the story of why China's entry into the modern age was not just traumatic, but uproarious. As the Qing dynasty slumped toward extinction, prominent writers compiled jokes into collections they called "histories of laughter." In the first years of the Republic, novelists, essayists and illustrators alike used humorous allegories to make veiled critiques of the new government. But, again and again, political and cultural discussion erupted into invective, as critics gleefully jeered and derided rivals in public. Farceurs drew followings in the popular press, promoting a culture of practical joking and buffoonery. Eventually, these various expressions of hilarity proved so offensive to high-brow writers that they launched a concerted campaign to transform the tone of public discourse, hoping to displace the old forms of mirth with a new one they called youmo (humor).

Christopher Rea argues that this period—from the 1890s to the 1930s—transformed how Chinese people thought and talked about what is funny. Focusing on five cultural expressions of laughter—jokes, play, mockery, farce, and humor—he reveals the textures of comedy that were a part of everyday life during modern China's first "age of irreverence." This new history of laughter not only offers an unprecedented and up-close look at a neglected facet of Chinese cultural modernity, but also reveals its lasting legacy in the Chinese language of the comic today and its implications for our understanding of humor as a part of human culture.
About the Author
---
Christopher Rea is Associate Professor of Asian Studies at the University of British Columbia. He is the editor of Humans, Beasts, and Ghosts: Stories and Essays by Qian Zhongshu and the coeditor of The Business of Culture: Cultural Entrepreneurs in China and Southeast Asia, 1900–60.
 
Praise For…
---
"Rea provides a map to a diverse comedic terrain between the late Qing dynasty and the Year of Humor (1933) that is richly populated with 'whimsical poets, vaudevillian entrepreneurs, renowned revilers, twee essayists, winking farceurs, and self-promoting jokesters'."
— Joe Sample

"[An] excellent study."
— Paul Bevan

"Not only does The Age of Irreverence o?ffer an engaging new take on the cultural history of a momentous period, it also raises a number of leads for future research." 
— Journal of Oriental Studies

"The Age of Irreverence devotes meticulous attention to primary sources, and crafts its findings into a narrative of humor in popular culture from the turn of the twentieth century through the 1930s, with a nod in the epilogue toward the socialist era and beyond. As a scholarly intervention, however, the book's central argument most directly targets not history, but literary studies... certain to engage an audience."
— Frontiers of Literary Studies in China

"Beautifully written... Rea has managed to write a very scholarly but nevertheless interesting and even entertaining book about a subject of considerable importance that has been neglected by literary scholars."
— Israeli Journal of Humor Research

Abounds with examples and provides a learned apparatus... informative.
— Monumenta Serica

"Christopher Rea has written an important book."
— European Journal of Humour Research

"The scale of the research displayed in this book will certainly make this the first source any scholar wishing to approach this subject, or one related to it, will reach for."
— Pacific Affairs

"This is a useful introduction to the popular culture of the period, particularly in the literary and journalistic fields. ... easily accessible ... brings together much new material relating to popular literature and culture of the period."
— Humor: International Journal of Humor Research

"Masterful... The book is a model of scholarship, clarity, and academic rigor. The translations are meticulous, masterful, and helpful to Sinologists and non-specialists alike."
— Modern Chinese Literature and Culture
UPB open Tuesday through Friday 1PM - 6PM, Saturday Noon - 5pm
2430 Bancroft Way
The store known for serving pure brain food has returned to our old digs for a few months to sell down inventory and bid fare thee well to our decades of in-store customers.
Days and hours subject to change.
Note: This site lists what's available for special order from Ingram Content Group.
Visit our pages at Alibris or Biblio to survey in-store stock priced above $19.95.
Discount applies only to in-store purchases.
Cafe Ohlone
Once hosted by UPB, Cafe Ohlone now serves guests outside the Hearst Museum of Anthropology on the Cal campus.
Savor the foods which characterized east bay cuisine for thousands of years, before European contact. Brought to you by Mak'amham.