Rough-Hewn Land: A Geologic Journey from California to the Rocky Mountains (Paperback)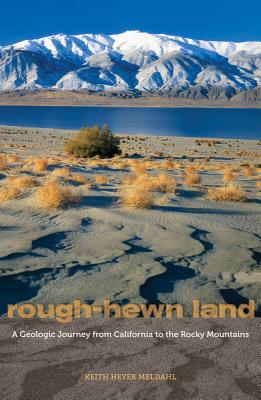 Description
---
"Unfold a map of North America," Keith Heyer Meldahl writes, "and the first thing to grab your eye is the bold shift between the Great Plains and the Rocky Mountains." In this absorbing book, Meldahl takes readers on a 1000-mile-long field trip back through more than 100 million years of deep time to explore America's most spectacular and scientifically intriguing landscapes. He places us on the outcrops, rock hammer in hand, to examine the evidence for how these rough-hewn lands came to be. We see California and its gold assembled from pieces of old ocean floor and the relentless movements of the Earth's tectonic plates. We witness the birth of the Rockies. And we investigate the violent earthquakes that continue to shape the region today. Into the West's geologic story, Meldahl also weaves its human history. As we follow the adventures of John C. Frémont, Mark Twain, the Donner party, and other historic characters, we learn how geologic forces have shaped human experience in the past and how they direct the fate of the West today.
About the Author
---
Keith Heyer Meldahl is Professor of Geology at Mira Costa College in southern California. He is the author of Hard Road West: History and Geology along the Gold Rush Trail.
Praise For…
---
"The writing is so conversational that it's hard to believe this is science. . . . Meldahl has captured the wonder, as well as the facts that produced it [the geologic world of the American West] in this vaguely unsettling (so much activity in what we depend on to be still and solid) and enlightening book."
"Informative and highly readable, "Rough-Hewn Land" belongs on the shelf of any Westerner curious about how that stunning view through the windshield came to be."
— Bettina Boxall
"An absorbing book. . . . A good introduction to the geology of the region."
— Ian Paulsen
"A unique and intriguing book that perfectly brings together an infectious passion for earth science, a down-to-earth writing style, and deep thinking about how geology affects the human experience."
— Josh Trapani
"A lively discussion, incorporating recent ideas, on the creation of one of the most dramatic landscapes on Earth . . . a great introduction."
— Craig H. Jones
"A magnificent volume. . . . The broad coverage has something for every geologist, as well as anyone with an interest in the geography, geology, history, and development of the western United States."
— Gary D. Webster
"In taking us as armchair guests along his road trip from San Francisco, over the gold-laden Sierra Nevada, across the rolling topography of the Basin and Range to the summit of the Rocky Mountains, Meldahl has written a paean not only to the landscape, but to those who put its story together. And what an incredible story it is."
— David B. Williams
"Landscapes tell stories, and Western North America has no shortage of geological sagas in the making. Keith Heyer Meldahl offers a fresh account of this gripping Earth epic in Rough-Hewn Land . . . this is much more than just a geology guide to the region."
— Claire Peaslee