The Flowering: The Autobiography of Judy Chicago (Hardcover)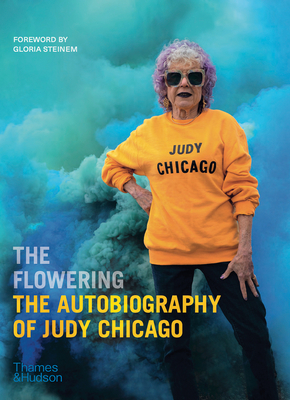 $39.95

Ships from Warehouse, Usually in 1-8 Days
Description
---
In this provocative and resonant autobiography, world-renowned artist and feminist icon Judy Chicago reflects on her extraordinary life and career.
Judy Chicago is America's most dynamic living artist. Her works comprise a dizzying array of media from performance and installation to the glittering table laid for thirty-nine iconic women in The Dinner Party (now permanently housed at the Brooklyn Museum), the groundbreaking Birth Project, and the meticulously researched Holocaust Project. She designed the monumental installation for Dior's 2020 Paris couture show and, in 2019, established the Judy Chicago Portal, which will help to accomplish her lifelong goal of overcoming the erasure that has eclipsed the achievements of so many women.
The Flowering is her vivid and revealing autobiography, fully illustrated with photographs of her work, as well as never-before-published personal images and a foreword by Gloria Steinem. Chicago has revised and updated her earlier, classic works with previously untold stories, fresh insights, and an extensive afterword covering the last twenty years. This powerful narrative weaves together the stories behind some of Chicago's most significant artworks and her journey as a woman artist with the chronicles of her personal relationships and her understanding, from decades of experience and extensive research, of how misogyny, racism, and other prejudices intersect to erase the legacies of artists who are not white and male while dismissing the suffering of millions of creatures who share the planet.
With the first career retrospective of her work forthcoming at the de Young Museum in 2021, Chicago reinforces her message of resilience for a new generation of artists and activists. The Flowering is an essential read for anyone interested in making change.
About the Author
---
Judy Chicago is an artist, author, feminist, and educator whose career spans nearly six decades. Her work is in the collections of The Art Institute of Chicago, The Brooklyn Museum, The British Museum, the de Young Museum, The Getty Trust, The Hammer Museum, the Los Angeles County Museum of Art, The Los Angeles Museum of Contemporary Art, the Metropolitan Museum of Art, Moderna Museet in Stockholm, The Museum of Contemporary Art, Chicago, National Museum of Women in the Arts, Nevada Museum of Art, SF MOMA, Tate Modern, and more than 25 university art museums.

Gloria Steinem is a writer, political activist, and feminist organizer. She was a founder of New York and Ms. magazines, and is the author of The Truth Will Set You Free, But First it Will Piss You Off!, My Life on the Road, and other books.
Praise For…
---
Now, we need Judy Chicago more
than ever.
— Gloria Steinem

Combining
engrossing, urgent storytelling with illustrations, personal images and
a foreword by Gloria Steinem, Chicago relays the story of an artist
determined to ensure that women's cultural achievements are permanently
valued.
— Time

An intimate [and] revealing account of an artist of grit and gumption who set the pattern for much of the art being made today.
— The Washington Post

In The Flowering, Judy Chicago offers a clear-eyed, unapologetic accounting of ambition and a life dedicated to making and supporting feminist art. From her childhood until the present, The Flowering is not only the story of a life fully lived or a woman committed, first and foremost to her art, it is also a compelling history of contemporary feminist art in the United States. Judy Chicago has a distinct point of view, in her art and in her words. The Flowering offers the opportunity to inhabit that perspective, and understand how a woman artist forged a path not only for herself but so many others. This book is fascinating and I couldn't put it down.

— Roxane Gay, author of Hunger and How to be Heard

To read The Flowering is to take a riveting masterclass in creativity, bravery, and never giving up.  Like an addictive page-turner, I found myself reading it into the early morning hours—enlightened, infuriated, and electrifyingly inspired. 

— Kevin Kwan, New York Times bestselling author of Crazy Rich Asians

An intimate tour of [Judy Chicago's] development as an artist, sharing
the challenges, struggles, and triumphs to make space for women in the
male dominated art world, which established
false hierarchies that continue to this day. Refusing to play along,
Chicago subverted the system from within, using her work to call out
established notions of art, history, and gender, restoring the Divine
Feminine to its rightful place in the pantheon.
— Dazed

Exhilarating… Artist Judy Chicago's welcome new memoir, her first since 1996's Beyond the Flower, updates readers on her adventures in the intervening quarter century.

— Shelf Awareness (starred review)

Like many women artists, Chicago's experiences have taught her that she has to fight marginalization in the art world. As she chronicles her rise in an arena controlled by men, she also explores the genesis of the works that stemmed from those experiences... Chicago's narrative speaks to the power of persistence and remaining true to yourself, especially important in the art world. An unapologetic examination of the life of an artist dedicated to following her passions.

— Kirkus Reviews

Chicago, now in her triumphant eighties, charts the evolution of her
radical, conceptually and technically complicated art... Her dramatic
life and extensive and intrepid body of work deserve close attention.
— Booklist

The story of [Judy Chicago's] life...promises to be a rollicking tale.
— Artnews

When one reads the narrative of [Judy Chicago's] life, one sees how
tough a struggle she has had to reach the situation of respect she now
enjoys.
— Edward Lucie-Smith, - Artlyst

A page turner for creative readers passionate about change.
— Surface

A meticulous record of the artist's life and career... [Judy Chicago's]
writing moves fluidly between accounts of her personal life, her
artistic endeavors and struggles, and the evolution of her feminism into
a feminist art practice.
— National Museum of Women in the Arts

Judy Chicago is one of the world's greatest living artists. The stories she tells in The Flowering are integral to the post-war history of art, gender relations and Jewish diaspora culture. Chicago's clear, direct voice makes her aesthetic and political positions easily accessible—a feat that reveals her ability to engage and her effort to empower us all.

— Dr. Sarah Thornton, sociologist of culture, author of Seven Days in the Art World

Judy Chicago's The Flowering is the update to her autobiographical writings we urgently need. It recasts Judy's pioneering sensibility for the important debates of our times, ensuring her pivotal place in the discourse of feminism and art.

— Hans Ulrich Obrist, Artistic Director of the Serpentine Galleries

This inspiring read tells the story of one of our most influential contemporary artists: a woman who was able to break the barrier of a male-dominated, chauvinistic system by revealing to the world what feminine creativity can produce. The imperative now lies in transforming this message into a reality for tomorrow.
— Maria Grazia Chiuri, Creative Director of Women's Collections, Dior

Chicago's new auto­bi­og­ra­phy, The Flow­er­ing, doc­u­ments both the his­tor­i­cal and con­tem­po­rary pre­car­i­ty of her work while also remind­ing read­ers of her vis­cer­al, artis­tic vision... It is fit­ting for Chica­go to have such a rich­ly illus­trat­ed auto­bi­og­ra­phy. Equal­ly daz­zling is Chicago's sto­ry of her strug­gles to cre­ate the work, to have it seen, and to be respect­ed in the art world... A grip­ping read.

— Jewish Book Council

Intimate and absorbing... hard to put down... This personal story traces the artist's career and highlights her determination to champion women.
— Moment