Christmas delivery ends December 13th
We much appreciate how you've made UPB your holiday shopping destination.
Keep in mind, though, that it can take time for books to arrive at your desired shipping address. Sometimes titles have to cross the country from their warehouse location.
Therefore we recommend that you place your gift orders by December 13th to maximize delivery chances before December 25th.
All the Shah's Men: An American Coup and the Roots of Middle East Terror (Paperback)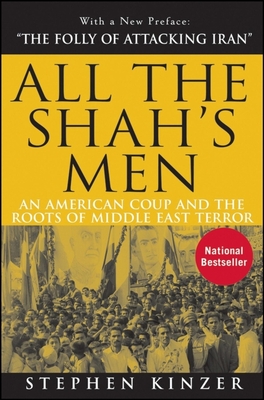 Description
---
With a thrilling narrative that sheds much light on recent events, this national bestseller brings to life the 1953 CIA coup in Iran that ousted the country's elected prime minister, ushered in a quarter-century of brutal rule under the Shah, and stimulated the rise of Islamic fundamentalism and anti-Americanism in the Middle East. Selected as one of the best books of the year by the Washington Post and The Economist, it now features a new preface by the author on the folly of attacking Iran.
About the Author
---
Stephen Kinzer is an award-winning foreign correspondent who has worked in more than fifty countries. He has been New York Times bureau chief in Istanbul, Berlin, and Managua, Nicaragua. His books include "Overthrow: America's Century of Regime Change from Hawaii to Iraq" and "Crescent and Star: Turkey Between Two Worlds."