Polyvagal Exercises for Safety and Connection: 50 Client-Centered Practices (Norton Series on Interpersonal Neurobiology) (Paperback)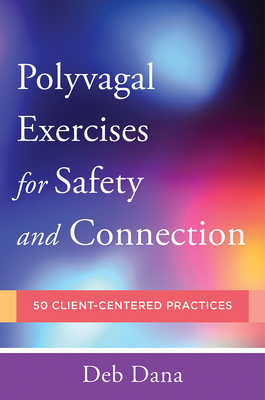 $34.64

Ships from Warehouse, Usually in 1-8 Days
Description
---
A practical guide to working with the principles of polyvagal theory beyond the therapy session.
Deb Dana is the foremost translator of polyvagal theory into clinical practice. Here, in her third book on this groundbreaking theory, she provides therapists with a grab bag of polyvagal-informed exercises for their clients, to use both within and between sessions.
These exercises offer readily understandable explanations of the ways the autonomic nervous system directs daily living. They use the principles of polyvagal theory to guide clients to safely connect to their autonomic responses and navigate daily experiences in new ways. The exercises are designed to be introduced over time in a variety of clinical sessions with accompanying exercises appropriate for use by clients between sessions to enhance the therapeutic change process.
Essential reading for any therapist who wants to take their polyvagal knowledge to the next level and is looking for easy ways to deliver polyvagal solutions with their clients.
About the Author
---
Deb Dana, LCSW, is a clinician, consultant, and speaker specializing in complex trauma. She is the leading translator of Dr. Stephen's Polyvagal Theory for both clinical and general audiences, and the best-selling author of Polyvagal Practices, Polyvagal Card Deck, The Polyvagal Flip Chart, Polyvagal Exercises for Safety and Connection, The Polyvagal Theory in Therapy, and co-editor with Dr. Stephen Porges of Clinical Applications of The Polyvagal Theory. She trains therapists around the world in how to bring a Polyvagal approach into their clinical practice, and also works with agencies and larger systems to explore how to incorporate a Polyvagal perspective.
She is founding member of The Polyvagal Institute, a consultant to Khiron Clinics, and an advisor to Unyte. Visit her website at http://rhythmofregulation.com/.
Praise For…
---
This book is a beautiful example of the notion that 'sensing, naming, and identifying what is going on inside is the first step to recovery.' Deb Dana lucidly guides you to travel deep inside of yourself to become aware of how your internal surveillance system—the safety settings of your autonomic nervous system—is the foundation of the way we feel, act, and think. This is a valuable manual to help you address your inner physiology and thereby create the necessary conditions for safety and connection.
— Bessel A. van der Kolk, M.D., President, Trauma Research Foundation, Professor of Psychiatry, Boston University School of Medicine

Whether or not you are familiar with Polyvagal Theory, I highly recommend this invaluable resource and guide. Deb Dana eloquently explains the physiology of fight/flight/freeze responses and offers creative strategies to increase self-awareness while simultaneously providing resourcing for re-grounding, self-soothing, resilience, and the capacity for safe connection with others. Step-by-step guidance for incorporating breathwork, guided imagery, somatic resourcing, journaling, art modalities, and movement provide a terrific roadmap for healing work that can be achieved both in and out of the therapist's office.
— Lisa Ferentz. LCSW-C, DAPA, trauma therapist, consultant, educator, and author

Written with great intelligence and clarity, Deb Dana's Polyvagal Exercises for Safety and Connection provides clinicians with everything they need to help clients become adept at managing the dysregulating survival responses of their nervous systems. Clients can immediately learn to implement a wealth of precise and practical tools, within and beyond the therapy room, to respond to and recover from the challenges of daily living with competence and courage.


— Linda Graham, MFT, author of Resilience: Powerful Practices for Bouncing Back from Disappointment, Difficulty, and Even Disaster

Deb Dana has given a very clear, illuminating guide for therapists to help their clients embody deep healing. This essential book has excellent, user-friendly, and practical interventions that support polyvagal-informed treatment based on Stephen Porges' research, which validates the success underlying all somatic therapies. This book is a must-read for any therapist working with trauma and interested in efficient and effective treatment.
— Diane Poole Heller, PhD, SEP, LPC, Developer of the DARe: Dynamic Attachment Re-patterning experience therapy model, and author