Vital Question: Energy, Evolution, and the Origins of Complex Life (Paperback)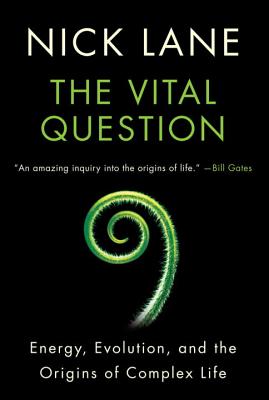 $18.95

Ships from Warehouse, Usually in 1-8 Days
Description
---
"One of the deepest, most illuminating books about the history of life to have been published in recent years." —The Economist
The Earth teems with life: in its oceans, forests, skies and cities. Yet there's a black hole at the heart of biology. We do not know why complex life is the way it is, or, for that matter, how life first began. In The Vital Question, award-winning author and biochemist Nick Lane radically reframes evolutionary history, putting forward a solution to conundrums that have puzzled generations of scientists.
For two and a half billion years, from the very origins of life, single-celled organisms such as bacteria evolved without changing their basic form. Then, on just one occasion in four billion years, they made the jump to complexity. All complex life, from mushrooms to man, shares puzzling features, such as sex, which are unknown in bacteria. How and why did this radical transformation happen?
The answer, Lane argues, lies in energy: all life on Earth lives off a voltage with the strength of a lightning bolt. Building on the pillars of evolutionary theory, Lane's hypothesis draws on cutting-edge research into the link between energy and cell biology, in order to deliver a compelling account of evolution from the very origins of life to the emergence of multicellular organisms, while offering deep insights into our own lives and deaths.
Both rigorous and enchanting, The Vital Question provides a solution to life's vital question: why are we as we are, and indeed, why are we here at all?
About the Author
---
Nick Lane is professor of evolutionary biochemistry at University College London and an award-winning author of five books. He codirects UCL's Centre for Life's Origins and Evolution (CLOE) and lives in London. Bill Gates calls him "one of my favorite science writers."
Praise For…
---
An amazing inquiry into the origins of life.
— Bill Gates

[Nick Lane] proves an able guide through treacherous scientific terrain. He writes in lucid, accessible prose, and while the science may get dense, the reader will be rewarded with a strikingly unconventional view of biology.
— Tim Requarth - New York Times

If I were a rich man, I would buy up the print run of this book and give a copy to every science undergraduate ahead of his or her first course in cell biology.
— Franklin Harold - Microbe

He is an original researcher and thinker and a passionate and stylish populariser. His theories are ingenious, breathtaking in scope, and challenging in every sense…intellectually what Lane is proposing, if correct, will be as important as the Copernican revolution.
— Peter Forbes - Guardian (UK)

A book of vast scope and ambition, brimming with bold and important ideas…. The arguments are powerful and persuasive…an incredible, epic story.
— Michael Le Page - New Scientist (UK)

In this, his third book about energy and life, [Lane] comes triumphantly close to cracking the secret of why life is the way it is, to a depth that would boggle any ancient philosopher's mind.
— Matt Ridley - The Sunday Times (UK)

A scintillating synthesis of a new theory of life.
— Clive Cookson - Financial Times (UK)

Magnificent…. [The Vital Question] contains as convincing an account of the origins of life as any on offer. …Lane belongs to a small and persuasive cabal that is using studies of the way cells access energy to gain insight into all sorts of questions, from why there are different sexes to why creatures grow old.

— Oliver Morton - The Economist Intelligent Life
UPB open Tuesday through Friday 1PM - 6PM, Saturday Noon - 5pm
2430 Bancroft Way
The store known for serving pure brain food has returned to our old digs for a few months to sell down inventory and bid fare thee well to our decades of in-store customers.
Days and hours subject to change.
Note: This site lists what's available for special order from Ingram Content Group.
Visit our pages at Alibris or Biblio to survey in-store stock priced above $19.95.
Discount applies only to in-store purchases.
Cafe Ohlone
Once hosted by UPB, Cafe Ohlone now serves guests outside the Hearst Museum of Anthropology on the Cal campus.
Savor the foods which characterized east bay cuisine for thousands of years, before European contact. Brought to you by Mak'amham.