Cabin Fever: The Harrowing Journey of a Cruise Ship at the Dawn of a Pandemic (Hardcover)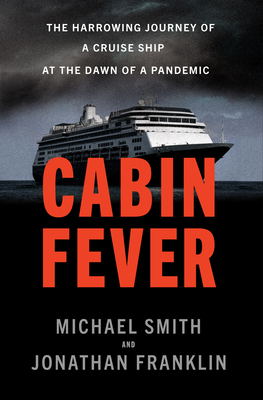 $30.00

Ships from Warehouse, Usually in 1-8 Days
Description
---
The true story of the Holland America cruise ship Zaandam, which set sail with a deadly and little-understood stowaway—COVID-19—days before the world shut down in March 2020. This riveting narrative thriller takes readers behind the scenes with passengers and crew who were caught unprepared for the deadly ordeal that lay ahead.

In early 2020, the world was on edge. An ominous virus was spreading on different continents, and no one knew what the coming weeks would bring. Far from the hot spots, the cruise ship Zaandam, owned by Holland America, was preparing to sail from Buenos Aires, Argentina, loaded with 1,200 passengers—Americans, Europeans and South Americans, plus 600 crew.

Most passengers were over the age of sixty-five. There was concern about the virus on the news, and it had already killed and sickened passengers on other Holland America ships. But that was oceans away, and escaping to sea at the ends of the earth for a few weeks seemed like it might be a good option. The cruise line had said the voyage (three weeks around the South American coastline to see some of the world's most stunning natural wonders and ancient ruins) would carry on as scheduled, with no refunds. And it would be safe.
Among the travelers there is a retired American school superintendent on a dream vacation with his wife of fifty-six years, on a personal quest to see Machu Picchu. There is an Argentine psychologist taking this trip to celebrate her sixty-fourth birthday with her husband, though she finds herself fretting in her cabin on day one, trying to dismiss her fears of what she's hearing on the news. There is an Indonesian laundry manager who's been toiling on Holland America cruise ships for thirty years, sending his monthly paycheck to his family back home.

Within days, people aboard Zaandam begin to fall sick. The world's ports shut down. Zaandam becomes a top story on the news and is denied safe harbor everywhere. With only two doctors aboard and few medical supplies to test for or treat COVID-19, and with dwindling food and water, the ship wanders the oceans on an unthinkable journey.
About the Author
---
MICHAEL SMITH is a Miami-based investigative reporter at Bloomberg Businessweek. He's written about financial crimes, corruption, narcotics and human trafficking, and environmental and labor abuses in supply chains. Recently, he reported extensively on COVID outbreaks on cruise ships. Smith's national awards include the prestigious George Polk, Maria Moors Cabot, Robert F. Kennedy, and Gerald Loeb awards. Cabin Fever is his first book.

JONATHAN FRANKLIN is a journalist and TV commentator based in South America for the past 24 years. Franklin's most recent book A Wild Idea (HarperOne, 2021) chronicles the rollicking life of The North Face founder Doug Tompkins, who moved to a shack in Patagonia, gave away his riches, and became one of the world's greatest land conservation activists. Franklin writes about conservation, organized crime, and survival at sea. His work is featured at www.JonathanFranklin.com.
Praise For…
---
"Riveting... It's an impressive example of narrative journalism...A worthy addition to the historical record."—Associated Press

"The best nonfiction, in my mind, reads like a novel. It's filled with compelling characters and takes you to a place you'd never otherwise experience. It tells a story that grabs you by the throat and won't let you stop reading. Cabin Fever falls into that category...I couldn't put [it] down."—Star Tribune

"Cabin Fever is riveting, taut, and extensively researched. Smith and Franklin have written a page-turning adventure that will keep you reading late into the night."—Martin Dugard, #1 New York Times bestselling author of Taking Paris

"Cabin Fever reads like a terrific thriller; the fact that everything in it actually happened makes it even more of a page-turner. It's a riveting book from start to finish."—Dave Barry, New York Times bestselling author of Tricky Business and Insane City

"Cabin Fever is a gripping account of how an invisible stowaway—the Covid-19 virus—transformed a fun-filled luxury cruise into an unimaginable nightmare. Through in-depth interviews with passengers and crew, Smith and Franklin bring the reader on board the fated Zaandam, day-by-day and cabin-by-cabin, as one of the world's preeminent cruise ships veered into devastating crisis."—Sara Gay Forden, bestselling author of House of Gucci

"In this gripping work of narrative nonfiction, journalists Smith and Franklin share the stories of the passengers and crew of Holland America's Zaandam… The authors skillfully capture the fear and claustrophobia that set in as increasing numbers of passengers and crew members began to fall victim to the then-mysterious illness, requiring quarantine, as well as the struggles they faced during their journey back home and beyond. A riveting real-life drama that may reawaken your Covid-19 fears."—Kirkus Reviews

"Journalists Smith and Franklin report with vivid detail in this humanizing account of the voyage of anguish and isolation on Holland America's virus-assaulted Zaandam, revealing the experiences of both crew and passengers...Though there's much to explore pertaining to the pandemic and the cruise ship industry, Smith and Franklin chose to focus on the resourcefulness and altruism of the crew. The result is a well-written, fast-paced, real-life thriller highlighting people caught in a nightmare situation and their triumph over adversity."—Booklist



UPB open Tuesday through Friday 1PM - 6PM, Saturday Noon - 5pm
2430 Bancroft Way
The store known for serving pure brain food has returned to our old digs for a few months to sell down inventory and bid fare thee well to our decades of in-store customers.
Days and hours subject to change.
Note: This site lists what's available for special order from Ingram Content Group.
Visit our pages at Alibris or Biblio to survey in-store stock priced above $19.95.
Discount applies only to in-store purchases.
Cafe Ohlone
Once hosted by UPB, Cafe Ohlone now serves guests outside the Hearst Museum of Anthropology on the Cal campus.
Savor the foods which characterized east bay cuisine for thousands of years, before European contact. Brought to you by Mak'amham.