Before you buy…
We're glad to again serve customers, even though our former store front has closed and we operate this web store under reduced services.
Just scroll to the bottom to review limits placed on orders. .
Summerwater: A Novel (Hardcover)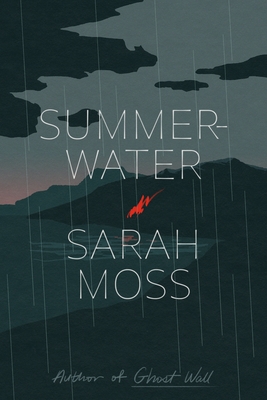 $25.00
Ships from Warehouse, Usually in 1-8 Days
Description
---
A BEST BOOK OF JANUARY: O Magazine

A BEST BOOK OF THE YEAR in the UK: The Guardian, The Times

"[Moss] writes beautifully about... souls in tumult, about people whose lives have not turned out the way they'd hoped. . .There's little doubt, reading Moss, that you're in the hands of a sophisticated and gifted writer." —Dwight Garner, The New York Times

The acclaimed author of Ghost Wall offers a new, devastating, masterful novel of subtle menace

They rarely speak to each other, but they take notice—watching from the safety of their cabins, peering into the half-lit drizzle of a Scottish summer day, making judgments from what little they know of their temporary neighbors. On the longest day of the year, the hours pass nearly imperceptibly as twelve people go from being strangers to bystanders to allies, their attention forced into action as tragedy sneaks into their lives.

At daylight, a mother races up the mountain, fleeing into her precious dose of solitude. A retired man studies her return as he reminisces about the park's better days. A young woman wonders about his politics as she sees him head for a drive with his wife, and tries to find a moment away from her attentive boyfriend. A teenage boy escapes the scrutiny of his family, braving the dark waters of the loch in a kayak. This cascade of perspective shows each wrapped up in personal concerns, unknown to each other, as they begin to notice one particular family that doesn't seem to belong. Tensions rise, until nightfall brings an irrevocable turn.

From Sarah Moss, the acclaimed author of Ghost Wall—a "riveting" (Alison Hagy, The New York Times Book Review) "sharp tale of suspense" (Margaret Tablot, The New Yorker), Summerwater is a searing exploration of our capacity for kinship and cruelty, and a gorgeous evocation of the natural world that bears eternal witness.
About the Author
---
Sarah Moss is the author of Ghost Wall, which was an Editors' Choice in The New York Times Book Review, was long-listed for the Women's Prize for Fiction, and was listed as a Best Book of the Year by The Guardian, Southern Living, Refinery29, The Times Literary Supplement, and Nylon, among other publications. Her other books include the novels Cold Earth, Night Waking, Bodies of Light, and Signs for Lost Children, and the memoir Names for the Sea: Strangers in Iceland. She was educated at the University of Oxford and now teaches at University College Dublin.
Praise For…
---
A Best Book of January: O Magazine

A Best Book of the Year at The Guardian, The Times (London), and The Irish Times
Most Anticipated at The Guardian, The Sunday Times, Cosmopolitan, Good Housekeeping, The Irish Times, Stylist, and iNews

"[Moss] writes beautifully about... souls in tumult, about people whose lives have not turned out the way they'd hoped. . .There's little doubt, reading Moss, that you're in the hands of a sophisticated and gifted writer." —Dwight Garner, The New York Times

"Will leave you breathless." – Good Housekeeping, The Best Books to Read in 2021 So Far

"Cunning and contemplative." —O Magazine

"The chapters build a superb sense of foreboding." —Wall Street Journal

"Sharp, searching, thoroughly imagined, Summerwater is utterly of the moment, placing its anxious human dots against a vast, indifferent landscape; with its wit and verve and beautiful organization, it throws much contemporary writing into the shade!"
—Hilary Mantel, author of The Mirror & the Light

"A rich parade of inner lives . . . [A] thoughtful investigation into community and difference."
—The Guardian

"This broodingly suspenseful and engagingly intimate novel is a miniature portrait of family life in various forms, of old age and childhood, framed by wild nature, which becomes a character in itself . . . With consummate skill, the author reveals the inner lives of a handful of characters, their meditations by turns intensely moving and laconically humorous . . . while conjuring up both landscape and atmosphere with lyrical delicacy. The novel that began at dawn ends at nightfall with a satisfying though awful denouement that steers clear of melodrama."
—Kirkus, starred review

"The natural world is a dominant force in this absorbing novel . . . Moss's insight into her characters' inner lives is among the many strengths of Summerwater . . . For more than a decade, Sarah Moss has been crafting quiet, complex novels that make an indelible impression on the reader. This is one of her best, and most accessible, and should bring her work to a wider audience."
—John Boyne, Irish Times

"Nothing escapes Sarah Moss's sly humor and brilliant touch. Deft and brimming with life, Summerwater is a novel of endless depth. A masterpiece."
—Jessie Burton, author of The Miniaturist

"Building up a sense of dread in a novel is a subtle art, and Sarah Moss is an absolute master of it . . . Part of the genius of Summerwater is the way it makes you question whether there is even going to be a storm at all . . . It certainly feels like an accurate reflection of our confused, scared, angsty present. Perhaps Moss's point, though, is that we're all so busy worrying about the things we can't influence we've lost sight of the things we can."
—Roger Cox, The Scotsman

"When it comes to the workings of the secret heart, and the exchange between mind and body, this is a writer with few equals (I'm thinking of Anne Enright and Han Kang and not many others) . . . This a writer in whose gifts we trust, and she pulls off feat after feat of daring and empathy and wisdom."
—Andrew Meehan, Herald Scotland

"There is a sense of unease from the beginning of the novel, that builds—almost imperceptibly—to a deafening thrum of dread, and by the time I reached the end of the novel I could hardly breathe. So, so good."
—Alice O'Keeffe, The Bookseller

"From the author of Ghost Wall comes another taut psychological novel tinged with menace . . . Sarah Moss roves across a wide cast of characters, dipping into internal worlds marked by anxiety—from casual grumbling about the wrong type of people moving into the area to a newlywed husband's obsession (unshared by his wife) with simultaneous orgasm. With uncanny insight and wit, Sarah Moss weaves this polyphony of voices into unfolding tragedy, and a meditation with broader social and political implications."
—Cameron Woodhead, The Sydney Morning Herald

"Moss heaps up the pointers to something terrible with the cruel skill of a horror technician. By the midpoint, reading feels as stressful and claustrophobic as any wet-weather getaway, and just as impossible to get out of before the appalling end . . . The world is getting worse. Moss, though, only seems to be growing more brilliant."
—Sarah Ditum, The Times (UK)

"Moss is a writer who can say more than most others in half the space. Her latest, a haunting story of alienation set on a Scottish campsite, is the summer's most interesting read."
—Independent (UK)

"Though her characters are trapped in their heads as well as in their cabins, Moss has fun letting them loose on the page . . . The smell of blood is never far away in Moss's work . . . You could call it her breakout novel, which is ironic, since its subject is lockdown . . . it's attentive to the way we live now and to our divisions . . . there's range and vitality to the voices."
—Blake Morrison, London Review of Books

"Tragedy looms but Moss buoys the reader along with wit and compassion as she flits between viewpoints. Endlessly interesting."
—Hephzibah Anderson, Daily Mail

"This story of a turbulent Scottish holiday is suffused with fascination . . . Briefly juxtaposed lives are caught in vignettes sharp with telling detail and acute observation. Comedy often ripples across the surface . . . The ending is sombre, but the scenes leading up to it in this latest display of Moss's imaginative versatility shine with intelligence."
—Peter Kemp, The Sunday Times

"Summerwater benefits from the time that has passed since [Ghost Wall], encompassing a wider group of characters to tackle a wider set of issues . . . Few works of fiction published this year will capture the essence of Britain today as well as Moss does in Summerwater . . . Moss has an extraordinary gift for creating fully-formed, authentic people that could have stepped from real-life onto the page, and here she has us eavesdrop on their internal monologues . . . We become so immersed in the characters and their innermost thoughts that when the tension finally breaks in dramatic style it comes as a total shock, as if Moss has snuck up behind us with a length of lead piping. It's a perfectly timed climax to a novel that's perfectly paced."
—Charlie Connelly, The New European

"A new Moss novel is always a gift."
—Anthony Cummins, Daily Mail

"[Sarah] Moss is a writer who can say more than most others in half the space. Her latest, a haunting story of alienation set on a Scottish campsite, is the summer's most interesting read."
—Sarah Hughes, iNews

"Summerwater is a triumph and confirms Sarah Moss as one of the best writers in Britain today."
—Fiona Mozley, author of Elmet

"Boy, does Sarah Moss know how to evoke an eerie sense of foreboding . . . Evocative and compelling reading, particularly if you're on a staycation this summer."
—Cyan Turan, Cosmopolitan

"With delicate precision, Summerwater takes the moral and emotional temperature of a whole society. It is matchless, too, in its blending of steely insight with humor and compassion."
—Pankaj Mishra, author of Age of Anger

"[Sarah] Moss's work has an uncanny prescience . . . There is something all too familiar in the uneasy frustrations of her multigenerational cast of 12, incarcerated in damp cabins, enduring lashing rain, bored and on a knife edge . . . Moss cleverly subverts expectations . . . Fluent and absorbing . . . assured yet brutal."
—Catherine Taylor, Prospect

"Sarah Moss [is] one of the most interesting writers working today."
—John Boyne, Daily Mail

"Summerwater is a beautiful book, written with delicacy and grace, yet with an undertow as dark as the Scottish loch by which its characters are holidaying in ignorance of the tragedy to come. If you are a huge fan of Sarah Moss's work, as I am, you will find yourself parceling it out, to read a chapter a day, like a gift."
—Louise Doughty, author of Platform Seven

"Gorgeously written [and] atmospheric, with a sense of unease that builds to the shocking ending."
—Joanne Finney, Good Housekeeping

"Sarah Moss is the most brilliant writer. She deserves to win all the prizes."
—Joanna Trollope, author of City of Friends

"This novel—about crisis and isolation in its own ways—moved and encouraged me in difficult times. Another deft, sensitive, crystalline book by Sarah Moss; I loved it."
—Megan Hunter, author of The End We Start From

"Tense and atmospheric."
—Francesca Brown, Stylist

"I read this brilliant novel in one greedy gulp. Sarah Moss is an acute observer of modern life and puts humanity on the page with deep understanding and wit."
—Cathy Rentzenbrink, author The Last Act of Love

"A masterful and immersive exercise in tension; here are the many conflicting voices of modern Britain in microcosm. Sarah Moss reminds us that society is only ever two short steps away from collapse."
—Benjamin Myers, author of The Offing

Praise for Sarah Moss

"Sarah Moss possesses the rare light touch when it comes to melding the uncanny with social commentary."
—Maureen Corrigan, NPR

"Moss's star is firmly in the ascendant."
—Guardian

"Moss has quietly, and it must be said remarkably quickly, been putting out some of the most interesting and carefully sculpted novels of recent years."
—Financial Times

"One of our very best contemporary novelists."
—Independent (UK)
STOREFRONT CLOSED FOR REGULAR BUSINESS
Nevertheless, UPB provides ship-to-home service.
Unless and until we move our on-line fulfillment team to different premises, everything you purchase from us ships from warehouses outside of Berkeley.
Much of what we used to carry on store shelves is available, except for very expensive books, used books, and titles fallen between printings.
Certain limitations apply:
Only orders that subtotal under $75.00 will ship.
Thus, we may remove items from a multi-book order and ask you to resubmit them on a separate order.
Sometimes we may have to split an order because books are stocked at different warehouses. Sorry, it's impossible to tell in advance when this may happen.
Credit card orders only
Many high demand titles ship fairly quickly. Most other titles travel from back east, adding 2 to 5 days to delivery
Although we love you in Canada, Latin America, and else where, U.S. orders only.
Certain publishers give us low merchant discounts on certain titles, sometimes no discount at all. To be honest, we've had to raise prices on these, ranging from 5% to 30% above list.
You can also purchase eBooks and audio books through us. Distributed by Hummingbird, they include publications from the major trade publishers. Just access the menu link or the sidebar image above.
We greatly appreciate your support of the store with your book orders. Need a book without our current shopping restrictions? We recommend Bookshop. View our recommendations on Bookshop, then search for whatever book you'd like.
---
Should you have questions, email us via our contact form. Since none of are keeping regular hours, it may take a day to get back with you.
The Cafe Ohlone has closed for the duration of the epidemic. They will probably reopen at a different location when they do.
From 1974, University Press Books has stoked the blaze of well over ten thousand minds on fire, carrying new scholarship published by the great university presses in the English-speaking world.
For more than 40 years, UPB operated out of our address at 2430 Bancroft Way in Berkeley (at present still our mailing address). We're now operating on line and when possible at various pop up locations. Sign up to our mailing list for word on dates and locations of these.,/p>
Order from us. Let well-wrought words churn and burn within.