The Power of Virtual Reality Cinema for Healthcare Training: A Collaborative Guide for Medical Experts and Media Professionals (Hardcover)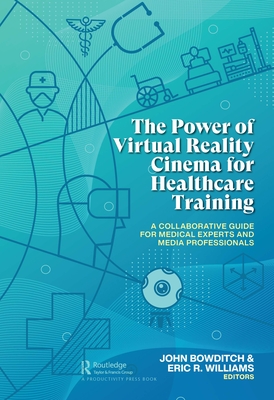 Description
---
Cinematic Virtual Reality brings a combination of documentary, narrative and game design principles to the medical profession and, in the healthcare arena, collaboration is a key component for creating intellectually- and emotionally- rich immersive experiences. The Power of Virtual Reality Cinema for Healthcare Training gathers more than a dozen experts from both the production and healthcare fields to break down best practices for creating successful cine-VR projects.
Designed for multi-disciplinary teams interested in integrating cine-VR production into their healthcare training and educational programs, this book has been written for two audiences: the healthcare professional interested in what production experts consider when approaching a project, and the media expert curious about how this new technology can be used in the medical field.
Highlights include:
Cutting edge medical education techniques developed by Ohio University's GRID Lab, including: PREality (creating a forced sense of deja-vu to increase acclimation time), a unique approach to eye-tracking to enhance team performance, and the low-CRIS technique (a low-cost rapid implementation strategy to capture patient care for rapid graduate student training).
Insightful production techniques that will enhance your cine-VR projects including advanced plating methods to hide lighting set-ups, immersive audio considerations, and new ways to consider 360 storytelling including the Lovrick montage and the Christmas Carol continuum for story development.
Detailed explanations of the production considerations and results of specific cine-VR productions (from funding approaches to distribution) including access to more than five hours of cine-VR examples of the actual productions available for download.
Details on a wide variety of medical cine-VR projects, including 100 images that illustrate best practices for topics such as recording in active medical facilities, building successful multi-disciplinary teams, working within HIPAA regulations, conceptualizing cine-VR libraries for graduate education, and implementing innovative distribution models.
About the Author
---
John BowditchJohn Bowditch is an award-winning game and virtual reality developer. He is the director and co-founder of Ohio University's Game Research and Immersive Design (GRID) Lab and is an associate professor in the J. Warren McClure School of Emerging Communication Technologies, teaching VR and game development and themed immersive experiences courses. John is the GRID Lab's lead developer and has led research projects funded by the United States Department of Education, Department of Energy, Department of Labor, Department of Homeland Security, National Institutes of Health, and the Ohio Colleges of Medicine Resource Center.Eric R. Williams Co-creator of the Immersive Media Initiative at Ohio University, Eric R. Williams is a professor in the McClure School of Emerging Communication Technologies. Williams recently co-authored the book Virtual Reality Cinema: Narrative Tips and Techniques. His cine-VR projects have screened internationally in film festivals and academic conferences. Williams' innovative approach to this new medium has been highlighted in the books Storytelling for Virtual Reality and What is Virtual Reality? Exclusive Interviews with Leaders of the VR Industry. Since 2016, Williams has played a central role in over two-dozen funded projects at the GRID Lab, where he oversees the cine-VR department.